About:
War and Peace by Leo Tol­stoy is a fic­tional book first pub­lished in 1869. The work is regarded as one of the most impor­tant works of world lit­er­a­ture. The copy I read was trans­lated by Louise and Aylmer Maude.
1350 pages
Pub­lisher: Oxford Uni­ver­sity Press,

USA

; New edition

ISBN

: 0199232768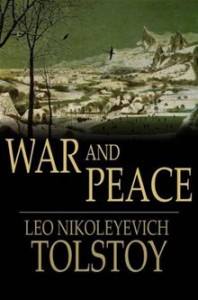 Thoughts:
Once more Tol­stoy shows his dis­dain for Russia's upper class. Even with the inva­sion going on, the cap­i­tal bat­tered and peo­ple suf­fer­ing Russia's élite soci­ety still lives as if their gath­er­ings are of utmost importance.
Tol­stoy goes into Pierre's state of mind after he his wit­nessed sense­less exe­cu­tions. This time it's  his soul and his faith are the ones that has been ripped apart and lost all mean­ing. Pierre loses his faith in G-d and humanity.
Pla­ton Karatayev is intro­duced. He is a kind, good hearted and sim­ple peas­ant who befriends his fel­low pris­oner Pierre. Even though Pla­ton is of a lower class than Pierre, Tol­stoy ele­vates him to be a bet­ter, wiser per­son. With his sim­ple good­ness Pla­ton shows Pierre the wis­dom of the lower classes as opposed to lec­tures from the upper class.
Tol­stoy again employs some very philo­soph­i­cal mea­sures by let­ter the reader inter­pret things for them­selves. Again he uses the word "it" (or the "ter­ri­ble it") as he did in Book 2, Part 5.
What is that it?
That depends on the reader's inter­pre­ta­tion, it meant some­thing to me but some­one else might see "it" differently.
Syn­op­sis:
Hélèné is ill and no one knows what it is. Sadly she dies and her death is attrib­uted to angina, how­ever the unof­fi­cial rea­son is a botched abortion.
Niko­lai is sent to Voronezh to buy horses. As a young noble­man he is greeted warmly and even flirts with the wife of a local offi­cial. To his sur­prise, Niko­lai finds out that Maria Bolkon­sky is also in Voronezh, which he finds him­self strangely attracted to but feels guilty because of his promise to Sonya. As news of Borodino come to Voronezh, Niko­lai keeps Maria com­pany as she wor­ries about her brother. Niko­lai says that they would have heard if Andrei has been killed.
Niko­lai also spends time with the governor's wife, who knows his mother. Since she is a sym­pa­thetic stranger, Niko­lai takes the oppor­tu­nity to unbur­den him­self. The governor's wife straighten out Nikolai's predica­ments, she says that one can­not be held to child­hood promises.
As if by magic, Niko­lai receives let­ters from his fam­ily includ­ing one from Sonya that frees him from his oblig­a­tion to her. They also hear about Andrei who is wounded and is with the Ros­tovs in Yaroslavl.
Maria imme­di­ately sets off.
It turns out that Sonya's let­ter was writ­ten as a response to repeated harass­ment from Count­ess Ros­tov. Sonya is used to self sac­ri­fice and even though she is humil­i­ated daily by the Ros­tovs she trusts Nikolai's sense of honor. Sonya had writ­ten Niko­lai the let­ter hop­ing that by set­ting him free of his promise, she will bring him closer to her.
She was right about Nikolai's honor, wrong about his love for her.
Pierre, now a pris­oner, refuses to answer any ques­tions his cap­tors ask him, includ­ing his name. Pierre's stub­born­ness leads his cap­tors to firmly believe that he is a crim­i­nal. Pierre sud­denly sees Davoust, they rec­og­nize one another but Davoust atten­tion is diverted.
Pierre is being taken out to the yard. The first two or tied to a post, blind­folded and shot. Pierre is hor­ri­fied as the next two are dragged to the killing zone. The French are also sick­ened by the sight and Pierre is doubt­ing his actions.
One more pris­oner is taken, that makes five, Pierre is the sixth. The order has been to shoot five pris­on­ers as a les­son to all the oth­ers. The fifth pris­oner is a young man who is so scared he can­not walk and is dragged to be tied at the post.
As they are being led away, all the pris­on­ers walk by the pit where the sol­diers are dump­ing the dead bod­ies. Pierre thinks that the last body, that of the young man, is still alive but they are already shov­el­ing earth on him.
Pierre meets Pla­ton Karatayev, a good natured, sim­ple, kind and a peas­ant. In many ways a much bet­ter man than Pierre him­self. Pla­ton shares his small meal of pota­toes with Pierre and they both agree that the exe­cu­tion of the young man is a sin. Over the next few weeks, the two man become very close as Pierre grows to appre­ci­ate the wis­dom and good­ness of this sim­ple man.
Maria gets to Yaroslav and as soon as she sees Natasha past his­tory is for­got­ten and mourn together. How­ever Natasha notices that Andrei is more dis­tant then ever as well as dis­tracted and dis­tressed. Both Maria and Natasha do not react well to Andrei's con­di­tion and it seems he doesn't care about anything.
Andrei already feels half dead, he had time in soli­tary to think about love, life and divin­ity. He real­izes how much he gave up for oth­ers sac­ri­fic­ing him­self and that to love every­one is actu­ally the same as to love no-one. Andrei thinks about a dream he had where he chat­ted with sev­eral peo­ple in a full room. He soon real­ized how triv­ial every­thing is and that peo­ple occupy them­selves with the mun­dane. Andrei died in his dream, but is awak­ened refreshed as if he got a new lease on life.
How­ever, Andrei still dies. Every­one cries for their own rea­sons. Lit­tle Niko­lain, Andrei's son is obvi­ously very sad to have lost his father. The Old Count, Count­ess and Sony cry for Natasha but also because the Old Count is almost gone himself.
Zohar — Man of la Book
Dis­claimer: I got this book for free
*Ama­zon links point to an affil­i­ate account
Enjoy this post? Why don't you sign up for the RSS feed