About:
War and Peace by Leo Tol­stoy is a fic­tional book first pub­lished in 1869. The work is regarded as one of the most impor­tant works of world lit­er­a­ture. The copy I read was trans­lated by Louise and Aylmer Maude.
1350 pages
Pub­lisher: Oxford Uni­ver­sity Press,

USA

; New edition

ISBN

: 0199232768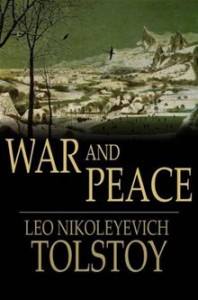 Thoughts:
Tol­stoy has some inter­est­ing obser­va­tions in this part of the book. The author com­pares time to math, when we look at small units we really don't under­stand what we're see­ing, but when we put all the small move­ments together (and within con­text) is when are small brains can process change. His­tor­i­cal events are the same, only when you have an under­stand­ing of World War I can you under­stand what brought about World War II and an attempt to sim­plify the causes (for exam­ple: the rise of the Nazi party) does not work.
The most out­stand­ing part of this book, I thought, was the point of view of the wounded Andrei, see­ing his world through the fog of war and the haze of wounds. As omnipo­tent read­ers, we know the cir­cum­stances and the story, but read­ing it again through fuzzy eyes really dri­ves home the point of what the men went through.
In this book, Tol­stoy aban­doned his habit of mak­ing fun of the upper class, they are refugees just like any­one else. How­ever, they have the option to be refugees, their bless­ing is also their curse as the "work­ing class" are non-people they are also not con­sid­ered dan­ger­ous. When Napoleon enters Moscow with­out the upper class being present, he thinks of the city as "empty" despite the mul­ti­tudes of work­ing class cit­i­zens being present.
Syn­op­sis:
The French army is hurt, mov­ing out of Borodino, it advances towards Mosco. Kutu­zov, real­iz­ing that the French momen­tum can­not be stopped, gives up Moscow with­out a fight or sac­ri­fic­ing lives to defend it. This move is very unpop­u­lar and meets with gen­eral dis­ap­proval of the pop­u­lace. The "haves" evac­u­ate Moscow.
Poor Hélèné has a very dif­fi­cult issue – two suit­ors, besides that she's also mar­ried. But to some­one with Hélèné's intel­lect this is a small prob­lem, she'll con­vert to Catholi­cism and can obtain a divorce rat­i­fied by the Pope him­self. Hélèné sends a let­ter to Borodino for Pierre ask­ing him for a divorce.
Pierre returns to Mozhaisk, he is forced to spend the night in a car­riage. Tired from the bat­tle Pierre has a strange dream mix­ing Andrei's quotes about war and Masonic teach­ings. He hears about the death of Ana­tole and Andrei, his friend, on his way back to Moscow.
The Ros­tovs didn't want to leave Moscow with­out Petya so they waited till the last moment. Natasha is recov­er­ing from her depres­sion and helps to pack. How­ever, when the wounded sol­diers start to come en masse from Borodino Natasha tells them that they can take the cars and wag­ons know­ing full well her father won't mind – which he doesn't but her mother is furi­ous. The Count, feel­ing guilty about los­ing the family's for­tune, gives way to his wife but Natasha is mad and can­not under­stand how her mother can think of mate­r­ial things in the face of such despair.
The Count­ess gives in to her daughter.
Unbe­knownst to Natasha, one of the wounded is Andrei. The Count­ess asks Sonya not to tell Natasha, afraid to open old wounds.
Pierre is also in Moscow, he is stay­ing in Bazdeyev's house, but Bazdeyev is dead and the house is occu­pied by his mother and men­tally hand­i­capped brother. Going through Bazdeyev's papers Pierre decides that his fate is tied to Napoleon's. Pierre thinks of lib­er­at­ing Europe by assas­si­nat­ing the French Emperor. He bor­rows a peasant's coat and a gun.
This is how he meets Rostov.
When Napoleon enters Moscow he is sur­prised to learn that the rul­ing class has left, no one is there to greet him. As far as he is con­cerned the city is empty (sans of "work­ing class"). But he need not worry, soon fires start in Moscow. In a large city made mostly of wooden build­ings which are empty, fires are inevitable.
French offi­cers enter Bazdeyev's house where the men­tally hand­i­capped brother tries to shoot one of them. Pierre stops him and the French offi­cer, Cap­tain Ram­balle, is grate­ful and even lets the brother go free. The grate­ful Ram­balle invites Pierre to dine with him, but the more Pierre drinks, the more res­olute he becomes to assas­si­nate Napoleon. After a few more drinks he opens up to Ram­balle and even tells him of his love for Natasha.
The Ros­tovs, look­ing behind them, see their beloved city burning.
Sonya couldn't keep her mouth shut and tells Natasha about Andrei's pres­ence among the wounded. Here there is a soap-opera type sce­nario:
if Andrei sur­vives…
… and mar­ries Natasha…
… then…
Niko­lai couldn't marry Maria because of some arcane rules of the Ortho­dox Church (don't ask me to explain any fur­ther, I barely got this much out of it).
Once the Ros­tovs are asleep, Natasha sneaks out to find Andrei. Natasha has no idea how Andrei will react, but when he sees here he smiles and holds out his hand.
The story shifts to Andrei's per­spec­tive. He is in pain, semi-conscious and asks for a the New Tes­ta­ment. He thinks he is in an Army hos­pi­tal and remem­bers a man next to him, an enemy, who sobs like a child when his leg was ampu­tated. Andrei feels pity for the man and for him­self; he also feels he wants to kill him. Andrei thinks about love, which in his nor­mal life he could never attain. Sud­denly, Andrei sees a white fig­ure approach­ing him, it is Natasha who is ask­ing for his for­give­ness but Andrei does not under­stand what there is to forgive.
Natasha never leaves Andrei's side after this day.
The morn­ing after his sup­per with Cap­tain Ram­balle, Pierre is dis­gusted with his own behav­ior but is still deter­mine to kill Napoleon. As he walks down the chaotic streets of Moscow, Pierre res­cues a girl from a burn­ing build­ing but can­not find her par­ents. Notic­ing some French sol­diers harass­ing a woman, Pierre goes to res­cue her but gets over­pow­ered. The sol­diers find a gun and a knife on his per­son, but Pierre refuses to give them a name and is arrested.
Zohar — Man of la Book
*Ama­zon links point to an affil­i­ate account
Enjoy this post? Why don't you sign up for the RSS feed