About:
The Stone­cut­ter by Camilla Läck­berg is the third novel in the Fjall­backa mys­tery series. The series fea­tures police­man Patrik Hed­strom who works in a small town in Sweden.
480 pages
Pub­lisher: Pega­sus; Reprint edi­tion (May 1, 2012)
Lan­guage: English

ISBN-10

: 1605983306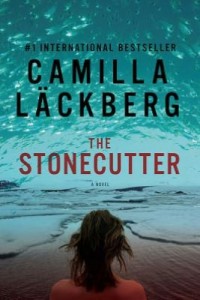 My rat­ing for The Stone­cut­ter — 4
Buy this book in paper or elec­tronic format
More Books by Camilla Läckberg
Thoughts:
I chose to read The Stone­cut­ter by Camilla Läck­berg (web­site | Twit­ter) because I read one of her pre­vi­ous books, The Ice Princess (my thoughts), and enjoyed it. There is another book in the series called The Preacher which I have not yet read.
This book has a dif­fer­ent struc­ture than the pre­vi­ous one I read, the story alter­nates between past and present, while the time shifts (at the begin­ning of every chap­ter and are not con­fus­ing one bit) have very lit­tle to do with the actual mys­tery, I felt that they do come together skill­fully at the end. I did find the book excit­ing, Ms. Läckberg's growth as an author is evident.
The author jug­gles many issues dur­ing the story. Some have much to do with the mys­tery, some are just to throw the reader off track, and oth­ers have absolutely noth­ing to do with the mys­tery but sim­ply intro­duce us to the char­ac­ters' psy­che and allow growth.
One of the side issues, one that has noth­ing to do with the story, is post­par­tum depres­sion which seems to affect many women in Fjall­backa. It seemed that the small town suf­fers from a case of post­par­tum depres­sion but I think that we, as a soci­ety, don't rec­og­nize how many women this diag­no­sis. The Ms. Läck­berg does rec­og­nize the dif­fi­cul­ties of stay at home moms. Not only the hard work which goes into tak­ing care of a baby or a tod­dler, but also the lack of appre­ci­a­tion felt by soci­ety at large.
Unbe­knownst to the reader, until prac­ti­cally the end of the story, the author spends a lot of time try­ing to diag­nose what lies behind evil. The inher­ent assump­tion is that peo­ple are made evil, not born (even though that is the case for some) and even if they do some­thing bad, in their mind, they can­not see what they did wrong. Per­son­ally I found this aspect of the book the most fas­ci­nat­ing and extremely well done, it had me think­ing about this issue for days afterwards.
The descrip­tions of small town life in Swe­den are fas­ci­nat­ing and filled with imagery. Like any small town, together with the quaint liv­ing come small town prob­lems and pol­i­tics.  Swedish soci­ety is also rep­re­sented in this book in all its glory and its dark­ness as well as the affects of such a hor­ren­dous crime on a small community.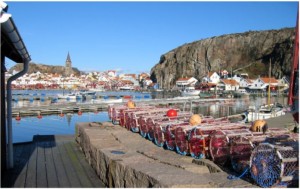 The Swedish coastal town of Fjall­backa
(image taken from http://de.wikipedia.org/wiki/Datei:Fjallbacka.jpg)
I found The Stone­cut­ter an inter­est­ing read, fol­low­ing the mys­tery while try­ing to excul­pate those who are deemed sus­pects. It is easy to see why the book has been a best­seller in Swe­den, Nor­way and Denmark.
Related Reads:
The Ice Princess by Camilla Läck­berg
Three Sec­onds by Anders Roslund and Borge Hellström
So tell me, do you believe peo­ple are born or made evil?
Syn­op­sis:
A fish­er­man at the small town of Fjall­backa pulls out the body of a small girl, she seems to have drowned but soon it is dis­cov­ered that it is not the case. Police offi­cer Patrik Hed­strom, a new father and friend of the girl's par­ents, is put on the case. But Patrik dis­cov­ers a sin­is­ter side of this small town which is much more than he anticipated.
It's 1923, Agnes a stub­born, rich and spoiled got preg­nant by one of her father's work­ers. When her father rejects her, Agnes sets in motion events which will have far reach­ing consequences.
Buy this book in paper or elec­tronic format
More Books by Camilla Läckberg
 Zohar — Man of la Book
Dis­claimer: I got this book for free
BOOK BLOGGERS — Have you read The Stone­cut­ter? If so link up your review below:
Enjoy this post? Why don't you sign up for the RSS feed