About:
The Dark Knight Returns by Frank Miller is a graphic novel orig­i­nally pub­lished in 1986. The graphic novel, writ­ten and drawn by Miller, was orig­i­nally released in a four-issue lim­ited series called Bat­man: The Dark Knight.
224 pages
Pub­lisher:

DC

Comics; 10 Anv edition

ISBN

: 1563893428
My rat­ing for The Dark Knight Returns — 5
Buy & Save on The Dark Knight Returns through the ManOfLa­Book affil­i­ate account on:
Ama­zon | Book Depos­i­tory US | Book Depos­i­tory UK
Thoughts:
The Dark Knight Returns by Frank Miller, a best seller and rightly so, is a story of ide­olo­gies and how they skew people's per­cep­tions of what is right and what is wrong. With those ide­olo­gies and per­cep­tions comes the sense of jus­tice and pun­ish­ment no mat­ter how they might not fit the crime. How­ever, for me, the major point of the book was how we decide what our role in soci­ety will be.
The book is a scathing com­men­tary on the polit­i­cal sys­tem at large. How boobs elected into office are being han­dled behind the scenes, wield­ing unimag­in­able power (nuclear war­heads and Super­man in this case) and how the idi­otic talk­ing heads on TV shape pub­lic opin­ion to fit their own agenda.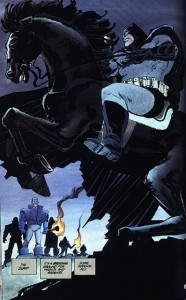 Yes, Frank Miller was, and still is, ahead of his time.
The Dark Knight Returns is a mas­ter­piece of sto­ry­telling, an homage to the mas­ters with love for the genre. Miller decon­structs super­heroes apply­ing lay­ers of psy­cho­log­i­cal com­plex­ity, social com­men­tary and ana­lyz­ing what makes the heroes tick. This dark book exam­ines the psy­che of a vig­i­lante but still leaves enough of a fan­tasy to allow an oth­er­wise sane man to run around dressed as a bat.
By mak­ing Bruce Wayne in his mid 50s, Miller allows the reader to fill he sense of dan­ger and futil­ity. The threats our hero faces are real and Miller brings matu­rity and com­plex­ity to the heroes which were rarely seen before this book came out.
Even though the graphic novel is filled with ref­er­ences to the 1980s, it still feels rel­e­vant today and even more so. The big­ger pic­ture, of bum­bling politi­cians, unwinnable wars, domes­tic ter­ror­ism and eco­nomic melt­downs is actu­ally more appro­pri­ate to today's world as it was 30 years ago.
The book is a mas­ter­piece of sto­ry­telling, the com­bi­na­tion fan­tas­tic story with extra­or­di­nary pan­els is noth­ing but a work of genius. This mas­ter­ful mag­num opus lifted the genre to a whole new level. Even if you are not inter­ested in comics or super­heroes this is one of those influ­en­tial books that comes around only once in a while.
Syn­op­sis:
*** CONTAINS SPOILERS ***
Set in a dystopian future of Gotham City, The Dark Knight Returns opens a decade after the last sight­ing of Bat­man and the Amer­i­can Pres­i­dent (which bears a strik­ing resem­blance to then Pres­i­dent Ronald Rea­gan) still con­tin­ues the cold war.  All super­heroes have been forced out of ser­vice with the excep­tion of Super­man.
How­ever, 55 year old Bruce Wayne becomes Bat­man once again to take care of an old enemy, Har­vey Dent aka "Two-Face". But Batman's return comes with a con­tro­versy whether his style of vio­lent vig­i­lan­tism has place in a "civ­i­lized" society.
Sav­ing the 13 year old Car­rie Kelly from a Mutant attack, Bat­man buys him­self a new fan. Car­rie buys a Robin cos­tume and searches for Bat­man. She finds Bat­man being beaten by the Mutants' leader and saves him by pulling him into the Bat­mo­bile.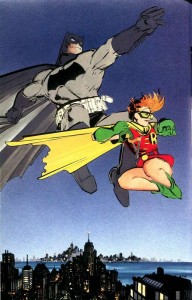 Bat­man has found his new Robin.
James Gor­don, now close to retire­ment, helps the Mutants' leader escape from jail only for Bat­man to beat and humil­i­ate him which gar­ners the desir­able results of dis­band­ing the gang. How­ever, the new gang, "Sons of the Bat­man" uses vio­lent meth­ods to rid Gotham of its criminals.
Gotham finds itself in more trou­ble with psy­chi­a­trist Dr. Bartholomew Wolper, of Arkham Asy­lum, releases The Joker claim­ing he is sane. The Joker starts a media bash­ing try­ing to dis­credit Bat­man. Cre­at­ing may­hem in Gotham City once again, killing many and beat­ing Selina Kyle, is what Gotham faces. Fight­ing in the county fair Bat­man beats Joker but stops short of killing him, how­ever The Joker twists his own neck hop­ing Bat­man will be charted with mur­der. The plan works and Bat­man becomes a hounded criminal.
Super­man enters the pic­ture, divert­ing a Russ­ian war­head which det­o­nates in the desert but cre­ates a black­out over Gotham City. Bat­man, Robin and The Sons of the Bat­man use non-lethal force to regain order and flow of needed sup­plies mak­ing Gotham the safest city in Amer­ica embar­rass­ing the fed­eral gov­ern­ment which orders Super­man to get rid of Batman.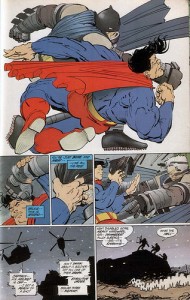 The for­mer Green Arrow, Oliver Queen, warns Bat­man which allows him to pre­pare for the bat­tle and defeats Super­man (with the help of an arrow with a Kryp­tonite tip cour­tesy of Green Arrow). How­ever Bat­man dies of a heart attack and Alfred destroys the Bat­cave, Wayne Manor and suf­fers a fatal stroke.
At the funeral, Clark Kent real­izes he has been duped hear­ing Bruce Wayne's heart­beat, he gives his silent approval by doing noth­ing except giv­ing a know­ing wink to Robin. Bat­man regroups his men to con­tinue his fight – a plan which will take years.
Buy & Save on The Dark Knight Returns through the ManOfLa­Book affil­i­ate account on:
Ama­zon | Book Depos­i­tory US | Book Depos­i­tory UK
Zohar — Man of la Book
Dis­claimer: I bought this book.
This post appeared in the Book Review Blog Car­ni­val #83.
Related arti­cles
BOOK BLOGGERS — Have you read The Dark Knight Returns? If so link up your review below:
Enjoy this post? Why don't you sign up for the RSS feed