About:
The Book of Lost Fragrances by M. J. Rose is fictional book in the Reincarnationist series. This is the fourth book in the series, however they are all standalone books.
384 pages
Publisher: Atria Books
Language: English
ISBN-10: 1451621302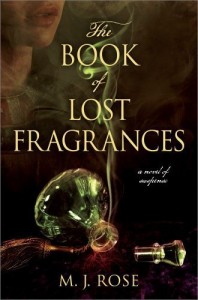 My rating for The Book of Lost Fragrances – 4
Great price on this book in paper or elec­tronic for­mat
through the Man of la Book Affil­i­ate Account
Thoughts:
I have read the previous three books in M.J. Rose's (website) Reincarnationist series but I have to say that I enjoyed The Book of Lost Fragrances the most. While many people don't read fiction, and I was one of those, I changed my mind with the condition that I'll learn "something" from the book. That something could be about history, human condition, or anything else. I especially appreciate the Author's Note at the end of such books which tells me what is real and what isn't.  Actually, if there isn't an Author's Note I might not even bother reading it.
The Reincarnationist series deals with certain objects which help people remember past lives. There is a society for such objects, villains trying to get their hands on them and heroes who save the day. But the books also talk about history, certain beliefs about reincarnation and the cultural implications of such beliefs.
What's different about this book is that there is no mysterious/magical object, but certain smell, concocted by the ancient Egyptians which brings one back vivid memories of past lives. For me, smells certainly bring up memories probably more than anything else. Sometimes I dream and when I wake up I can actually smell what I dreamt about (a perfume, flowers, the dessert, etc.), so this novel was, to me, more believable than the first three.
The characters in this book are written very well, but much like the other books I didn't form any special attachment to any of them. The narrative builds up slowly, but keeps you turning the pages to find out what happens next. As is in the rest of the series, the storytelling style is jumping from character to character and in time and space.
While I still haven't made up my mind about reincarnation (it sure would be nice to be reincarnated but as a person that sees the world in 0s and 1s it's difficult to comprehend), I do like the premise of the series and, if anything, could certainly believe that a fragrance would do the trick of resurrecting suppressed memories.
This book reminded me of:
The Reincarnationist by M. J. Rose
The Memorist by M.J. Rose
The Hypnotist by M. J. Rose
Synopsis:
After her mother's suicide, French woman Jac L'Etoile moves to the United States. Jac , an heir to the famous L'Etoile  perfume company now at the hands of her brother Robbie, is haunted by past memories.
Suddenly Robbie goes missing after hinting at her great discovery which has something to do with the lost perfume factory of Cleopatra. Jac has to get back into the world she left behind in order to help her brother and save her family's company.
Great price on this book in paper or elec­tronic for­mat
through the Man of la Book Affil­i­ate Account
Zohar – Man of la Book
Disclaimer: I got this eBook for free.
BOOK BLOGGERS – Have you read The Book of Lost Fragrances? If so link up your review below:
--- Please like and follow ManOfLaBook.com ---
Enjoy this post? Why don't you sign up for the RSS feed