About:
Ene­mies: A His­tory of the FBI by Tim Weiner is a non-fiction book which tells of the 100 year his­tory of the famous orga­ni­za­tion. Mr. Weiner is a Pulitzer Prize win­ning author and a for­mer New York Times reporter who wrote largely about Amer­i­can secu­rity.
560 pages
Pub­lisher: Ran­dom House
Lan­guage: English

ISBN-10

: 140006748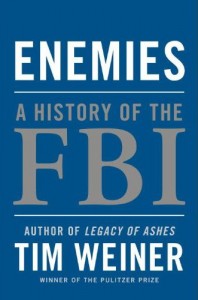 My rat­ing for Ene­mies: A His­tory of the FBI — 5
Buy this book in paper or elec­tronic format
Thoughts:
Ene­mies: A His­tory of the FBI by Tim Weiner is a fas­ci­nat­ing book and an excel­lent treat­ment of what basi­cally amounts to domes­tic spy­ing. In his research, Mr. Weiner invoked the words of the Found­ing Fathers that we must be vig­i­lant; buy not com­pro­mise our civil lib­er­ties in the process. In this treat­ment, with each Pres­i­dent of either major party, this com­pro­mise is con­stantly tested with J. Edgar Hoover play­ing a major role.
The por­traits of men in power are one of the most dis­turb­ing aspects in this book. Nixon, Rea­gan, Clin­ton, LBJ, Hoover and more are all com­plex peo­ple who, once in the seat of power, dis­miss their for­mer beliefs in the notion that they are above the law (Nixon stated that if a Pres­i­dent does "some­thing" it's not ille­gal and every other Pres­i­dent has agreed with him so far).  Even Obama, a Con­sti­tu­tional scholar, signed the National Defense Autho­riza­tion Act, which allows for unspec­i­fied mil­i­tary impris­on­ment, with­out trial, of any Amer­i­can cit­i­zen "who was a part of or sub­stan­tially sup­ported Al Qaeda, the Tal­iban or asso­ci­ated forces that are engaged in hos­til­i­ties against the United States or its coali­tion part­ners". Obama did pledge that he would not use this power, but what about the next guy (or gal)?
Hoover is so blinded by his hatred of Com­mu­nists that he jus­ti­fies all his uncon­sti­tu­tional acts (throw­ing Amer­i­cans in jail, spy­ing, etc.) by that logic. Even the Civil Rights move­ment was a tar­get, not because Hoover was racist, but because he believed the Com­mu­nist Party was behind it. But Hoover wouldn't do any­thing to embar­rass the Bureau (which allows for a lot).
Being an orga­ni­za­tion with no for­mal char­ter from Con­gress, an orga­ni­za­tion which its basic fund­ing is still some­what secret since the days Theodore Roo­sevelt cre­ated a "Bureau of Inves­ti­ga­tion" con­trary to the wishes of Con­gress the FBI had much to prove. Being secre­tive is no recipe for suc­cess as the reader finds out; con­cen­trat­ing on secret intel­li­gence oper­a­tions, the author tells of many fail­ures and tales of stun­ning incom­pe­tence which occurred despite the secrecy, law­less­ness and pow­er­ful friends in high places.
But Ene­mies is not an all out crit­i­cism of the FBI, Mr. Weiner does con­trast how the FBI has changed under Direc­tor Robert Mueller who believed in doing the right thing and even offer to resign (with other senior mem­bers) if the Bush 43 admin­is­tra­tion wouldn't stop ille­gal domes­tic spy­ing after 9/11. The admin­is­tra­tion stopped and Mueller has set the tone for the FBI.
An eye open­ing account of the state of infor­ma­tion tech­nol­ogy (IT) state of the FBI was a shock. Unlike what movies and TV has us believe, up until recently the FBI's IT depart­ment was sorely lack­ing. Agents didn't have email, couldn't con­tact agents in other offices or share infor­ma­tion. That is one issue which the FBI strug­gled with since day one – lots of data but lit­tle infor­ma­tion. An FBI agent "could not per­form a Google search or send e-mails out­side their offices"  — not in 1980, but in 2000!
Another aspect of the book which was dif­fi­cult to com­pre­hend was the lack of coöper­a­tion with other intel­li­gence ser­vices and some­times within the Bureau itself. It was dis­heart­ening to read how past direc­tors have mis­judged their mis­sion, mak­ing the White House their main enemy while the agents inves­ti­gat­ing Al Qaeda mis­in­ter­preted a direc­tive from the Depart­ment of Jus­tice to share evi­dence. An agent try­ing to get a search war­rant for Zacarias Mous­saoui, the 20th hijacker, didn't receive it because the FBI appar­ently "did not have a dog in this fight".
That was on the after­noon of 10 Sep­tem­ber, 2001.
Ene­mies is an immensely inter­est­ing read, depress­ing at times but with all the mak­ings of a first rate thriller. At times I had to put the book down because it is so full of infor­ma­tion and at times because it was sim­ply too hard to believe what I was read­ing. I always respected the work the FBI does and this book just height­ened my admi­ra­tion to the agents and the lead­er­ship which is tak­ing them in a new, more con­sti­tu­tional, direction.
Syn­op­sis:
The book is divided into four parts: Spies and Sabo­teurs, World War, Cold War and War on Ter­ror. Each part spot­lights on the main focus of the FBI dur­ing those times from Com­mu­nism, to spies to polit­i­cal espi­onage and terrorism.
Buy this book in paper or elec­tronic format
Zohar — Man of la Book
Dis­claimer: I got this book for free
Related arti­cles
BOOK BLOGGERS — Have you read Ene­mies: A His­tory of the FBI? If so link up your review below:
Enjoy this post? Why don't you sign up for the RSS feed