About:
"Anna Karen­ina" by Leo Tol­stoy is a fic­tional book which was first pub­lished between 1873 to 1877 in the peri­od­i­cal The Russ­ian Mes­sen­ger. Even though the com­plete novel was pub­lished to mediocre reviews, oth­ers con­sider it the best realistic-fiction story written.
1232 pages
Pub­lisher: Simon

&

Schuster

ISBN

: 1439169462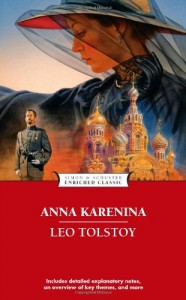 My rat­ing for Anna Karen­ina —

4
Great price on this book in paper or elec­tronic for­mat
through the Man of la Book Affil­i­ate Account
Thoughts:
"Happy fam­i­lies are all alike; every unhappy fam­ily is unhappy in its own way"
This famous line starts the novel Anna Karen­ina by Leo Tol­stoy (fun facts about his mar­riage), one of the most impor­tant works of world lit­er­a­ture. Unhap­pi­ness is a pri­vate emo­tion, yet Tol­stoy tries to make Anna Karenina's unhap­pi­ness (or should the word actu­ally be trans­lated as mis­er­able?) uni­ver­sal.
I can­not believe I liked this book. I have been avoid­ing read­ing "Anna Karen­ina" by Leo Tol­stoy since I tried to watch the movie and gave up after about 10 min­utes. How­ever, the moment I started read­ing "Anna Karen­ina" I real­ized what I've been missing.
When I started read­ing the book two things imme­di­ately struck me. First is how read­able it is and the sec­ond about the first line's hypocrisy.
The trans­la­tion flowed and Tolstoy's story was, for the most part, inter­est­ing and engag­ing.  I was expect­ing nuances galore, hid­den mean­ings, bor­ing descrip­tions to no end etc. While the book is mul­ti­layer and does have nuances it does not inter­rupt the flow of the story which is how I felt about Thomas Hardy's "Tess of the d'Urbervilles" (my thoughts).
The sec­ond was that despite the title of the novel, which is the name of the pro­tag­o­nist, the first line imme­di­ately declares that the book is actu­ally about all fam­i­lies and not nec­es­sar­ily about a par­tic­u­lar woman or men.
Unhap­pi­ness is a fam­ily affair as most of us know. This sum­mer I started a new job and moved my fam­ily to a new state. We were all mis­er­able together and indi­vid­u­ally. I was prob­a­bly bet­ter off than the rest of the fam­ily, I had  job to go to, peo­ple to asso­ciate with and projects to keep my mind off the hard­ships at home. My beloved wife on the other hand wasn't so lucky. We rented a house in a nice town but real­ized it was a mis­take about a week in. The kids were bored to death, no TV for six weeks and Inter­net ser­vice which dates back to the early 90s.
So much for that – we moved after a month.
Two moves in two months – now that's misery.
But enough about the first line…
Each char­ac­ter is unhappy in his or hers own way, but they are all con­nected to the point where "happy fam­i­lies" losses all mean­ings. There are no happy fam­i­lies in this book, Anna is bored with her mar­riage (to a good hus­band), Dolly chooses to turn a blind eye to her husband's infi­deli­ties and Kitty… Kitty just wants a happy marriage.
On the sur­face, Anna Karen­ina seems like a typ­i­cal soap opera. The char­ac­ters are inter­re­lated, romance, infi­deli­ties galore, long­ing, a sense of impend­ing doom and the knowl­edge that love is life. It is as if Tol­stoy is try­ing to tell the reader that love is the be all/end all and is what we should all strive for.
Upon fur­ther read­ing though we could tell that love brings pain and mis­ery. Anna con­stantly lies to her true self, Kitty and Levin are in a com­plex, some­times con­vo­luted rela­tion­ship, Dolly who chose her chil­dren over her hap­pi­ness would be arrested for child abuse these days and prob­a­bly back when the novel was pub­lished as well.
Tol­stoy is also stay­ing away from absolutes. There are no absolutes in life and there are no absolutes in Anna Karen­ina. How­ever, Tol­stoy does cap­ture the inescapable yearn­ings that peo­ple have for some­thing con­crete in their lives and the fruit­less search for it.
I felt the novel was a scathing crit­i­cism of Russ­ian upper class soci­ety and aris­toc­racy. It is obvi­ous that Tol­stoy did not approve of city life, orga­nized reli­gion and the class sys­tem among other social topics.
Tol­stoy didn't approve on biased based on gen­der either. Anna, the beau­ti­ful name­sake of the novel, is rebel­lious and leaves her hus­band and son for true hap­pi­ness. While I dis­agree with Tol­stoy on this level about hap­pi­ness, I did find the story inter­est­ing and tragic about the way the Russ­ian upper crust treated a woman's infi­delity, remov­ing her from their social cir­cles with­out being able to fight the rigid norms which gov­erned at the time.
I can see the impor­tance and shock value of the novel for its time. Today we con­sider Tolstoy's views as enlight­ened and his ques­tions on reform, life and deca­dence time­less. But the novel is more than that, along with the pro­found state­ments it is also qual­ity lit­er­a­ture — a bal­ance which is hard to strike.
Tol­stoy had an inter­est­ing and con­flict­ing life. As a per­son who was con­sid­ered rich, he was also a critic of the sys­tem which he ben­e­fited from. I find that inter­est­ing, espe­cially since it's going on today. Almost every­day I hear on the news about some bil­lion­aire who is fight­ing to change they sys­tem which has got­ten him/her to where they are.
Maybe it's guilt, maybe they felt that by chang­ing our dog-eat-dog super cap­i­tal­ist soci­ety (only for the rich that is) they will undo all the wrongs?
So tell me, which book have you been scared of reading?
Syn­op­sis:
The book is divided into eight parts, con­sist­ing of mainly short chapters.
Part I: Prince Stepan Arkadye­vitch Oblon­sky (Silva) has been caught cheat­ing on his wife Darya Alexan­drovna (Dolly). In the midst of the chaos he reminds every­one that his sis­ter, Anna Arkadyevna Karen­ina is com­ing to visit. Stiva's child­hood friend Kon­stan­tin Dmitrievich Levin (Kostya), an aris­to­cratic landowner who chose to live in the coun­try, is also arriv­ing to pro­pose to Dolly's sis­ter, the Princess Kate­rina Alexan­drovna Shcherbatskaya (Kitty).
Meet­ing at the train sta­tion, Levin becomes infat­u­ated with Anna. Later, Levin pro­poses to Kitty who clum­sily turns him down. At the ball Vron­sky dances with Anna who is shaken by her feel­ings towards him and leaves soon after. How­ever, Vron­sky is on the same train and con­fesses his love to Anna who refuses him.
Levin returns to his coun­try estate crushed. Anna returns home only to real­ize that she is repulsed by her husband.
Part II: The Shcherbatskys take Kitty abroad, on advice of a doc­tor, because her health is fail­ing, suf­fer­ing from depres­sion for turn­ing Levin down.Kitty recov­ers but becomes extremely reli­gious after she meets Madame Stahl and her adopted daugh­ter Varenka.
Back in St. Peters­burg Anna and Vron­sky meet again, how­ever this time Anna's hus­band warns her to stay away from him. Anna real­izes that she is preg­nant with Vronsky's child and con­fesses her affair to her hus­band who asks her to break it off, believ­ing every­thing will return to normal.
Part III: Levin con­tin­ues to work on his farm con­tem­plat­ing deep thoughts about false­ness, agri­cul­ture reform and the rela­tion­ship between labor, land and cul­ture. Levin pays Dolly a visit who tries to explain Kitty's behav­ior to him. Levin refuses to believe Dolly only to real­izes he sitll loves Kitty once he gets a glimpse of her again.
Karenin is upset that Anna will not end her affair with Vron­sky and threat­ens to take away her son if she continues.
Part IV: Karenin is plan­ning to divorce Anna and forces her to give him incrim­i­nat­ing let­ters. Upon find­ing out that Anna is dying, Karenin for­gives her and Vron­sky who tries to com­mit sui­cide. Embar­rassed by Karenin's actions Vron­sky tries to com­mit sui­cide but fails.
Anna gives birth to a girl, Annie, and wants to leave with Vron­sky on his mil­i­tary post. The cou­ple leaves with­out Karenin giv­ing Anna a divorce leav­ing Sery­ozha, Anna's son, behind.
Part V: Levin and Kitty get mar­ried and go to live in Levin's estate in the coun­try. After sev­eral dif­fi­cult months Levin finds out that his brother is dying. He wants to go visit him but is dis­mayed when Kitty wants to come with him. While Levin thinks his wife shouldn't asso­ciate with the lower class, all Kitty wants is to sup­port her hus­band. On the trip they find out that Kitty is pregnant.
In Europe, Anna and Vron­sky are also hav­ing a dif­fi­cult time. The cou­ple can­not asso­ciate with Rus­sians of their own class and Vron­sky get bored of the sit­u­a­tion. Return­ing to St. Peters­burg, the cou­ple real­izes that Anna is barred from society.
Anna gets to visit her son on his birth­day, but later gets snubbed at the the­ater by her for­mer friends. Unable to find a place for them­selves in St. Peters­burg either, the cou­ple goes to the country.
Part VI: Dolly goes to visit Levin & Kitty as well as Vron­sky & Anna in the city. Dolly is sur­prised by the way Anna & Vron­sky throw money around. She tries to con­vince Anna to get a divorce so she and Vron­sky can prop­erly marry, but Anna refuses.
Part VII: The Levin's are in Moscow due to Kitty's ail­ment. Levin gets accus­tomed quickly to the lifestyle and joins Stiva in gentleman's clubs where drink­ing and gam­bling are the past time. At the club Levin meets Vron­sky. Levin vis­its Anna and quickly falls under her spell. Anna can­not under­stand why Levin, with a young and pretty wife, would want her yet not Vronsky.
Anna users mor­phine to help her sleep due to the strain of the rela­tion­ship she is in. Soon she becomes an addict.
Kitty gives birth to a son, Dmitri
Stiva vis­its Karenin to ask him about a mil­i­tary post and also about grant­ing Anna a divorce. How­ever, this divorce would require Karenin to lie and said he had an affair, Karnin gives Stiva a cryp­tic answer which he deci­phers as a "no".
Angry, con­fused, jeal­ous and irra­tional Anna believes her rela­tion­ship with Vron­sky is over and con­tem­plates sui­cide. Anna com­mits sui­cide by throw­ing her­self in the path of a train.
Part VIII: Stiva gets the job he desired, Karenin takes cus­tody of baby Annie, the sui­ci­dal Vron­sky vol­un­teers to go to war.
Levin real­izes he loves his son just as much as he loves Kitty. After talk­ing to a peas­ant, Levin comes to the con­clu­sion that liv­ing a good moral life is the only rea­son to live. Levin also comes tothe con­clu­sion that there are other reli­gions besides Chris­tian­ity that hold sim­i­lar views on good­ness and those are just as valid and acceptable.
Great price on this book in paper or elec­tronic for­mat
through the Man of la Book Affil­i­ate Account
Zohar — Man of la Book
Dis­claimer: I got this book for free.
Related arti­cles
BOOK BLOGGERS — Have you read Anna Karen­ina? If so link up your review below:
Enjoy this post? Why don't you sign up for the RSS feed