About:
"A Short His­tory of a Tall Jew" by Den­nis Danziger is a not-so-short fic­tional book fol­low­ing a man search­ing for his sec­ond wife. A very funny book with a heart.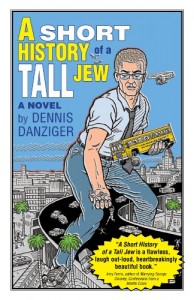 My rat­ing for A Short His­tory of a Tall Jew — 5
Buy & Save on "A Short His­tory of a Tall Jew"
through the ManOfLa­Book affil­i­ate account on:
Ama­zon | Kin­dle

Thoughts:
"A Short His­tory of a Tall Jew" by Den­nis Danziger (web­site) is a hilar­i­ous and charm­ing book.  The book is a well writ­ten fic­tional account of a year in the life of Philip Lach­man who sim­ply craves for a nor­mal life.
Seems like a nor­mal life is a tall order in osten­ta­tious, self­ish Los-Angeles.
 And as I drove on, I began to won­der. Was it me or was it Los Ange­les? Was the town just brim­ming with sexy odd­balls or was I a mag­net for women who were inten­tion­ally not tak­ing their meds?
The bar­rage of insane women Philip encoun­ters will dis­suade any­one from want­ing to find a spouse.  The author keeps the reader busy with plots and sub­plots, main char­ac­ters which are inter­est­ing and sec­ondary ones which still make you feel for them.
The book doesn't con­cen­trate only on Philip's search for a spouse, but we also get a glim­mer into his class­room, work and fam­ily life. While the story is often very funny, it is some­times sad and tragic as well.  The book make many excel­lent obser­va­tions about how peo­ple treat one another in a sup­pos­edly civ­i­lized soci­ety, the chal­lenges of rais­ing kids, what's really impor­tant, what makes us happy and more. For a while I for­got I was read­ing a fic­tional book.
While the story is about a Jew, I believe any­one of any reli­gion would enjoy this book. The nar­ra­tive is seam­less and the story gets car­ried along evok­ing many feel­ings along the way. Philip main­tains that he is not a prac­tic­ing Jew, but fin­ishes (almost) every chap­ter with a nice, sim­ple prayer.
I vis­ited LA once and it was all right (I like New York City bet­ter), but the more I read, hear or see shows about LA the less I want to visit. Do peo­ple really act that way? Treat each other like dirt? And that's OK with everybody?
So tell me, do you crave a nor­mal life or do you look for adventures?
Syn­op­sis:
Philip Lach­man, the titled Jew, gets beat down by life. He is a pub­lic high school Eng­lish teacher who bar­ley makes a liv­ing, is a door­mat for his super­vi­sors, his ex-wife, her lawyer, his lawyer and his kids which had had enough with being play­ers in their par­ents' massy divorce.
Philip decides to finds a wife who is not an actress and would put up with his teenage daugh­ter, a com­mu­nist son and a bitch of an ex. But does a poor, divorced pub­lic school teacher even has a shot in glitzy, mate­ri­al­is­tic LA?
Buy & Save on "A Short His­tory of a Tall Jew"
through the ManOfLa­Book affil­i­ate account on:
Ama­zon | Kin­dle
Zohar — Man of la Book
Dis­claimer: I got this book for free
Related arti­cles
BOOK BLOGGERS — Have you read "A Short His­tory of a Tall Jew"? If so link up your review below:
This post is in the 81st


Enjoy this post? Why don't you sign up for the RSS feed