About:
The Three Mus­ke­teers by Alexan­dre Dumas is the author's best known novel. The story was orig­i­nally seri­al­ized between March and July of 1844 in Le Siè­cle magazine.
704 pages
Pub­lisher: Oxford Uni­ver­sity Press,

USA

Lan­guage: English

ISBN-10

: 0199538468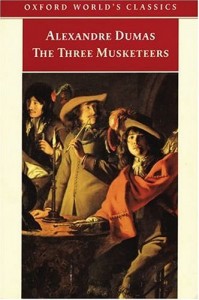 My rat­ing for The Three Mus­ke­teers — 5
Buy this book in paper or elec­tronic format*
More Books by Alexan­dre Dumas
Thoughts:
The Three Mus­ke­teers by Alexan­dre Dumas is a fast paced adven­ture into French his­tory which has cemented itself as a clas­sic and refuses to let go. I have been a fan of this story for sev­eral decades, it is a silly fan­tasy rid­dled with intrigue and adven­ture cross­ing bor­ders and nationalism.
The story is dif­fi­cult to read at first, the French names and seem­ingly high brow sto­ry­telling, but soon one can tell why this novel is one of the most pop­u­lar of all times. Pecu­liar, mem­o­rable and quirky with adven­tures galore and an air of arro­gance could define The Three Mus­ke­teers, but there is plenty more.
Dumas pep­pered this book with his­tor­i­cal fig­ures, but not so much his­tor­i­cal accu­racy (to be gen­er­ous). As with many other nov­els, the author took real fig­ures and some real his­tor­i­cal events, invented his own con­ver­sa­tions and sce­nar­ios while giv­ing these bom­bas­tic fig­ures grandiose roles on a stage of his own.
What Dumas does that sep­a­rates him from the crowd?
His fig­ures are so high and mighty, evil, hon­or­able and ego­tis­ti­cal that one can do noth­ing but laugh and enjoy. Dumas real­izes that the predica­ment and sit­u­a­tions he puts his heroes in are quite ridicu­lous, and through the action and adven­ture — all with a wink and a smile – the reader real­izes of course that this quite seri­ous busi­ness of bring­ing back the queen's dia­monds is really more suit­able for a com­edy than a roman­tic tale of France.
This is an age­less story which was seri­al­ized for a news­pa­per, hence the page turn­ing adven­ture and fast paced. After read­ing this book in ele­men­tary school (on my own) I had the urge to read it again, this time with the eyes of an adult. The book did not dis­ap­point, and I fur­ther under­stood why it is a clas­sic. Dumas is a mas­ter of inven­tion, if he'd live today he'd be mak­ing shows like "24", but he's not … and he didn't. Instead he gave us a time­less, ser­ial clas­sic pep­pered with a good deal of humor, romance and even some swordplay.
Dumas' genius is his abil­ity to tell this irrev­er­ent story, with no iden­ti­fi­able cen­tral plot, yet make it excit­ing and per­son­able. Every­thing that mat­ters to Dumas such as uncon­di­tional love and friend­ship are not front-and-center, but on the mar­gins of human­ity and history.
Syn­op­sis:
France, 1625 – a young poor noble­man named d'Artagnan leaves his Gas­cony home to the bright lights of Paris with inten­tions of becom­ing Mus­ke­teer of the Guard. On the way d'Artagnan hears a man mak­ing jokes about his horse and demands a fight, he loses the fight, breaks his sword and get a let­ter of intro­duc­tion to Mon­sieur de Tre­ville stolen.
In Paris d'Artagnan goes to meet Tre­ville and man­ages to sched­ule three con­sec­u­tive duels with Aramis, Athos and Porthos — the three mus­ke­teers. The rest of the story fol­lows our young friend while he duels, falls in love, man­ages to save the Queen of France and spoil Car­di­nal Richelieu's plans (In a true fash­ion of fic­tion rewrit­ing his­tory — the Car­di­nal got a bad rap from the pop­u­lar­ity of the story — much of it unde­served) all while achiev­ing his dream.
Buy this book in paper or elec­tronic format*
More Books by Alexan­dre Dumas
Zohar — Man of la Book
Dis­claimer: I bought this book
*Ama­zon links point to an affil­i­ate account
BOOK BLOGGERS — Have you read The Three Mus­ke­teers? If so link up your review below:
Enjoy this post? Why don't you sign up for the RSS feed