I bought this book.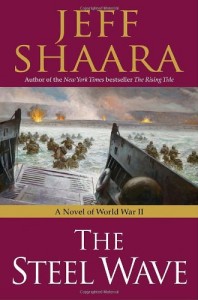 My rat­ing for The Steel Wave — 4
About:
The Steel Wave: A Novel of World War II by Jeff Shaara (web­site) is a his­tor­i­cal fic­tion book which blends his­tor­i­cal char­ac­ters, fact and fic­tion into a read­able story. The book is the sec­ond of a series about World War II.
560 pages
Pub­lisher: Bal­lan­tine Books

ISBN

: 0345461398
Buy & Save on "The Steel Wave" through the ManOfLa­Book affil­i­ate account on:
Ama­zon |Book Depos­i­tory US | Book Depos­i­tory UK
Thoughts:
The Steel Wave: A Novel of World War II by Jeff Shaara is the sec­ond book of a tril­ogy by the author, the first being "The Ris­ing Tide" (book review) of this his­tor­i­cal fic­tion series. The topic for this book is the events lead­ing up and after D-Day (Jan­u­ary through Sep­tem­ber 1944) see­ing through the eyes of the aggres­sor (Eisen­hower), the defender (Rom­mel), the gen­er­als (Bradley, Pat­ton, von Rund­st­edt) and best of all, the ordi­nary sol­diers (Sergeant Jesse Adams, a para­trooper of the 82nd Air­borne and Jack Logan, a tank gun­ner with the First Armored Division).
The beauty of these books is the way the author weaves the con­trast­ing day-to-day activ­i­ties of the peo­ple he writes about, how he gets into their mind­sets and "dares" guess­ing what they were think­ing through huge amounts of research.
Another inter­est­ing aspect of this book is how Mr. Shaara explores the polit­i­cal strug­gles that pulled at both sides. Eisen­hower by try­ing to con­trol his gen­er­als as well as appease politi­cians, while Rom­mel is try­ing to get Hitler to defend the whole coast of France while try­ing to remove him­self from being impli­cated in the failed assas­si­na­tion attempt on the Führer.
You don't have to be a his­tory buff to love this book, this char­ac­ter dri­ven story allows the story to unfold from many per­spec­tives. Mr. Shaara did a tremen­dous amount of research to tap into the hid­den thoughts of com­man­ders and gen­er­als alike. The story seam­lessly tran­si­tions between the men on the ground to the high ech­e­lons of power where their future will be decided.
In the book, Chief of Staff Gen­eral George C. Mar­shall tells Ike: "'News­pa­pers are a great place for cow­ards and mal­con­tents to have their say.'"
So tell me, do you think Gen­eral Marchall's state­ment is still true?
Syn­op­sis:
The book starts off where its pre­de­ces­sor left off Jan­u­ary 1944, five months before D-Day. A bunch of British com­man­dos are pick­ing up soil sam­ples from Omaha Beach before the bru­tal Allied inva­sion starts.
Switch­ing from char­ac­ter to char­ac­ter telling about either the same event or a day or two later, the story pro­gresses through the inva­sion end­ing in Octo­ber 1944.
Buy & Save on "The Steel Wave" through the ManOfLa­Book affil­i­ate account on:
Ama­zon |Book Depos­i­tory US | Book Depos­i­tory UK
Zohar — Man of la Book
Related arti­cles
BOOK BLOGGERS — Have you read "The Steel Wave"? If so link up your review below:
Enjoy this post? Why don't you sign up for the RSS feed