The League of Extra­or­di­nary Gen­tle­men, writ­ten by Alan Moore and illus­trated by Kevin O'Neill, is a won­der­ful graphic novel which take sev­eral famous (and not-so-famous) lit­er­ary char­ac­ters and mix them up together for an adven­ture of a life­time. I thought it would be fun to read those clas­sic nov­els and then the graphic novel to see how the cre­ators man­aged to take such clas­sics and mix them up all together.
Hence I came up with…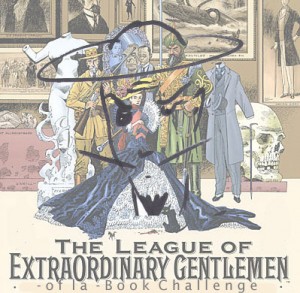 DETAILS/RULES:
1. The goal is to read the clas­sic books and the graphic novel to see how they all tie together. No blog is needed, a review on Ama­zon, Goodreads, etc. is good enough.
2. What counts: books, eBooks, audio books
3. Crossovers from other read­ing chal­lenges count.
The books are (in no spe­cific order):
– Drac­ula by Bram Stoker
– Twenty Thou­sand Leagues Under the Sea by Jules Verne
– Strange Case of Dr Jekyll and Mr Hyde by Robert Louis Steven­son
– The Invis­i­ble Man by H.G. Wells
– The First Men in the Moon by H.G. Wells
– Any Fu Manchu novel
– Any Sher­lock Holmes novel
– Any Allan Quater­main novel
– Any James Bond novel
and
- The League of Extra­or­di­nary Gen­tle­men graphic novel to tie it all together. (if you don't have it in your local library Ama­zon sells afford­able issues).

Sign Up:
To sign up sim­ply leave a com­ment below and I'll update the page to include your link.
When you sign up, please put the name of your blog and the direct URL link to your blog post (for exam­ple: here is mine)  where your books will be listed, not a link to your blog's home page. Also, please put a link back to this post so other read­ers can sign up as well.
Feel free to use any of the graph­ics above for your own per­sonal use.
Thank you and enjoy, these are won­der­ful books.
Zohar — Gen­tle­man of la Book
Enjoy this post? Why don't you sign up for the RSS feed