About:
The Lawyer's Lawyer by James Shee­han is a fic­tional story tak­ing place in present day Florida. Mr. Shee­han works at Stet­son Uni­ver­sity in Tampa, FL and teaches trail law.
416 pages
Pub­lisher: Cen­ter Street
Lan­guage: English

ISBN-10

: 1455508667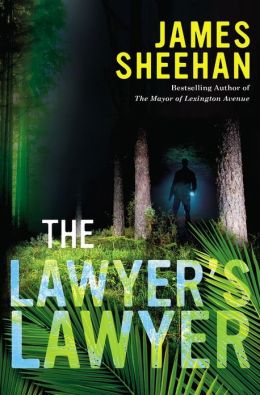 My rat­ing for The Lawyer's Lawyer — 4
Buy this book in paper or elec­tronic format
Thoughts:
The Lawyer's Lawyer by James Shee­han (web­site | Face­book | @James_Sheehan_) was a delight to read. I got this book a few months ago, but just picked it up and fin­ished it in about two days.
While there are sev­eral direc­tions the book pulls the reader towards, the real strength lays in the court­room drama which Mr. Shee­han so elo­quently brings to life. I'll even go fur­ther and say that the side­bars the lawyers had while approach­ing the bench were some of the most inter­est­ing, fas­ci­nat­ing con­ver­sa­tion I've read in this genre.
The author did a great job telling the story while stay­ing away from many tech­ni­cal terms ("legalese") and if used, explain­ing them almost imme­di­ately. The nar­ra­tive is smooth and elo­quent which makes for an easy read despite the setting.
The pro­tag­o­nist of the book, Jack Tobin, is too per­fect. He is rich, retired in fact, and only rep­re­sent clients for char­ity. Jack has a volatile con­scious which makes one won­der how he became not only a suc­cess­ful lawyer, but a "lawyer's lawyer" – the one lawyers them­selves call when they get in trou­ble. The reader is reminded much too often about what a good per­son Jack is and how self­less he is that it seems unbe­liev­able at times.
Mr. Shee­han did a fan­tas­tic job writ­ing a very inter­est­ing book. The legal bat­tles between the judge, the defense and the dis­trict attor­ney bring the book to life and reminds the reader that a trial is not nec­es­sar­ily about the accused.
Syn­op­sis:
Jack Tobin, one of the best lawyers in the United States, takes it upon him­self to rep­re­sent a ser­ial killer that he believes to be inno­cent. The cit­i­zens of the town of Oakville are out­raged, the Chief of Police is angry and the dis­trict attor­ney is out to get Jack.
The crim­i­nal jus­tice sys­tem as a whole is not too happy either.
Buy this book in paper or elec­tronic format
Zohar — Man of la Book
Dis­claimer: I got this book for free.
*Ama­zon links point to an affil­i­ate account
Enjoy this post? Why don't you sign up for the RSS feed