About:
The Hol­low Man by Oliver Har­ris is a novel intro­duc­tion a new char­ac­ter, cop Nick Belsey, in what seems to be the first of a series. Nick Belsey is an Eng­lish police­man who seems to have no ethics and cor­rupt morals which con­stantly traps him in the lure of easy money.
The pub­lisher is giv­ing away one copy of this book -to enter fill out the Raf­fle­copt­ter form at the end of the post.
480 pages
Pub­lisher: Harper Paperbacks
Lan­guage: English

ISBN-10

: 0062136712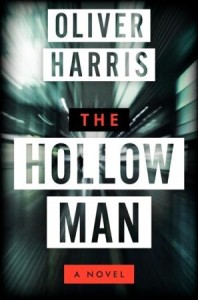 My rat­ing for The Hol­low Man —

4
Thoughts:
The Hol­low Man by Oliver Har­ris (web­site | @oliharrisauthor) moves at a break­neck speed with a spec­tac­u­lar end­ing which plants destruc­tion and bed­lam in the Eng­lish countryside.
The book intro­duces anti-hero Nick Belsey, a Detec­tive Con­sta­ble in the Hamp­stead CID. Belsey has a seri­ous drink­ing prob­lem, is eth­i­cally chal­lenged and is in per­sonal debt up to his eye­balls. In fact, his pay­check no longer cov­ers the min­i­mum amount owed on his loans.
Belsey breaks every rule he could find, from squat­ting in a house where a crime has hap­pened, to tak­ing money, iden­tity theft and more. All while get­ting away with what­ever he can, jus­ti­fy­ing him­self to … well… him­self know­ing all the while that he's full of bull.
The story starts off a bit slowly, but then moves at breath­tak­ing speed. The book is writ­ten with a noir feel to it, almost like watch­ing an old movie where the cop is drunk and grumpy in an attrac­tive, world weary sort of way
This is an excel­lent first novel, I loved the cor­rupt char­ac­ter of Nick Belsey and am look­ing for­ward to more cor­rupt shenani­gans. Sus­pend dis­be­lief, put on your seat-belt and get ready for a good time.
Related Reads:
The Silent Oli­garch by Chris Mor­gan Jones
Syn­op­sis:
It is when Lon­don police detec­tive Nick Belsey woke up in a crashed police car, drunk, no phone, and no wal­let  did he real­ize that he hit rock bot­tom. As he goes to the police sta­tion, cer­tain that he is going to get fired, he sees a miss­ing person's report from a lux­u­ri­ous sec­tion of Lon­don. As he goes into the house, Belsey assumes the iden­tity of its occu­pier, Alex Dev­ereux who lived alone, has no heirs and it seems that he sim­ply vanished.
The broke detec­tive sees an oppor­tu­nity to start his life anew wear­ing a new iden­tity. But there are peo­ple look­ing for Dev­ereux and Belsey quickly real­izes that the scam­mer is about to be scammed and scrammed if he isn't too careful.
 Buy this book in paper or elec­tronic format*
Give­away
Give­away ends: Novem­ber 21, 2012

US

/Canada Ship­ping Addresses Only

No 

PO

 Boxes

Win­ners will have 24 hours to write back with their address, oth­er­wise an alter­nate win­ner will be picked
Con­grat­u­la­tions: pointyredhats@
TLC

 Book Tour for The Hol­low Man by Oliver Harris
Tues­day, Octo­ber 23rd: Lit­er­ary Feline
Wednes­day, Octo­ber 24th: Ted Lehmann's Blue­grass, Books, and Brainstorms
Thurs­day, Octo­ber 25th: Life In Review
Wednes­day, Octo­ber 31st: Jen's Book Thoughts
Tues­day, Novem­ber 6th: Sea­side Book Nook
Wednes­day, Novem­ber 7th: Book Him Danno!
Tues­day, Novem­ber 13th: she treads softly
Wednes­day, Novem­ber 14th: Man of la Book
Thurs­day, Novem­ber 15th: A Bookworm's World
Tues­day, Novem­ber 20th: No More Grumpy Bookseller

TBD

: nomadreader
BOOK BLOGGERS — Have you read The Hol­low Man? If so link up your review below:
Enjoy this post? Why don't you sign up for the RSS feed