About:
The Good Pope:  John XXIII & Vat­i­can II, The Mak­ing of a Saint and the Remak­ing of the Church by Greg Tobin is a biog­ra­phy of Angelo Giuseppe Ron­calli, the Pope. John XXIII is cred­ited with help­ing mod­ern­ized the Catholic Church even though he only served as Pope from 1958 to 1963.
The pub­lisher is giv­ing away one copy of this book -to enter fill out the Raf­fle­copt­ter form at the end of the post.
288 pages
Pub­lisher: HarperOne
Lan­guage: English

ISBN-10

: 0062089439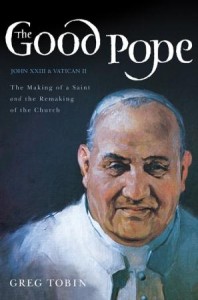 My rat­ing for The Good Pope —

4
Thoughts: I wanted to read The Good Pope:  John XXIII & Vat­i­can II, The Mak­ing of a Saint and the Remak­ing of the Church by Greg Tobin because I am very unfa­mil­iar with the Catholic dogma and beliefs. Being brought up Jew­ish I can also not com­pre­hend the ele­vated sta­tus to the Pope in the eyes of mor­tal men as well as the whole idea of ele­vat­ing a man into the sta­tus of "saint".
I found it fas­ci­nat­ing to read about the dif­fer­ent fac­tion within the Catholic church which I never knew existed. The whole "lib­er­als" vs. "con­ser­v­a­tives" divi­sion was explained very well with­out dis­sent­ing into blame or divi­sive­ness, as Mr. Tobin is sim­ply telling a story (and a good one at that) with­out tak­ing sides; of course the reader gets to see events more clearly from the point of view of the sub­ject of the book.
I learned a lot from this book, not only about John XXIII, but also about the Chris­t­ian reli­gion in gen­eral and the Catholic sect specif­i­cally. How­ever, many of the terms are "tech­ni­cal" which I never heard of and had to look up many of them and then re-read the sec­tion to under­stand them within context.
That being said, the book is very read­able, easy to read on a very like­able sub­ject. I got the impres­sion that John XXIII/ Angelo Ron­calli was truly a very good man, a strong Pope who kept his "priest in the trenches" pri­or­i­ties while hold­ing the high­est level in his occu­pa­tion. An unglam­orous man who was truly a man-of-G-d first and a politi­cian second.
One of John XXIII great­est achieve­ments, out­side of pro­vid­ing spir­i­tual guid­ance for indi­vid­u­als, was con­ven­ing the Sec­ond Vat­i­can Coun­cil which was try­ing to reform the church. The Sec­ond Council's agenda was to open the reli­gion to the mod­ern world while pre­serv­ing the core tra­di­tions, a very dif­fi­cult mis­sion espe­cially with the con­ser­v­a­tives within the Vat­i­can fight­ing tooth and nail against those reforms.
The Good Pope is an author­i­ta­tive biog­ra­phy of a poor peas­ant who became Pope, a man full of humil­ity, good­ness and a healthy sense of humor which helped him greatly through­out his ordeals, diplo­matic mis­sions and fac­ing his oppo­nents. Filled with per­sonal pas­sages from Roncalli's jour­nal, the book is an amaz­ing insight into a man whose short tenure left a large legacy.
Buy this book in paper or elec­tronic format*
Give­away
Give­away ends: Octo­ber 22, 2012

US

/Canada Ship­ping Addresses Only

No 

PO

 Boxes

Win­ners will have 24 hours to write back with their address, oth­er­wise an alter­nate win­ner will be picked
Con­grat­u­la­tions: kuligowskiandrew@
TLC

 Book Tour for The Good Pope by Greg Tobin:
Tues­day, Sep­tem­ber 25th: 50 Books Project
Wednes­day, Sep­tem­ber 26th: Impris­oned in My Bones
Thurs­day, Sep­tem­ber 27th: A Catholic Life
Fri­day, Sep­tem­ber 28th: Book Him Danno!
Mon­day, Octo­ber 1st: JonathanFSullivan.com
Tues­day, Octo­ber 2nd: SnoringScholar.com
Mon­day, Octo­ber 8th: Cold Read
Mon­day, Octo­ber 8th: Patricia's Wis­dom
Wednes­day, Octo­ber 10th: 50 Books Project
Thurs­day, Octo­ber 11th: A Catholic Mom Climb­ing The Pillars
Mon­day, Octo­ber 15th: Man of La Book
Thurs­day, Octo­ber 25th: Vox Nova
 Zohar — Man of la Book
Dis­claimer: I got this book for free from TLC Book Tours
*Ama­zon links point to an affil­i­ate account
BOOK BLOGGERS — Have you read The Good Pope? If so link up your review below:
Enjoy this post? Why don't you sign up for the RSS feed