Arti­cle first pub­lished as Book Review: The Dis­patcher by Ryan David Jahn on Blogcritics.
About:
The Dis­patcher by Ryan David Jahn is a fic­tional thriller which takes the reader from­Texas toAri­zona. I could not put this book down, it moves fast and furi­ous.
The pub­lisher is giv­ing away one copy of this book— enter at the end of the post.
368 pages
Pub­lisher: Pen­guin

ISBN

: 0143120700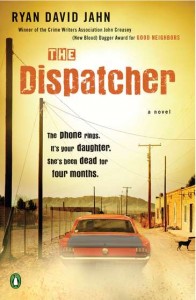 My rat­ing for The Dis­patcher — 5
Great price on this book in paper or elec­tronic for­mat
through the Man of la Book Affil­i­ate Account
Thoughts:
I could hardly put down The Dis­patcher by Ryan David Jahn (web­site). The first chap­ter, where Ian Hunt answers a 911 call only to real­ize he is talk­ing with his daugh­ter who was kid­napped sev­eral years before was the per­fect start to this excit­ing book.
Read­ing this book I had a clear image of a Coen Broth­ers / Quentin Taran­tino movie in mind. The char­ac­ters are gritty, well defined and for a few pages I thought I could even smell them. The scenery, con­sist­ing mainly of the desert, is per­fect and the plot is tight and moves fast.
This is a story about a man doing every­thing pos­si­ble to save his 14-year-old daugh­ter from a weird cou­ple. Mr. Jahn man­ages to cre­ate an atmos­phere of ten­sion and unpre­dictabil­ity as sus­tain­ing that sense for the major­ity of the book.
The plot is told from a view point of three peo­ple, Ian Hunt, his daugh­ter Mag­gie and her abduc­tor. The fury of this book and the fear which the authors man­age to cap­ture some­how jus­tify the twisted logic many of the char­ac­ters have.
The grief that Ian feels after his daugh­ter been abducted is heart wrench­ing, we watch Ian's life and fam­ily fall apart. We are wit­nesses to the way he destroyed his rela­tion­ship with his teenage son and Ian's weak attempts to res­ur­rect it.
Mag­gie, four­teen and abducted for sev­eral years, is a spunky girl who has noth­ing to lose. The character's strength was admirable and filled with desperation.
Henry sim­ply wants to make his wife happy – oth­er­wise he is a total scum­bag. The most fas­ci­nat­ing part of this book was giv­ing this mon­ster or a man some human qualities.
Many books are about the rela­tion­ship chil­dren have with their moth­ers, but this one is about a father and daugh­ter. Maybe that's why this book really hit all the right cords with me. I couldn't imag­ine any­thing hap­pen­ing to my daugh­ter and I know I'll go to the ends of the earth for her (despite that she has been a bit fresh lately / 7 going on 17).
The Dis­patcher is a mod­ern day west­ern, a bat­tle between two men pro­tect­ing their families.
Syn­op­sis:
Dis­patcher Ian Hunt wears a uni­form but does not con­sider him­self a police man. One day Ian answers a 911 call only to real­ize he is talk­ing to his daugh­ter who has been abducted from his home seven years before.
Going on a bul­let rid­den chase from Texas to Cal­i­for­nia, this macabre, vio­lent ride in a 1965 Mus­tang will pit a man against him­self, the dessert, the law, the abduc­tor and any­thing that comes between him and his daughter.
Great price on this book in paper or elec­tronic for­mat
through the Man of la Book Affil­i­ate Account
Give­away
Give­away ends: March 12, 2012

US

/Canada Ship­ping Addresses Only

No 

PO

 Boxes

Win­ners will have 24 hours to write back with their address, oth­er­wise an alter­nate win­ner will be picked
Con­grat­u­la­tions: andrea2russia@
TLC Book Tour for The Dis­patcher:
Mon­day, Feb­ru­ary 13th:  Chaotic Com­pendi­ums
Tues­day, Feb­ru­ary 14th:  Ted Lehmann's Blue­grass, Books, and Brain­storms
Thurs­day, Feb­ru­ary 16th:  A Bookworm's World
Mon­day, Feb­ru­ary 20th:  Life in Review
Wednes­day, Feb­ru­ary 22nd:  Read­ing on a Rainy Day
Wednes­day, Feb­ru­ary 29th:  Dan's Jour­nal
Thurs­day, March 1st:  Word­smitho­nia
Mon­day, March 5th:  Book Reviews by Eliz­a­beth A. White
Tues­day, March 6th:  Man of La Book
Wednes­day, March 7th:  Unabridged Chick
Thurs­day, March 8th:  Crime Fic­tion Lover
Mon­day, March 12th:  Book Addict Katie
Tues­day, March 13th:  The House of Crime and Mys­tery
Wednes­day, March 14th:  A Library of My Own
Thurs­day, March 15th:  Mock­ing­bird Hill Cot­tage
Mon­day, March 19th:  Rag­ing Bib­lio­ma­nia
Wednes­day, March 21st:  Fic­tion Addict
Zohar — Man of la Book
Dis­claimer: I got this book for free from TLC Book Tours
Related arti­cles
BOOK BLOGGERS — Have you read The Dis­patcher? If so link up your review below:
Enjoy this post? Why don't you sign up for the RSS feed