I bought this book.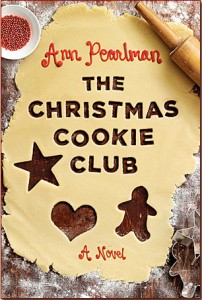 My rat­ing for The Christ­mas Cookie Club — 2
About:
"The Christ­mas Cookie Club" by Ann Pearl­man (Web­site | Face­book | Twit­ter)is a short fic­tional novel which takes place on one Decem­ber evening. The event is the annual Christ­mas Cookie party where twelve women exchange cook­ies and donate some for char­ity. Each cookie deliv­ery comes with a story, a recipe and a few his­tor­i­cal facts about the ingre­di­ents. The host of the event is Marnie, who started the club, cre­ated the rules and has had a com­plex life herself.
What can be bet­ter at Christ­mas than cookies…and clubs — Buy the book today
Thoughts:
Even though each chap­ter in "The Christ­mas Cookie Club" is sup­posed to be about the woman pre­sent­ing the cook­ies, it isn't since we hear the story through Marnie's ears and are privy to her thoughts. So basi­cally Marnie goes on tan­gents, as we all do from time to time, when a word or a phrase reminds her of another event. This is a short novel which in turn is divided into twelve short sto­ries. There are many char­ac­ters but I didn't get vested in any of them and the nar­ra­tion is mainly done by Marnie. We find out about the ups and downs of the lives of these women, with some insight­ful com­ments which get lost some­where in the narration.
I found this book a bit con­vo­luted, but not hard to read. The many char­ac­ters were not easy to keep track of, espe­cially since their spouses, par­ents and chil­dren were all part of the inter­wo­ven story. I have to admit that the char­ac­ters are per­son­able and like­able (mostly) and each story is deliv­ered pas­sion­ately but due to the cir­cum­stances, where each woman has a tragic occur­rence or a secret, the über-drama seems to take over from time to time.
For me, melo­drama only works if I can make and emo­tional con­nec­tion with the char­ac­ter, but because Ann Perl­man was try­ing to keep the book to a rea­son­able size (or even short) the depth and explo­ration of char­ac­ter wasn't there.
At the begin­ning of every chap­ter there is a cookie recipe and at the end Ms. Pearl­man wrote a short his­tory of some ingre­di­ent (choco­late, salt, etc.). I think that the recipes and the his­tor­i­cal infor­ma­tion were cer­tainly a nice touch, if you don't like it then skip over them since they are in between chap­ters. I don't know why peo­ple com­plain about them tak­ing away from the story since they are not part of the story in the first place — nor do they add any insights or infor­ma­tion — they are "extras" and should be treated as such. Maybe if they were included as appen­dices less peo­ple would have com­plained but as I said, I thought it was prop­erly done and a nice touch.
Syn­op­sis:
Every Christ­mas thir­teen women come together to cel­e­brate the sea­son, each brings a beau­ti­fully wrapped home­made cook­ies which will get donated to char­ity.  This year it is Marnie's turn and together with the dessert and a bot­tle of wine their sto­ries come out along with the baked goods.
This isn't a good year for Marnie, her daugh­ter preg­nancy is risky, Jeannie's father is mass­ing around with her best friend, Rosie's and her hus­band have dis­agree­ments about chil­dren which can ruin their mar­riage and Taylor's life is a finan­cial mass.
This evening the ladies let it all out, their con­flicts, pas­sion and dis­il­lu­sion­ment with their lives and rela­tion­ships all come out along with the joys and fears.
A great present for any occa­sion, but espe­cially Christ­mas — Buy it now!!!
Please keep in mind, that as a man, chick-lit usu­ally doesn't speak to me.
For exam­ple I find it ridicu­lous that one moment every­one is in tears and the next a "dance party" breaks out.
Does this really hap­pen?
Do women really dance around the kitchen table like they are in some kind of Nora Ephron movie?
If this really hap­pens, good for you and more power.
Zohar — Man of la Book
Related arti­cles
Enjoy this post? Why don't you sign up for the RSS feed