About:
The Bookie's Son by Andrew Gold­stein is a com­ing of age novel set in the 1960s. This is the author's debut novel and I hope he will pen a few more.
The pub­lisher is giv­ing away one copy of this book— use the Raf­fle­copter form at the end of the post to enter.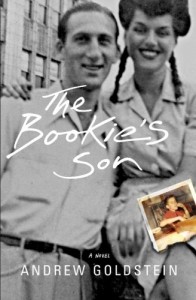 My rat­ing for The Bookie's Son — 4
Buy this book in paper or elec­tronic format
Thoughts:
The Bookie's Son by Andrew Gold­stein is an intel­li­gent and funny novel about a some­what dys­func­tional, yet lov­ing fam­ily in the 60s. Part a fam­ily story, part a com­ing of age story, the book grabs the reader's atten­tion on almost every page.
The strength of the novel is on its use of dia­logue, the author man­ages to cap­ture the style of the Bronx and the rhythm of the lan­guage with a few Yid­dish words to spice it all up. The author man­ages to cap­ture the sounds of the streets and fam­i­lies in a very human sense. I admired the way Mr. Gold­stein encap­su­lated how kids talk dif­fer­ently on the street than they do at home.
Ricky becomes a man dur­ing these tur­bu­lent times. He learns his lim­i­ta­tions but also what can be accom­plished when one puts his mind to a task. The young boy becomes a man while see­ing his father, his hero, being beaten down lit­er­ally and fig­u­ra­tively; dis­cov­er­ing that the world is not black and white and that the bad guys often win.
The book com­bines humor and drama together in a sen­si­ble way. You never know when one will start and the other will end. The char­ac­ters are writ­ten very well, it's hard to imag­ine that this is the first book the author has published.
Syn­op­sis:
Ricky Davis is the son of a col­lec­tor agent to a Jew­ish crime lord, gam­bler and, of course, a bookie. Grow­ing up to a poor fam­ily in the Bronx dur­ing the 1960s is tough and the reader is intro­duce to many col­or­ful char­ac­ters, hap­pi­ness and tragedy dur­ing Ricky's teenage years.
The Davis fam­ily is also in the dire straits due to Mr. Davis' addic­tion, but young Ricky has a plan. He will help his fam­ily out of the dire sit­u­a­tion to a bet­ter life.
Buy this book in paper or elec­tronic format
Give­away
Give­away ends: Sep­tem­ber 14, 2012

US

/Canada Ship­ping Addresses Only

No 

PO

 Boxes

Win­ners will have 24 hours to write back with their address, oth­er­wise an alter­nate win­ner will be picked
TLC

 Book Tour for The Bookie's Son by  Andrew Goldstein:
Tues­day, Sep­tem­ber 4th: Lit and Life
Wednes­day, Sep­tem­ber 5th:  A Patch­work of Books
Thurs­day, Sep­tem­ber 6th:  Man of La Book
Mon­day, Sep­tem­ber 10th:  Rag­ing Bibliomania
Wednes­day, Sep­tem­ber 12th:  Peek­ing Between the Pages
Thurs­day, Sep­tem­ber 13th:  The Perks of Being a 

JAP

Fri­day, Sep­tem­ber 14th:  House of the Seven Tails
Mon­day, Sep­tem­ber 17th:  Bro­ken Teepee
Tues­day, Sep­tem­ber 18th:  Life in Review
Wednes­day, Sep­tem­ber 19th:  Unabridged Chick
Thurs­day, Sep­tem­ber 20th:  Two Heads Together
Mon­day, Sep­tem­ber 24th:  Fic­tion Addict
Tues­day, Sep­tem­ber 25th:  

WV

Stitcher
Wednes­day, Sep­tem­ber 26th:  I Am A Reader, Not A Writer  author Q

&

A
Thurs­day, Sep­tem­ber 27th:  Bagels, Books and Schmooze
Thurs­day, Sep­tem­ber 27th:  Between the Covers
Fri­day, Sep­tem­ber 28th:  Mom in Love with Fiction
Zohar — Man of la Book
Dis­claimer: I got this book for free from TLC Book Tours
BOOK BLOGGERS — Have you read The Bookie's Son? If so link up your review below:
Enjoy this post? Why don't you sign up for the RSS feed