About:
The Angel's Game is a pre­quel to Car­los Luis Zafón's pre­vi­ous novel Shadow of the Wind.  I'm very excited about Car­los Luis Zafón's new book The Pris­oner of Heaven com­ing out this month so I decided to revisit and post about his pre­vi­ous book, which I read about a year and half ago.
512 pages
Pub­lisher: Subterranean
Lan­guage: English

ISBN-10

: 1596063629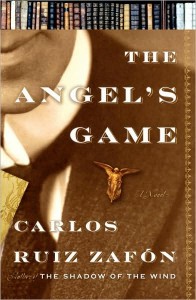 My rat­ing for The Angel's Game —

5
Thoughts:
Call­ing The Angel's Game by Car­los Ruis Zafón (web­site) a pre­quel is not the right word, the story takes place in the same gen­eral neigh­bor­hood in Barcelona and has some of the same minor char­ac­ters as well as the same mood and ideas (like the won­der­ful "Ceme­tery of For­got­ten Books"), but it's not about the same peo­ple. The story is about an author named David Mar­tin who accepts an assign­ment to write a book for a very rich client.
An offer too good to be true.
David believes that once a write accepts money of praise for his books he is actu­ally sell­ing his soul — in David's case he sold his soul to the devil. In a spin­ning and elab­o­rate tale, using Zafón's sar­cas­tic and macabre style, David is manip­u­lated and pulled into events beyond his con­trol, com­mit­ting crimes and being chased by the crooked police, crim­i­nals and his own con­science while los­ing every­thing he loves.
I found the char­ac­ters in the book to be more dimen­sional than Shadow of the Wind, the pace a bit slower and pur­pose­ful. The book is very enjoy­able, even though I didn't laugh as much as I did read­ing Shadow of the Wind, I still enjoyed Zafón's cyn­i­cism, his story telling and prose.
I'm not used to read­ing hor­ror / goth / spooky genre so some parts of the book were a bit freaky to me — how­ever I took great joy in the embell­ished prose which pulled me to Shadow of the Wind.
A big acknowl­edg­ment to the very fine trans­la­tion by Lucia Graves who, once again, did a mas­ter­ful job.
Related Reads:
Shadow of the Wind by Car­los Ruiz Zafón
So tell me, which new book are you look­ing for­ward to?
Syn­op­sis:
David Mar­tin, an orphan, finally achieves suc­cess writ­ing the series "City of the Damned". Martin's work catches the eye of Andreas Corelli, a pub­lisher fromParis, who offers Mar­tin a large amount of money to use his lit­er­ary skills to cre­ate a new religion.
Zohar — Man of la Book
Dis­claimer: I bor­rowed this book from the local library
BOOK BLOGGERS — Have you read The Angel's Game? If so link up your review below:
Enjoy this post? Why don't you sign up for the RSS feed