Scott Tracy Grif­fin (
web­site
) has writ­ten and com­piled a won­der­ful cof­fee table book called 
Tarzan The Cen­ten­nial Cel­e­bra­tion
, which I thought was mar­velous, a feast to the eyes and a great gift to any Tarzan, comics, movies or pop-culture fan. Mr. Grif­fin was kind enough to answer a few ques­tions for me.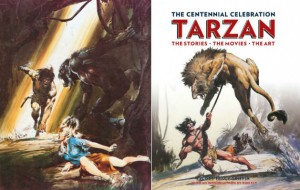 Q.  Tarzan has been a beloved fig­ure since its incep­tion to this day. Why do you think thae story has such a grep on kids and kids at heart for gen­er­a­tions?
A. Tarzan cre­ator Edgar Rice Bur­roughs tapped into a pri­mor­dial fan­tasy that speaks to many of us: the desire to return to nature and be free of the con­ven­tions and restric­tions of civ­i­liza­tion. It's wish-fulfillment and empow­er­ment on the most basic levels—Tarzan, a men­tal, moral, and phys­i­cal super­man, embod­ies the per­son we would like to be, liv­ing the life we'd love to live.
Q.  What prompted you to write the book?
A.
I've been a Bur­roughs fan since child­hood, and his writ­ing has always inspired my artis­tic pur­suits. After years of wait­ing, I finally had an oppor­tu­nity to cre­ate the man­ner of illus­trated Tarzan book I would have loved as a child—or an adult. The tim­ing of the Cen­ten­nial was ideal for the release of
Tarzan: The Cen­ten­nial Cel­e­bra­tion
.
Q. There is an enor­mous amount of won­der­ful art asso­ci­ated with Tarzan. How did you go about choos­ing which pieces to include in the book?
A.
It's impos­si­ble to do jus­tice to each artist's con­tri­bu­tion in one vol­ume, so I included all the clas­sic illus­tra­tors as well as my favorites, which skew towards the illus­tra­tors from my youth: Neal Adams, Boris Vallejo, and other high-profile artists of the latter-half of the twen­ti­eth cen­tury who por­tray a sav­age, con­tem­po­rary Tarzan, close to

ERB

's orig­i­nal imaginings.
Q. There are many incar­na­tions of Tarzan (

TV

, movies, comics), which one do you think most resem­bles Bur­roughs' Tarzan?
A.
My favorite por­tray­als are the comic book and news­pa­pers strip sto­ries of Russ Man­ning, who was a ter­rific sto­ry­teller as well as artist; the ani­mated Fil­ma­tion tele­vi­sion series of the 1970s; and the comic book work and illus­tra­tions of Thomas Yeates. All of these ver­sions were based on Bur­roughs' orig­i­nal con­cept, rather than the later Hol­ly­wood versions.
Q. What are the chal­lenges asso­ci­ated with book pro­mo­tions in the social media age?
A. One rea­son that I've cho­sen to work within the medium of large, illus­trated books is that they are artis­tic arti­facts in them­selves, and will con­tinue to be highly sought and col­lectible. I believe the near future remains bright for this kind of book, which will gar­ner atten­tion, based on its visual appeal. I don't face the same hur­dles that nov­el­ists do, who com­pete with an almost infi­nite amount of freely avail­able prose on the inter­net, as well as medi­ums like film and video games.
Q. Shame­less plug dis­guised as a ques­tion: Why do you love ManOfLaBook.com so much and often visit the web-site?
Wise guy answer: It's a great resource that reviews great books! What's not to love?
Zohar — Man of la Book
Enjoy this post? Why don't you sign up for the RSS feed