About:
Super­man: The Unau­tho­rized Biog­ra­phy by Glen Wel­don is a non-fiction book chron­i­cling the fic­tional his­tory of the Man of Steel in comic books, radio, TV, the­ater, music and movies. Mr. Wel­don is a con­trib­u­tor to NPR's pod­cast Pop Cul­ture Happy Hour.
The pub­lisher is giv­ing away one copy of this book -to enter fill out the Raf­fle­copt­ter form at the end of the post.
352 pages
Pub­lisher: Wiley
Lan­guage: English

ISBN-10

: 1118341848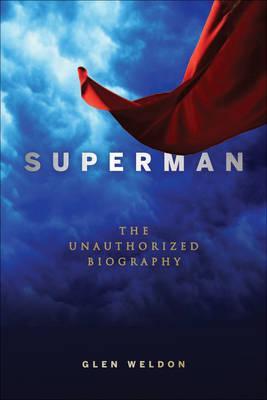 My rat­ing for Super­man: The Unau­tho­rized Biog­ra­phy — 4
Buy this book in paper or elec­tronic format*
Thoughts:
A short dis­claimer: I stopped read­ing the comics sev­eral years ago. I sim­ply couldn't keep up with the com­pli­cated sto­ry­lines which ran across mul­ti­tudes of titles. One sto­ry­line I could still keep track of, but once every Super­man title (they were 5 at the time) started their own, that was it for me. I do, how­ever, get the graphic nov­els (which col­lect the sto­ry­line from all the titles in one vol­ume) and enjoy them very much. Read­ers of my blog and twit­ter feed know that I post about them as well.
I have been a Super­man fan for many years, I was hooked when I was 8 years-old and my mom took me to see "Super­man: The Motion Pic­ture" in the big city – that was it! Ever since I try to read as much as I can about the Man of Steel, comics, nov­els and non-fiction work. So when I saw Super­man: The Unau­tho­rized Biog­ra­phy by Glen Wel­don (tum­blr | @ghweldon), I knew I had to read it.
The book is well researched with some excel­lent obser­va­tions by the author. Mr. Wel­don traces the ori­gins of Super­man, both in the pub­li­ca­tion world and the mythol­ogy cre­ated around him. He iden­ti­fies the two ele­ments which are con­sis­tent with all the incar­na­tions of Super­man (Bryan Singer's movie Super­man Returns broke them and it's one of the rea­sons it didn't work) as well as his evo­lu­tion both phys­i­cally and emotionally.
The author cel­e­brates the silli­ness which is a man-in-tights fly­ing around, but at the same time is hum­bled by the ideals Super­man rep­re­sents. Not just "truth, jus­tice and the Amer­i­can way" but the way Super­man, over the last 75 years, embod­ied what's good about soci­ety, paved a way to solve our dilem­mas and became a sym­bol we aspire to be.
The book does not include any pic­tures; I can only assume that this is because of the unau­tho­rized nature of the pub­li­ca­tion. Mr. Wel­don does an awe­some job describ­ing the art­work, but I still had to put the book down and try to find the images he is talk­ing about. It would have been much more enjoy­able if I had the pic­tures on the next page or some­where in the book, but with the Inter­net at our fin­ger­tips, I would say it's not much of a big deal.
While the nar­ra­tive some­times gets a bit bogged down I thought it was a fas­ci­nat­ing glimpse into an icon which came to rep­re­sent Amer­ica and inspired mil­lions. Mr. Weldon's lively com­men­tary and irrev­er­ent remarks make the book fun to read and remind us that after-all, the absurd is what makes super­heroes wonderful.
Related Reads:
Super­man: The High-Flying His­tory of America's Most Endur­ing Hero by Larry Tye
Absolute King­dom Come by Mark Waid and Alex Ross
The Dark Knight Returns by Frank Miller
Buy this book in paper or elec­tronic format*
Give­away
Give­away ends: May 18, 2013

US

Ship­ping Addresses Only

No 

PO

 Boxes

Win­ners will have 24 hours to write back with their address, oth­er­wise an alter­nate win­ner will be picked
Con­grat­u­la­tions: garnet1377@
Zohar — Man of la Book
Dis­claimer: I got this book for free.
*Ama­zon links point to an affil­i­ate account
Enjoy this post? Why don't you sign up for the RSS feed