About:
Out­law Pla­toon: Heroes, Rene­gades, Infi­dels, and the Broth­er­hood of War in Afghanistan  by Sean Par­nell and John Brun­ing is a non-fiction book about Mr. Parnell's expe­ri­ence as a pla­toon leader (nick­named Out­law Pla­toon) for the U.S. Army Air­borne Ranger in Afghanistan. Ser­vice for six years, Mr. Par­nell retired with two Bronze Stars and a Pur­ple Heart.
The pub­lisher is giv­ing away one copy of this book -to enter fill out the Raf­fle­copt­ter form at the end of the post.
416 pages
Pub­lisher: William Mor­row Paperbacks
Lan­guage: English

ISBN-10

: 0062066404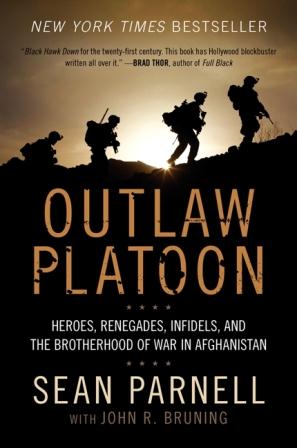 My rat­ing for Out­law Pla­toon — 5
Buy this book in paper or elec­tronic format*
Thoughts:
Out­law Pla­toon by Sean Par­nell & John Brun­ing does not hold any punches. The descrip­tions of the hor­rors as well as the ela­tion of bat­tle are vivid and evoca­tive. How­ever, this is not only the story of Par­nell, but the story of a pla­toon work­ing and liv­ing together in a dan­ger­ous, inhos­pitable place.
This is a gritty book, not only with the vibrant descrip­tions of what the author has been through, but also of the enemy we are fight­ing. An enemy who's goal was to decap­i­tate the sol­diers with dull knives and stick their heads on polls as warn­ings, or who seems to get their kicks kid­nap­ping a six-year-old boy, gaug­ing his eyes out, pulling his teeth and using him as their sex­ual plaything.
Mr. Par­nell writes with hon­esty and clar­ity, eager to prove him­self in bat­tle, he soon gets plenty of oppor­tu­ni­ties to do so dur­ing his tour. The book revolves around sev­eral bat­tles in which Parnell's pla­toon came out vic­to­ri­ous but not unhurt.
One of the aspects which I really appre­ci­ated in the book is that the author does not under­es­ti­mate the enemy. While the pro­pa­ganda we often hear about the "cave dwelling towel heads", this mis­in­for­ma­tion is far from the truth. The enemy the Rangers encoun­tered is a dis­ci­plined, well equipped, well trained, orga­nized and expe­ri­enced mil­i­tary force.
Unfor­tu­nately I have encoun­tered the same atti­tude (usu­ally from offi­cers) dur­ing my mil­i­tary ser­vice. I remem­ber telling my father about this issue when I was a 20 year old sergeant, how the mis­in­for­ma­tion is doing moral dam­age to the fam­i­lies at home, hurt­ing the sol­diers train­ing (by being unpre­pared for what lays ahead) and, of course, under­es­ti­mat­ing the enemy has caused many supe­rior forces to lost bat­tles and wars. Twenty years later he remem­bered my words when that same group was stir­ring trou­bles again and every­one were sur­prised at the orga­ni­za­tion and feroc­ity… except those who faced them before.
The book also raises some dis­turb­ing issues which young offi­cers on the front-lines have to deal with. These issues such as local, national and inter­na­tional pol­i­tics, the com­plex­i­ties of the soci­eties which they have to oper­ate in, the com­plex­i­ties of com­bat, frus­tra­tions of front-lines sol­diers with back-lines sup­port per­son­nel and more.
Out­law Pla­toon raises some impor­tant ques­tions which needed to be asked (pre­pared­ness, effec­tive­ness, pro­fes­sion­al­ism) but that are dif­fi­cult to face. The book is a must-read for any­one inter­ested in the cur­rent war, com­bat or mil­i­tary life.
Related Reads:
Black Hawk Down by Mark Bow­den
The Most Dan­ger­ous Place: Pakistan's Law­less Fron­tier by Imtiaz Gul
Buy this book in paper or elec­tronic format*
Give­away
Give­away ends: March 18, 2013

US

/Canada Ship­ping Addresses Only

No 

PO

 Boxes

Win­ners will have 24 hours to write back with their address, oth­er­wise an alter­nate win­ner will be picked
Con­grat­u­la­tons: zoocrew2@
TLC

 Book Tour for Out­law Pla­toon by Sean Par­nell

&

John Bruning :

Zohar — Man of la Book
Dis­claimer: I got this book for free from TLC Book Tours.
*Ama­zon links point to an affil­i­ate account
Enjoy this post? Why don't you sign up for the RSS feed