I bought this book.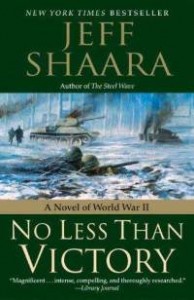 My rat­ing for No Less Than Vic­tory — 5
About:
"No Less Than Vic­tory: A Novel of World War II" by Jeff Shaara (web­site) is a his­tor­i­cal fic­tion book which blends his­tor­i­cal char­ac­ters, fact and fic­tion into a read­able story. The book is the third of a series about World War II.
512 pages
Pub­lisher: Bal­lan­tine Books

ISBN

: 0440423392
Buy & Save on"No Less Than Vic­tory" through the ManOfLa­Book affil­i­ate account on:
Ama­zon |Book Depos­i­tory US | Book Depos­i­tory UK
Thoughts:
I thought: No Less Than Vic­tory" by Jeff Shaara was the best of the series. This is the third book of a tril­ogy by the author, the first being "The Ris­ing Tide" (book review) and the sec­ond being "The Steel Wave" (book review)  of this his­tor­i­cal fic­tion series.
In his usual style of "his­tor­i­cal fic­tion" Mr. Shaara takes us through the Euro­pean the­ater in WWII as seen through the eyes of its gen­er­als, politi­cians and, the parts I found most inter­est­ing, the sol­diers them­selves.
This is solid sto­ry­telling, pri­mar­ily focus­ing on the Bat­tle of the Bulge, as seen through the eyes of the grunts, and as man­aged by the gen­er­als on both sides of the fence. Unlike the authors other books, this book has less char­ac­ters (or so it seemed at least) which I find to be more appeal­ing and less con­fus­ing. Even though it's always fun to read about Eisen­hower deci­sion mak­ing process or the clashes between Mont­gomery and Pat­ton the story focuses on Pri­vate Eddie Ben­son and his expe­ri­ences at "mud level". Some inter­est­ing char­ac­ters, such as Ger­mans Gerd von Rund­st­edt and Albert Speer,  also rep­re­sent the axis' point of view.
The reader's jour­ney through the eyes of Ben­son, while peek­ing in the minds of the gen­er­als is a win­ning com­bi­na­tion which makes the story more per­sonal and engrossing.
Even though I have heard many peo­ple who con­demn the oxy­moron called "his­tor­i­cal fic­tion" it has worked for me per­son­ally. Because of Mr. Shaara's Civil War books I read many other his­tor­i­cal books and biogra­phies of the char­ac­ters I was inter­ested in — so as you can see, I think that writ­ing about his­tory on a grounded, per­sonal level has many ben­e­fits espe­cially for those who don't' find his­tory as fas­ci­nat­ing as I do.
My only com­ment is that I think it would be won­der­ful if Mr. Shaara could pro­vide some pic­tures of the per­son­al­i­ties involved so we can see what they look truly look like (instead, for exam­ple, pic­ture George C. Scott as Gen­eral Pat­ton or Ike as the President).
As he does in all his books, Mr. Shaara lets the reader know what hap­pened to each per­son after the war — an invalu­able  addition.
Syn­op­sis:
The book begins after the Nor­mandy inva­sion. The allied gen­er­als are con­fi­dent that the war will be over in a few weeks, but Hitler is not so sure. Despite the advice of his gen­er­als, Hitler launches a des­per­ate coun­terof­fen­sive in the Ardennes For­est sur­pris­ing the Americans.
The story is told through the eyes of Eisen­hower, Pat­ton, pri­vate Eddie Ben­son as well as Ger­mans Gerd von Rund­st­edt and Albert Speer.
Buy & Save on"No Less Than Vic­tory" through the ManOfLa­Book affil­i­ate account on:
Ama­zon |Book Depos­i­tory US | Book Depos­i­tory UK
Zohar — Man of la Book

Related arti­cles
BOOK BLOGGERS — Have you read "No Less Than Vic­tory"? If so link up your review below: This post is in the 69th


Enjoy this post? Why don't you sign up for the RSS feed