About:
Mys­tery Girl by David Gor­don is a noir novel set in Cal­i­for­nia. Mr Gordon's first novel, The Seri­al­ist, won the VCU/Cabell First Novel Award and was a final­ist for an Edgar Award.
The pub­lisher is giv­ing away one copy of this book -to enter fill out the Raf­fle­copt­ter form at the end of the post.
320 pages
Pub­lisher: New Har­vest; First Edi­tion edition
Lan­guage: English

ISBN-10

: 0544028589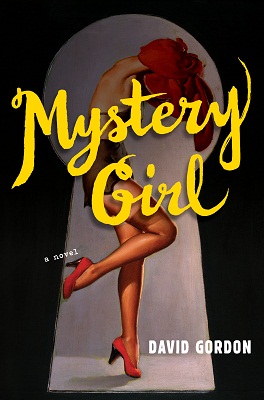 My rat­ing for Mys­tery Girl — 4
Buy this book in paper or elec­tronic format*
Thoughts:
Mys­tery Girl by David Gor­don (web­site) is def­i­nitely a men's novel full of self doubt, awk­ward­ness, porn, manly movie talk and Jackie Chan. The book is both funny and sad, easy to read but cer­tainly not fluff. The novel is much like real life, when things which are insignif­i­cant to oth­ers seem to be insur­mount­able objects in your life, and sub­jects which are impor­tant to you are mean­ing­less to most.
The style of the book took me a lit­tle time to get used to, it's frank but with a lot of sim­i­les to make sure you know you're read­ing a noir novel. How­ever, I did enjoy the humor, the char­ac­ters as well as the story. The author pays homage to the movie indus­try; the nar­ra­tor is a nov­el­ist so it was nice to read how movies influ­ence writ­ers and not nec­es­sar­ily the other way around. The char­ac­ters were inter­est­ing, self-deprecating and hon­est. I found the idea of a failed writer who thinks he's right (his sto­ries have no plot) while every­one else is wrong to be funny and amusing.
There is no doubt that Mr. Gor­don is a very tal­ented writer, while the book has a few ups and downs, over­all I really liked the writ­ing and the story.
Syn­op­sis:
Sam Korn­berg lives in L.A., his mar­riage is falling apart and it looks like he'll never be the nov­el­ist he dreamed of being. Look­ing for any job he might be qual­ify for , Sam gets a job as an assis­tant (he spe­cial­izes in being an "assis­tant") detec­tive to Solar Lonsky.
Sam's first assign­ment is to track a mys­te­ri­ous woman who trig­gers the adven­ture his about to take involv­ing shootouts, mis­taken iden­ti­ties, insane asy­lums and lots of movie talk in a video store.
Buy this book in paper or elec­tronic format*
Give­away
Give­away ends: Sep­tem­ber 05, 2013

US

/Canada Ship­ping Addresses Only

No

PO

 Boxes

Win­ners will have 24 hours to write back with their address, oth­er­wise an alter­nate win­ner will be picked
Email as name
TLC

Book Tour for Mys­tery Girl by David Gordon:
Tues­day, August 6th:  Unabridged Chick
Wednes­day, August 7th:  Hope­lessly Devoted Bibliophile
Thurs­day, August 8th:  5 Min­utes for Books
Mon­day, August 12th:  Must. Read. Faster
Thurs­day August 15th:  From the

TBR

 Pile
Sat­ur­day, August 17th:  Lux­ury Reading
Tues­day, August 20th:  The Best Books Ever
Wednes­day, August 21st:  The Picky Girl
Wednes­day, August 21st:  Mock­ing­bird Hill Cottage
Thurs­day, August 22nd:  No More Grumpy Bookseller
Mon­day, August 26th:  Con­cep­tual Reception
Tues­day, August 27th:  Between the Covers
Wednes­day, August 28th:  Word­smitho­nia
Thurs­day, August 29th:  Man of La Book
Tues­day, Sep­tem­ber 3rd:  Book Dilet­tante
Thurs­day, Sep­tem­ber 5th:  Tiffany's Book­shelf
Zohar — Man of la Book
Dis­claimer: I got this book for free from TLC Book Tours.
*Ama­zon links point to an affil­i­ate account
Enjoy this post? Why don't you sign up for the RSS feed