About:
Michael Dou­glas by Marc Eliot is a biog­ra­phy of the famous actor/producer. Mr. Dou­glas is an award win­ning actor and pro­ducer who had his share of ups and downs yet always man­aged to cap­ture attention.
352 pages
Pub­lisher: Crown Arche­type (Sep­tem­ber 18, 2012)
Lan­guage: English

ISBN-10

: 0307952363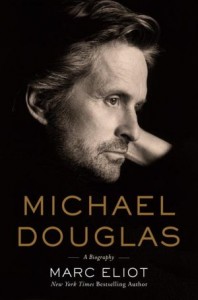 My rat­ing for Michael Dou­glas: A Biog­ra­phy — 4
Buy this book in paper or elec­tronic for­mat*
Thoughts:
Michael Dou­glas by Marc Eliot (web­site) high­lights the accom­plish­ments in Mr. Dou­glas' pro­fes­sional and per­sonal career as well as what influ­enced and drove the man to achieve such lev­els of height and fame.  Mr. Eliot con­cen­trates on Dou­glas' com­pet­i­tive nature as well as his rela­tion­ship with his par­ents, espe­cially his famous father.
The rela­tion­ship between Michael and Kirk Dou­glas is the cor­ner­stone of this book. The author even encom­passes a mini-biography of Kirk Dou­glas, from his defin­ing child­hood as a son to Jew­ish Russ­ian immi­grants and his suc­cess as a movie star to his recent stroke. Once the reader under­stands Kirk, we can under­stand Michael and the love/hate rela­tion­ship which defined much of young Mr. Dou­glas' life.
As a film buff I appre­ci­ated the insight about the film indus­try, what it took to pro­duce One Flew Over the Cuckoo's Nest and secur­ing movie rights. but also thought that some of the author's com­ments were dis­parag­ing and inap­pro­pri­ate (about Sharon Stone: "One quick flash of her pubic hair would make her a star—if not at the morning-after water cool­ers, like Fatal Attrac­tion, then in the night-before wet dreams of the film's vast male view­ers."). These com­ments dis­tracted from the book. It's OK on inject the author's opin­ion in a biog­ra­phy but com­ments like this do not help us under­stand any­thing about the sub­ject and, while try­ing to inject a bit of humor, dis­tract from the reading.
The book pro­vides no new infor­ma­tion or anec­dotes that one can­not get on the Inter­net with a bit of research, although it is all ref­er­enced in an attrac­tive pack­age.  Mr. Dou­glas' frank and open past inter­views offer a col­or­ful glimpse into what oth­er­wise would have been a very detailed resume.
What made the book worth­while for me was the tur­bu­lent rela­tion­ship and rec­on­cil­ing the past between father and son. Michael Dou­glas' strug­gle to over­come his father's immense shadow is a worth­while and inter­est­ing story which can, and should, be told in a solid biog­ra­phy instead of high­lights as it is here.
Syn­op­sis:
One of the few second-generation kids to grow up and become a movie star, Michael Dou­glas has man­aged to emerge from the long shadow of his father. The strug­gle to become his own man in an unfor­giv­ing envi­ron­ment is only a part of this biography.
With suc­cess in his pro­fes­sional life, Michael Dou­glas' per­sonal life became a mass. Dou­glas' unhappy first mar­riage, infi­delity and drug use as well as a series of tragedies which would unbal­ance any­one espe­cially when in the pub­lic eye.
Buy this book in paper or elec­tronic for­mat*
Zohar — Man of la Book
Dis­claimer: I got this book for free
*Ama­zon links point to an affil­i­ate account
BOOK BLOGGERS — Have you read Michael Dou­glas? If so link up your review below:
Enjoy this post? Why don't you sign up for the RSS feed