About:
Mag­nif­i­cent Des­o­la­tion: The Long Jour­ney Home from the Moon by Buzz Aldrin is an auto­bi­og­ra­phy by the famous astro­naut. I read this book about a year ago, but it seems fit­ting to pub­lish the post today, the 43rd anniver­sary of the moon landing.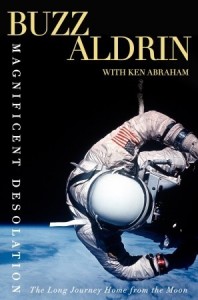 My rat­ing for Mag­nif­i­cent Des­o­la­tion — 4
Buy this book in paper or elec­tronic format
Thoughts:
Mag­nif­i­cent Des­o­la­tion: The Long Jour­ney Home from the Moon by Buzz Aldrin (web­site) is a very inter­est­ing book. To be hon­est, I only bought it as an excuse to meet Mr. Aldrin, but I'm glad I did.
For most of us, whether we want to admit it or not, the high­light of our lives, the event which we define our­selves, the suc­cess­ful sum­mit to the Mt. Olym­pus of our exis­tence, hap­pened before we were 25.
For an aero­space engi­neer with an inquis­i­tive and fer­tile mind it seemed a dis­ap­point­ment that it hap­pened at age 39.
I think the book could use a bit of re-writing by a "com­moner". It's almost insult­ing to read that Dr. Aldrin and his lovely wife say they had no income in one para­graph, yet they travel the globe, take ski vaca­tions, go div­ing around the world and drive lux­ury cars in the next para­graph.
It just doesn't make sense and takes away from the inspi­ra­tional story.
News­flash: Most peo­ple don't make a quar­ter mil­lion dol­lars a year so it's hard to feel bad for some­one who does even if they should make more or all their friends are multi-millionaires.
It just doesn't resonate.
The last few pages have a prob­lem that most of us encounter on almost a daily base — what's writ­ten doesn't trans­late to the way it was meant to be read.
Ever had some­one mis­un­der­stand an e-mail you wrote because they read it in the wrong "tone" of which you wrote it, or didn't get the sarcasm?
These pages come off as boast­ing and name drop­ping which I'm sure wasn't the inten­tion.
For exam­ple, Dr. Aldrin's great anec­dote about giv­ing a speech in Madrid, Spain and not know­ing any­one in town with a few hours to kill so he called King Juan Car­los.
I found it to be funny and I can only imag­ine the look on his wife's face — but it reads more like boast­ing than a light hearted anec­dote.
By the way, I think per­sonal anec­dotes, like the story men­tioned above, are great and what make an auto­bi­og­ra­phy worth reading.
Even though there has been crit­i­cism of Dr. Aldrin's behav­ior in the past there is not a sin­gle per­son in the astro­naut corps who has done more to pro­mote space than the good doc­tor.
Not a sin­gle one!
Funny enough, the one thing which might have pushed Dr. Aldrin's agenda fur­ther into the future and get kids inter­ested in space and sci­ence was not his doing, but Dis­ney pay­ing him homage in Toy Story.
Dr. Aldrin rec­og­nized the oppor­tu­nity and instead of pick­ing a fight with "the Mouse" he embraced it with both hand, not only for him­self, but also for the future astro­nauts of this nation.
I hope Dr. Aldrin will keep work­ing tire­lessly to pro­mote his agenda for the Mars orbiter, space tourism and edu­cat­ing our youth.
Keep appear­ing on Sesame Street, keep the late night appear­ances and keep being a friend to Buzz Lightyear — the best ambas­sador of math and sci­ence we cur­rently have.
By the way — Dr. Aldrin can rest at ease. The big achieve­ment of Apollo 11 was to land the Eagle on the moon, not to step off a ladder.
Syn­op­sis:
This book is divided into three parts.
Part 1: Get­ting to the moon and back.
A fas­ci­nat­ing first hand account which I, for one, can­not get enough and worth the price of the book.
I can't begin imag­ine going on a mis­sion where "plan B" is to cut off com­mu­ni­ca­tions and let me die — or that 1,000 things need to go absolutely right for a suc­cess — all run by a … 74K computer?????
I can't imag­ine what not being afraid to die feels like.
Part 2: Dr. Aldrin's fight with depres­sion and alco­holism.
I can cer­tainly under­stand how being in space, look­ing down on earth and real­iz­ing how insignif­i­cant we all are is a crush­ing blow to any human being and espe­cially ones with huge egos…you know…like astronauts.
It is fas­ci­nat­ing to read about dr. Aldrin's depres­sion, his under­stand­ing of the prob­lem and his long term solu­tions to deal­ing with it.
Even though I don't under­stand addicts, nor do I think that there is any­thing heroic about fight­ing an addic­tion (because you shouldn't have became an addict in the first place) I do rec­og­nize the achieve­ment of beat­ing addic­tions as well as the strength, per­se­ver­ance and emo­tional toll it took for Dr. Aldrin to admit to it pub­licly and, in that act alone, help mul­ti­tudes of people.
Part 3: Dr. Aldrin's push to make space travel afford­able.
The first two parts of the book are very inter­est­ing, this part falls short.
We get a glimpse into the genius which is Buzz Aldrin and his fight to pro­mote space travel (as well as him­self, but who could blame him).
Buy this book in paper or elec­tronic format
Zohar — Man of la Book
Dis­claimer: I bought this book (signed by Buzz himself).
BOOK BLOGGERS — Have you read Mag­nif­i­cent Des­o­la­tion? If so link up your review below:
Enjoy this post? Why don't you sign up for the RSS feed