About:
Mr. Churchill's Sec­re­tary by Susan Elia Mac­Neal is a his­tor­i­cal fic­tion book tak­ing place in the early days of World War II. This is a debut effort for Ms. Mac­Neal who has a won­der­ful World War II blog which is well worth a read.
384 pages
Pub­lisher: Ban­tam; Orig­i­nal edi­tion (April 3, 2012)
Lan­guage: English

ISBN-10

: 0553593617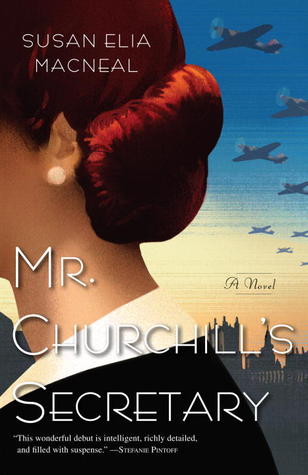 My rat­ing for Mr. Churchill's Sec­re­tary — 3
Buy this book in paper or elec­tronic format*
Thoughts:
Mr. Churchill's Sec­re­tary by Susan Elia Mac­Neal (web­site | Face­book | @SusanMacNeal) is a very enjoy­able book. The sec­ond book in the series, Princess Elizabeth's Spy (post com­ing next week), is already out and I'm already look­ing for­ward to the third one.
The empha­sis on the book is cer­tainly more on the fic­tion part and less on the his­tory which makes it a fun ride (even though I like my books to be his­tor­i­cally accu­rate). When read­ing this book keep that in mind, it is not meant to be sub­stan­tial on the his­tor­i­cal front.
Ms. Mac­Neal man­aged to write a com­pelling and cap­ti­vat­ing debut, while cre­at­ing a saucy char­ac­ter (damn, I never thought I'd use the word "saucy" any­where but a bar-b-q pit). While one could cer­tainly sense that this book was meant to be part of a series, and hence an "ori­gin" story, it is still ener­getic and involving.
It seemed likely to me that the book was not writ­ten by an Eng­lish per­son but by an Amer­i­can, the lan­guage did not ring true and the choice of syn­tax was a lit­tle dis­tract­ing through­out.
But that's being picky since, as I men­tioned, the book is a fun ride and the author fully admit­ted that she was not writ­ing a his­tor­i­cally accu­rate and the char­ac­ters are fun and engag­ing despite (or maybe because) the funny talk.
There are many char­ac­ters in the book, a few too many whose qual­i­ties are repeated over and over again. We are told mul­ti­ple times how annoy­ing the twins are or that another char­ac­ter is gay and it should be kept hushed at points which, seem to me, sim­ply there to remind the reader with no plot advance­ment. Due to the many char­ac­ter and the fast pace of the book, many of them are sketches or car­i­ca­tures of characters.
I liked that the book con­cen­trated on war time Lon­don, the lit­tle day to day hard­ships and how peo­ple made do with the lit­tle they had. The rapid advance­ment of the Ger­mans scared the pop­u­la­tion immensely and each cit­i­zen took it seri­ously, as they should have.
Despite the plot which stretched my believ­abil­ity and at points gets out of con­trol I liked the book and the story. I am look­ing for­ward to more adven­tures of Mag­gie Hope as she dis­cov­ers her new coun­try, fam­ily and saves Eng­land… again.
Syn­op­sis:
Mag­gie Hope, an Eng­lish cit­i­zen raised in Amer­ica, jour­neys across the pond to sell the estate of her late grand­mother. While unsuc­cess­ful at her orig­i­nal endeavor, she feels Cama­raderie with the British peo­ple who are in war.
Mag­gie puts her PhD in math­e­mat­ics on hold, makes friends and get a job as a sec­re­tary at 10 Down­ing Street typ­ing up Prime Min­is­ter Churchill's memos. As a bril­liant math­e­mati­cian, Mag­gie rec­og­nizes code when she sees it helps crack an espi­onage ring.
Buy this book in paper or elec­tronic format*
Zohar — Man of la Book 
Dis­claimer: I got this book for free from TLC Book Tours
*Ama­zon links point to an affil­i­ate account
BOOK BLOGGERS — Have you read Mr. Churchill's Sec­re­tary? If so link up your review below:
Enjoy this post? Why don't you sign up for the RSS feed