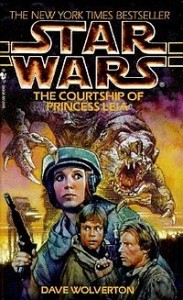 Buy this Star Wars Book in paper or elec­tronic copy*
Andrew:
Orig­i­nally pub­lished at: http://www.rancorslovetoread.com/2008/12/andrews-review-of-courtship-of-princess.html
3/5 Ran­cors — Dave Wolverton's The Courtship of Princess Leiawas one of the first books pub­lished by Ban­tam Spec­tra after the resound­ing suc­cess of Tim­o­thy Zahn's Thrawn Tril­ogy in the early 1990's. As such, it has the excit­ing, adven­tur­ous, and some­times plain wacky feel­ing that a lot of the early books had (espe­cially before the advent of the pre­quel films and the onslaught of sto­ries about Jedi, Sith, and clone troop­ers). It is an enjoy­able romp of a story with some very puz­zling characterizations.

The set­ting is four years after the Bat­tle of Endor in Return of the Jedi. Princess Leia and Han Solo have been involved over this period but are still not in a fully com­mit­ted rela­tion­ship. Han has spent the prior five months com­mand­ing a task force hunt­ing War­lord Zsinj and his Super Star Destroyer Iron Fist: the tale of his search is ably doc­u­mented by Aaron All­ston in the fifth through sev­enth nov­els of the superb X-wing series. Leia has been attempt­ing to kick­start diplo­matic rela­tions between the New Repub­lic and the secre­tive Hapan Clus­ter, an alliance of sixty-three wealthy and pow­er­ful planets.

The plot of The Courtship of Princess Leia hinges on an unex­pected mar­riage pro­posal from Hapan heir-to-the-throne Prince Isol­der, son of the mighty Ta'a Chume. The man­ner in which Wolver­ton han­dles this sto­ry­line both­ered me quite a bit. I can accept that Leia might con­sider a polit­i­cal mar­riage to serve the New Republic's inter­ests. What I can't accept as read­ily is how quickly she buries her feel­ings for Han and starts swoon­ing over Isol­der. Sure, it could be "real­is­tic" — rela­tion­ships turn on a dime in real life all the time — but still, the roman­tic in me prefers envi­sion­ing a less tur­bu­lent Han/Leia rela­tion­ship after the end­ing of Return of the Jedi.

Regard­less, this sto­ry­line moves for­ward with Han kid­nap­ping Leia to win her heart back and drag­ging her off to the obscure planet of Dath­omir. Much to Han's sur­prise, Dath­omir turns out to be Zsinj's base of oper­a­tions and chaos ensues, with our heroes get­ting stuck on the planet and run­ning afoul of Force-wielding witches called Night­sis­ters. Dath­omir itself is a well-realized set­ting. Wolver­ton has many scenes that con­jure evoca­tive images, such as ran­cors play­ing in a river at dusk, windswept plains with a giant crashed star­ship, and the for­bid­ding moun­tain fortress of Dath­omirian Tene­nial Djo and her peo­ple. His use of ran­cors through­out the book is a par­tic­u­lar high point, flesh­ing out one of the most remark­able designs of the films into crea­tures with intel­li­gence and cul­ture of their own.

The book tends to veer into rather goofy humor at points. Notably, there is a sto­ry­line about Han sup­pos­edly being the "King of Corel­lia" which feels wildly out of place and falls flat. A place where the silli­ness did work is a short song C-3PO com­poses about Han; it's ridicu­lous but I can actu­ally eas­ily pic­ture 3PO belt­ing it out. I'll also con­cede that some mod­ern Star Wars has become so grim and bleak that it is a refresh­ing change to at least have some things not be treated so seriously.

The sev­enth X-wing novel, Solo Com­mand, ends with a solic­i­ta­tion to read this book to get the con­clu­sion of the Han Solo/Warlord Zsinj story. While it's true that their bat­tle does con­clude here, don't read this book expect­ing much focus on that con­flict. Zsinj is more like a cameo than a sub­stan­tial char­ac­ter and the major­ity of the plot has lit­tle to do with him directly. I found this dis­ap­point­ing, but it's also a bit of an unfair cri­tique, as this book was writ­ten before the X-wing series and wasn't meant to be a follow-up or grand conclusion.

Other nice touches in the story are the por­trayal of Luke, who was much more in line with his film self than Han and Leia. There's a tiny glimpse of Yoda's his­tory relat­ing to the wrecked ship Chu'unthor. The Hapans are an intrigu­ing cul­ture and a cor­ner­stone of the Expanded Uni­verse sto­ries to come. Isol­der is not the one-dimensional char­ac­ter he first seems likely to be, and Tene­niel makes a nice foil trav­el­ling with him and Luke on Dathomir.

The Courtship of Princess Leia is a fun and breezy read, intro­duc­ing some key con­cepts to the larger Star Wars uni­verse. While I'd quib­ble with the entire Han/Leia/Isolder setup, I'm happy with the res­o­lu­tion. Wolver­ton does a solid job of author­ing a mem­o­rable Star Wars story in what is becom­ing an increas­ingly crowded universe.
Buy this Star Wars Book in paper or elec­tronic copy*
David:
Orig­i­nally pub­lished at: http://www.rancorslovetoread.com/2009/03/davids-review-of-jedi-academy-trilogy.html
3/5 Ran­cors — Mr. Wolverton's book con­tin­ues the pur­suit of War­lord Zsinj but ties the tale in with Han's courtship of Leia and Leia's appar­ent admi­ra­tion for another suitor. At the begin­ning of the book, Gen­eral Solo returns from a five-month cam­paign against Zsinj and believes that he has won a major vic­tory. Arriv­ing at Cor­us­cant he is star­tled to find dozens of saucer-shaped Bat­tle Drag­ons from the Hapan fleet. The Hapan Con­sor­tium is an extremely pow­er­ful, wealthy, and mys­te­ri­ous polit­i­cal entity that would be a valu­able ally to the New Repub­lic. Leia had paid a diplo­matic visit to the Hapans sev­eral months ear­lier to explore the pos­si­bil­ity of join­ing forces. Now the Hapans have come to Cor­us­cant to give the terms they would insist upon in a joint effort. The only prob­lem that arises is that Leia is expected to marry Isol­der, the Queen Mother's son and heir.

From this point the book moves on to Han's kid­nap­ping of Leia, their jour­ney to the planet of Dath­omir, their dif­fi­cul­ties with the leg­endary Witches of Dath­omir, and the dis­cov­ery that War­lord Zsinj's ship Iron Fist is actu­ally under­go­ing repairs in an orbital star­dock above the planet. For­tu­nately, Luke Sky­walker also shows up on Dath­omir to help our heroes. The book ends well and has some great bat­tle scenes.

How­ever, Mr. Wolverton's prob­lem lies in his depic­tion of Leia as a lovesick damsel who has sud­denly decided to spurn the advances of her pre­vi­ous true love, Han Solo. Almost uni­formly through­out the Star Wars saga Leia is an extremely strong and capa­ble woman. Now all of a sud­den she has reversed her feel­ings com­pletely and has fallen for the Hapan prince. The whole sequence just falls flat. I didn't believe it for a minute.

On the other hand, the book has some great char­ac­ters and scenes, espe­cially the Night­sis­ters, i.e., the witches. They are mem­o­rable and would be a wel­come addi­tion to future books. Also, we learn a lot more about one of my favorites, the ran­cor. On the planet of Dath­omir the ran­cors have flour­ished and devel­oped a place of their own. There is a lot more to the ran­cors than sim­ply serv­ing as a killing machine for Jabba the Hutt.

Read the book and enjoy it. Just skip through the romance novel scenes of Leia try­ing to decide who she really loves.
Buy this Star Wars Book in paper or elec­tronic copy*
BOOK BLOGGERS — Have you read The Courtship of Princess Leia? If so link up your review below:
Enjoy this post? Why don't you sign up for the RSS feed