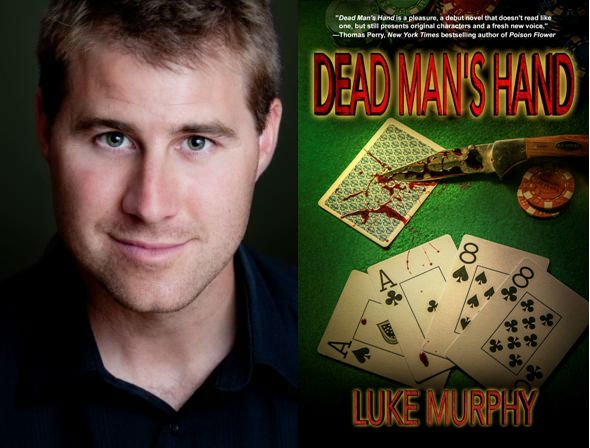 It can almost be said with cer­tainty that I didn't fol­low the path of the aver­age writer. As a child, I never dreamed of writ­ing a best-seller, never aspired to write the next clas­sic novel, I wanted to be an NHL superstar…period.
I was born in a small rural com­mu­nity in West­ern Que­bec. Like every boy grow­ing up in Canada, I aspired to be an NHL superstar.
With the death of my mother in 1992, los­ing a bat­tle to can­cer she had fought so hard against for years, I sensed it was time to get seri­ous about reach­ing my dreams, and moved away to pur­sue hockey.
From 1992–1995, while play­ing for the Pem­broke Lum­ber Kings in the Cen­tral Junior Hockey League, I noticed a shift in the game of hockey and real­ized that the odds of mak­ing it to the NHL were unfa­vor­able for a kid who stood 5'9'' and weighed 160 pounds. So, my goals shifted. I accepted a hockey schol­ar­ship to Rochester Insti­tute of Tech­nol­ogy. If I couldn't make a liv­ing play­ing hockey, at least I could achieve an edu­ca­tion and open doors for my future.
After four reward­ing years at Col­lege, receiv­ing a Bach­e­lor of Sci­ence degree in Mar­ket­ing, I wasn't ready to give up on the game I love. I'd been told my whole life that I was too small, not a good enough skater, and I didn't have what it took to make it.
The sum­mer after grad­u­a­tion, I received an invi­ta­tion to the Florida Pan­thers Rookie Camp – I wasn't about to let this oppor­tu­nity slip away. I trained hard dur­ing the sum­mer, on and off the ice, and showed up for camp in the best shape of my life. I had a suc­cess­ful camp, scor­ing the game win­ning goal against the Ottawa Sen­a­tors (I still talk about that goal with my bud­dies and after a cou­ple of drinks, it becomes an end-to-end rush with a top-shelf finish)
Unfor­tu­nately, I broke my hand in an awk­ward hit in my fourth exhi­bi­tion game that ended my camp, but my hard work paid off. The Pan­thers offered me a Minor League con­tract, $500 a week to play the game I love. I spent six years in the minors (ECHL, UHL, CHL, etc.), and retired in 2006 with no regrets.
From a fam­ily of avid read­ers, even as a child, I always had a pas­sion for books. Whether it was read­ing nov­els on road trips or writ­ing assign­ments in school, lit­er­a­ture was always part of my life.
In the win­ter of 2000, after sus­tain­ing a sea­son end­ing eye injury while play­ing in Okla­homa City, I found myself with a lot of time on my hands, and a new hobby emerged.
Some of my favorite authors are Greg Iles, Michael Con­nelly and Har­lan Coben. I love suspense-thriller books, movies and every­thing about the genres.
One day, with an idea in mind, I sat down in front of a com­puter and began writ­ing. I wrote a lit­tle every day, around my intense reha­bil­i­ta­tion sched­ule and before I knew it, I had com­pleted my first manuscript.
I didn't write with the inten­tion of being pub­lished. I wrote for the love of writ­ing, as a hobby. Ever the per­fec­tion­ist, I didn't see my novel at the level to com­pete with best-selling authors across the coun­try. I con­tin­ued to hobby write through the years, hon­ing my craft, mak­ing time between work (hockey) and fam­ily obligations.
Then I made a deci­sion – I enjoyed writ­ing so much, I decided I wanted to take my inter­est one step fur­ther – write a story with the inten­tion of being pub­lished and mak­ing it avail­able for friends, fam­ily, and read­ers around the world to enjoy. I real­ized that I wanted to be like my favorite authors — enter­tain read­ers and allow them, like when I read, to escape real­ity and for a moment be in another place and time.
I've never been one to take things lightly or jump in half way. I took a full year off from writ­ing to study the craft. I con­stantly read, from nov­els in my favorite gen­res to books writ­ten by experts in the writ­ing field. I con­tin­u­ally researched on the inter­net, read­ing up on the indus­try and process. I attended writ­ing con­fer­ences, made friends (pub­lished and unpub­lished authors), bom­bard­ing them with ques­tions, learn­ing what it took to become successful.
This was when my expe­ri­ence in hockey really paid off. My com­pet­i­tive edge kept me going. Break­ing into the pub­lish­ing indus­try was a lot like com­pet­ing in the world of hockey – many can­di­dates vying for very few spots. It takes hard work, patience, and persistence.
Feel­ing that I was finally pre­pared, in the win­ter of 2007, with an idea in mind and an out­line on paper, I started to write DEAD MAN`S HAND. It took me two years (work­ing around full time jobs) to com­plete the first draft of my novel.
I then worked with edi­tors and joined a cri­tique group, doing any­thing I could to learn, to improve my writ­ing and my novel to point where I could cre­ate the best pos­si­ble novel.
I sent out hun­dreds of query let­ters to agents. After six months of rejec­tions, I pulled my man­u­script back and worked on it again. Then in my next round of pro­pos­als, I was offered rep­re­sen­ta­tion by Ms. Jen­nifer Lyons of the Jen­nifer Lyons Lit­er­ary Agency.
After months of work with Jen­nifer, and more rejec­tions from pub­lish­ers, my dream was finally real­ized in April, 2012, when I signed a pub­lish­ing con­tract with Ima­jin Books (Edmon­ton, Alberta).
My one piece of advice for all aspir­ing hockey play­ers and writers…you need to be per­sis­tent, patient and thick-skinned. You'll get a lot of "no's" along the way and peo­ple try­ing to bring you down. But remem­ber, it only takes one "yes". Stick with it. Any­thing is possible.
 What hap­pens when the deck is stacked against you…
From NFL rising-star prospect to wanted fugi­tive, Calvin Wat­ters is a sadis­tic African-American Las Vegas debt-collector framed by a mur­derer who, like the Vegas Police, finds him to be the per­fect fall-guy.
…and the cards don't fall your way?
 When the bru­tal slay­ing of a promi­nent casino owner is fol­lowed by the mur­der of a well-known bookie, Detec­tive Dale Day­ton is thrown into the mid­dle of a highly polit­i­cal case and leads the largest homi­cide inves­ti­ga­tion in Vegas in the last twelve years.
 What if you're dealt a Dead Man's Hand?
 Against his supe­ri­ors and bet­ter judg­ment, Day­ton is will­ing to give Calvin one last chance. To redeem him­self, Calvin must prove his inno­cence by find­ing the real killer, while avoid­ing the LVMPD, as well as pro­tect the woman he loves from a pro­fes­sional assas­sin hired to silence them.
"Dead Man's Hand is a plea­sure, a debut novel that doesn't read like one, but still presents orig­i­nal char­ac­ters and a fresh new voice." Thomas Perry, New York Times best­selling author of Poi­son Flower
"You may want to give it the whole night, just to see how it turns out."—William Mar­tin, New York Times best­selling author of The Lin­coln Letter
http://www.amazon.com/Dead-Mans-Hand-ebook/dp/B009OUT2ME
Luke Mur­phy lives in Shawville, Que­bec with his wife, two daugh­ters and pug.
He played six years of pro­fes­sional hockey before retir­ing in 2006. Since then, he's held a num­ber of jobs, from sports colum­nist to radio jour­nal­ist, before earn­ing his Bach­e­lor of Edu­ca­tion degree (Magna Cum Laude).
Murphy`s debut novel, Dead Man`s Hand, was released by Ima­jin Books on Octo­ber 20, 2012.
For more infor­ma­tion on Luke and his books, visit: www.authorlukemurphy.com, 'like' his Face­book page http://www.facebook.com/pages/Author-Luke-Murphy/268343729930467 and fol­low him on Twit­ter www.twitter.com/#!/AuthorLMurphy
Enjoy this post? Why don't you sign up for the RSS feed