Arti­cle first pub­lished as Graphic Novel Review: Pet­ro­grad by Philip Gelatt (art by Tyler Crook) on Blogcritics.
About:
Pet­ro­grad by Philip Gelatt (art by Tyler Crook) is a graphic novel about an assas­si­na­tion. The graphic nov­els tells about an inter­na­tional con­spir­acy behind the mur­der of Gre­gorii Rasputin.
264 pages
Pub­lisher: Oni Press

ISBN

: 1934964441
 My rat­ing for Pet­ro­grad — 5
Get a great price on this book
through the Man of la Book Affil­i­ate Account
More books by Philip Gelatt
More books by Tyler Crook
Thoughts:
The graphic novel Pet­ro­grad by Philip Gelatt (art by Tyler Crook) is more of a his­tor­i­cal thriller than any­thing else. The death of Gre­gorii Rasputin has gen­er­ated much con­tro­versy at the time and many more con­spir­acy the­o­ries which are always fun and sup­ply fod­der for authors.
The story, while fic­tional, seems real­is­tic enough to have actu­ally hap­pen (almost). Some­how Mr. Crook took the blighted atmos­phere which authors try very hard to cre­ate and drew it. While I'm sure that many cre­ative licenses were taken, as they are in every his­tor­i­cal novel, I still enjoyed the story immensely.
But don't let the words "graphic novel" fool you. Pet­ro­grad takes his­tor­i­cal facts (as seen by Amer­i­cans) and re-tells the story in the for­mat of an espi­onage thriller. The sepia tones of the art­work well match the gray­ness of the spy world where the line between good and bad is impos­si­ble to distinguish.
The nar­ra­tive is fast paced and effi­cient. Mr. Gelatt works around the era it is designed to intro­duce, but does not get too bogged down. What I really loved about the book that Rasputin, while a major player in the book, is always on the side­lines of the story but influ­ences almost every action of every char­ac­ter. There are some com­plex issues intro­duced in the book (hunger, despair, monar­chy, rev­o­lu­tion and more) but the story man­ages to address them with­out lecturing.
The art in the graphic novel is both bleak and gor­geous. The pic­tures, mostly in sepia tones tell the story in vivid detail and com­pli­ment the espi­onage aspect of the book. As in every suc­cess­ful graphic nov­els, the com­bi­na­tion of art and words com­pli­ment­ing each other is done mag­nif­i­cently with care and atten­tion to detail.
The pack­ag­ing itself is well done and wor­thy of the price tag. The hard cover makes a won­der­ful pre­sen­ta­tion, the pages are on thick paper, printed clearly and are a plea­sure to read and look through.
So tell me, do you enjoy his­tor­i­cal graphic novels?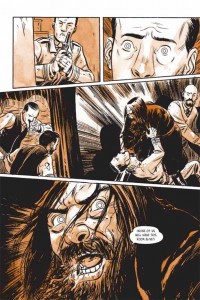 Syn­op­sis:
World War I is rav­aging the world. Hunger, depres­sion and despair reign while only hard core rev­o­lu­tion­ar­ies at the bot­tom of the food chain and those in the upper ech­e­lons of gov­ern­ment cling to a drop of hope.
The pow­ers that be think that Rasputin is urg­ing the royal fam­ily to make a sep­a­rate peace pact with­Ger­many, which will free them to fight the war again­stEng­land. Cleary, an unen­thu­si­as­tic Eng­lish spy is sta­tioned inRus­si­aand has been given the most dif­fi­cult assign­ment of his career: plan and devise the assas­si­na­tion of Gre­gorii Rasputin, the most trusted advi­sor of the Tsarina.
Get a great price on this book
through the Man of la Book Affil­i­ate Account
More books by Philip Gelatt
More books by Tyler Crook
 Zohar — Man of la Book
Dis­claimer: I got this book for free from Oni  Press
Related arti­cles
BOOK BLOGGERS — Have you read Pet­ro­grad? If so link up your review below:
Enjoy this post? Why don't you sign up for the RSS feed