About:
Shad­ows Walk­ing by Dou­glas Skopp is a fic­tional novel about a Nazi doc­tor bat­tling his con­science after the war. While this novel was dif­fi­cult to read, it was also dif­fi­cult to put down.
The author is giv­ing away one signed copy of this book to two win­ners— enter at the end of the post.
482 pages
Pub­lisher: CreateSpace

ISBN

: 1439231990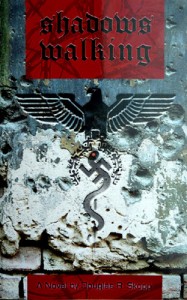 My rat­ing for Shad­ows Walk­ing —

5
Thoughts:
One of the phe­nom­ena which, to me, is fas­ci­nat­ing is how peo­ple blindly fol­low oth­ers even though they know that the lead­ers are wrong, manip­u­la­tive or even worst, that what they are doing is against their own upbringing.
How could peo­ple who con­sider them­selves national social­ists (Nazis) act to this way towards their own fam­i­lies and neigh­bors? How could a régime train hun­dreds and thou­sands of peo­ple to mur­der civil­ians, chil­dren, women and the elderly? What hap­pened when one sud­denly real­izes that he or she is the "bad per­son" in the story of life?
This is one of the ques­tions Dou­glas R. Skopp (web­site | Face­book | Twit­ter) is try­ing to answer in his fas­ci­nat­ing book Shad­ows Walk­ing. In this book Skopp, who is a his­to­rian, uses Johann Bren­ner, a doc­tor from Bavaria, as the pro­tag­o­nist who ques­tions him­self over his role as a Nazi doc­tor in Auschwitz.
This is a bleak novel describ­ing some of the med­ical atroc­i­ties which hap­pened in con­cen­tra­tion camps in vivid detail. The pro­tag­o­nist, Dr. Johann Bren­ner, agrees to par­tic­i­pate in cas­tra­tion exper­i­ments on Jew­ish pris­on­ers. How Dr. Bren­ner comes to terms with his heinous acts as well as being con­flicted about the role that Jews played in the destruc­tion of Ger­many (accord­ing to Nazi pro­pa­ganda) weighed against his inti­mate knowl­edge of Jew­ish friends is one of the inter­est­ing angles of Shad­ows Walking.
Dr. Bren­ner is never a sym­pa­thetic char­ac­ter, a very brave choice for a pro­tag­o­nist and a dan­ger­ous gam­ble by the author which paid off. The pro­tag­o­nist is intro­duced as a Nazi doc­tor while the story exam­ines how, from an hon­or­able well mean­ing man he became a part of such harsh acts.
Mr. Skopp, a his­to­rian, also goes to length to describe how World War I laid the ground works, in social as well as eco­nom­i­cal aspects, to the rise of the Third Reich and World War II. I wouldn't be sur­prised if in sev­eral hun­dred years his­to­ri­ans will com­bine both world wars into one.
What really struck home, espe­cially after the last 10 years or so is how the false sense of patri­o­tism can play a major role in the way peo­ple react in a group. As every­one knows a crowd-mentality is dan­ger­ous and can cause good peo­ple to do bad thing and, as we saw inR­wandafor exam­ple, gov­ern­ment sanc­tioned atroc­i­ties can quickly spi­ral out of con­trol when the pop­u­lace takes their sense of patri­o­tism to new heights.
So tell me, what book have you read that was uncom­fort­able to read yet dif­fi­cult to put down?
Books in sim­i­lar vein:
Auschwitz: A Doctor's Eye­wit­ness Account by Dr. Mik­lós Nyis­zli (one of the books used in the research of Shad­ows Walk­ing)
Child 44 by Tom Rob Smith
The Emperor of Lies by Steve Sem-Sandberg
Field Gray by Philip Kerr
Gated Grief by Leila Levinson
Syn­op­sis:
Dr. Johann Bren­ner is an ide­al­is­tic man and a Ger­man nation­al­ist. Dr. Bren­ner has joined the Nazi party out of a sense of patri­o­tism and believes their pro­pa­ganda even though it clashes with his real world experiences.
After the war ended, Bren­ner has acci­dently taken on a new iden­tity and becomes a jan­i­tor in the cour­t­house where the Nurem­berg Tri­als are being heard. Try­ing to heal is con­scious, Bren­ner writes a let­ter to his wife which set up each chap­ter of the book.
Great price on this book in paper or elec­tronic for­mat
through the Man of la Book Affil­i­ate Account
Check out this & more World War II books on Man of la BookStore
Give­away
Give­away ends: Jan­u­ary 10, 2012

This is an inter­na­tional contest

Win­ners will have 24 hours to write back with their address, oth­er­wise an alter­nate win­ner will be picked
Con­grat­u­la­tions: ebveronis@, skkorman@
Zohar — Man of la Book
Dis­claimer: I got this book for free.
Arti­cle first pub­lished as Book Review: Shad­ows Walk­ing by Dou­glas R. Skopp on Blogcritics.
Related arti­cles
BOOK BLOGGERS — Have you read Shad­ows Walk­ing? If so link up your review below:
Enjoy this post? Why don't you sign up for the RSS feed