About:
"Pandora's Grave" by Stephen Eng­land is a fic­tional book set mostly in the US and Mid­dle East. The novel is the first of a series and I, for one, am look­ing for­ward to see what's next.
Mr. Eng­land was kind enough to give three (3) eCopies for a give­away. This is an inter­na­tional con­test.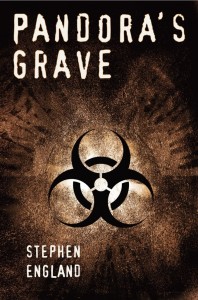 My rat­ing for Pandora's Grave — 5
Buy & Save on "Pandora's Grave" through the ManOfLa­Book affil­i­ate account on:
Kin­dle |Smash­words
Thoughts:
"Pandora's Grave" by Stephen Eng­land (web­site) is an excit­ing thrill ride which starts fast and con­tin­ues until the last page. This book is the kind of spy thrillers we rarely see any­more, maybe because the Cold War has sup­plied so many great sto­ries and its end demised them.
The book reminded me of the TV show "24", it is devised into small sec­tions which tell the reader what hap­pens in dif­fer­ent places at the same time. The story is rich, thrilling with plenty of action in the tra­di­tion of the good ol' Cold War thrillers but with twists.
The main char­ac­ter, Harry Nichols, is well writ­ten as well as the rest of the cast. I was actu­ally sur­prised to find how well the author bal­anced Nichols' moral dilem­mas as a Chris­t­ian with his job, which, let's face it, is not for boy scouts.
I love "gray" books, those that the dis­tinc­tion between the good guys and bad guys is very thin, if any. Some­time there are no good guys or bad guys per say, just every­one work­ing for their best inter­est, will­ing to screw every­one over to get what they want which, to be fair, is usu­ally to live another day. Mas­ter sto­ry­teller Ian Flem­ing was known to have said that he dis­tinctly wrote his main pro­tag­o­nist, James Bond, to be just as bad as the vil­lains only work­ing for the government.
So tell me, do you like "gray" books?
Syn­op­sis:
Mem­bers of the CIA's National Clan­des­tive Ser­vice sent to res­cue a group of archae­ol­o­gists from Iraq they come face to face with sev­eral sur­prises. Some­one has beat them to the punch, the archae­ol­o­gists have stum­bled on some­thing they shouldn't have and that there is a spy in their midst.
The head of the Service's Alpha Team, Harry Nichols, tries to find out who the trai­tor is as well as save the world from cer­tain calamity. Not only fight­ing ene­mies from with­out and within, but red tape, bureau­cracy and politicians.
Buy & Save on "Pandora's Grave" through the ManOfLa­Book affil­i­ate account on:
Kin­dle |Smash­words
Con­grat­u­la­tions:
larrygraysells@
alexsharrock@
swilltastic@
Zohar — Man of la Book
Related arti­cles
BOOK BLOGGERS — Have you read "Pandora's Grave"? If so link up your review below:
Enjoy this post? Why don't you sign up for the RSS feed