About:
Late for Tea at the Deer Palace : The Lost Dreams of My Iraqi Fam­ily by Tamara Cha­l­abi is a book which was hard to clas­sify. Part his­tory, part cul­tural, part fic­tional and non-fictional fam­ily saga and all about a bygone era.
The pub­lisher is giv­ing away one copy of this book— enter at the end of the post.
448 pages
Pub­lisher: Harper (Jan­u­ary 18, 2011)
Lan­guage: English

ISBN-10

: 0061240397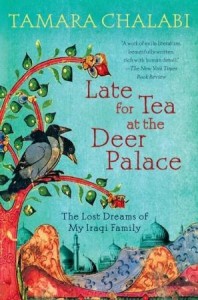 My rat­ing for Late for Tea at the Deer Palace — 5
Great price on this book in paper for­mat
through the Man of la Book Affil­i­ate Account
Thoughts:
I believe that Late for Tea at the Deer Palace by Tamara Cha­l­abi is the first book I read because I have heard of the author's father. I rec­og­nize Ahmad Chalabi's name from years of liv­ing in the Mid­dle East as well as his tem­po­rary high pro­file dur­ing The Gulf War where he was accused of many things, includ­ing being a triple agent giv­ing faulty intel­li­gence. How­ever, the story of Ahmad Cha­l­abis rise and fall is the least inter­est­ing part in this fas­ci­nat­ing book.
The first feel­ing that struck me while read­ing this book is jeal­ousy. If ever I'd write a book about the his­tory of my fam­ily, Late for Tea at the Deer Palace would be my guide. This beau­ti­fully writ­ten story mixes his­tory and his­tor­i­cal fic­tion (after all, Ms. Cha­l­abi wasn't privy to per­sonal con­ver­sa­tion between adults) and tells the rich story of the Cha­l­abi fam­ily through an intro­duc­tion to Iraqi his­tory, Iraqi soci­ety and cul­ture in a mag­nif­i­cent way.
What Ms. Cha­l­abi did was take sto­ries we all hear as kids, how are parents/grandparents or rel­a­tives did some­thing amaz­ing or funny and weaved it into a book while giv­ing his­tor­i­cal con­text. How our ances­tors lived through times of trou­ble how they sur­vived (or didn't) and how the fam­ily name will live on.
This book should be required read­ing to any per­son who sits down to write his or hers life story for their family.
This book reminded me of:
The Ruins of Us by Keija Parssi­nen
Beirut 39 
edited by Samuel Shimon
Syn­op­sis:
The book chron­i­cles the jour­ney of the promi­nent Iraqi Cha­l­abi fam­ily from the ech­e­lons of power and busi­ness to hav­ing to flee from their coun­try. After reach­ing the high­est pin­na­cles of suc­cess in busi­ness and soci­ety, they were left with com­par­a­tively lit­tle when forced to immi­grate.
Focus­ing on Bibi and Hadi, the author's grand­par­ents, Ms. Cha­l­abi tells a rich tale with an uncanny abil­ity to bring these stranges to life and make them, well, family.
Great price on this book in paper for­mat
through the Man of la Book Affil­i­ate Account
Give­away
Give­away ends: Feb­ru­ary 29, 2012

US

/Canada Ship­ping Addresses Only

No 

PO

 Boxes

Win­ners will have 24 hours to write back with their address, oth­er­wise an alter­nate win­ner will be picked
Con­grat­u­la­tions: nicnac63
TLC Book Tour for Late for Tea at the Deer Palace:
Tues­day, Jan­u­ary 31st: Book­NAround
Mon­day, Feb­ru­ary 6th: Books Like Breath­ing
Tues­day, Feb­ru­ary 7th: The Whim­si­cal Cot­tage
Thurs­day, Feb­ru­ary 16th: Bro­ken Teepee
Fri­day, Feb­ru­ary 17th: Board­ing in My For­ties
Mon­day, Feb­ru­ary 20th: Library of Clean Reads
Tues­day, Feb­ru­ary 21st: A Book­ish Affair
Wednes­day, Feb­ru­ary 22nd: Man of La Book
Thurs­day, Feb­ru­ary 23rd: Ted Lehmann's Blue­grass, Books, and Brain­storm
Fri­day, Feb­ru­ary 24th: Book Club Clas­sics!
Mon­day, Feb­ru­ary 27th: Book­stack
Tues­day, Feb­ru­ary 28th: Lux­ury Reading
Zohar — Man of la Book
Dis­claimer: I got this book for free from TLC Book Tours
Related arti­cles
BOOK BLOGGERS — Have you read Late for Tea at the Deer Palace? If so link up your review below:
Enjoy this post? Why don't you sign up for the RSS feed