About:
The Inven­tor and the Tycoon by Edward Ball is a non-fiction book about two pio­neers, a mur­der and motion pic­tures. The author is a National Book Award win­ner for his pre­vi­ous book Slaves in the Family.
The pub­lisher is giv­ing away one copy to two win­ners of this book -to enter fill out the Raf­fle­copt­ter form at the end of the post.
464 pages
Pub­lisher: Doubleday
Lan­guage: English

ISBN-10

: 0385525753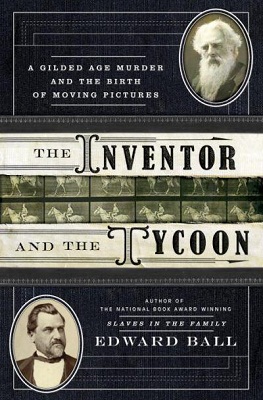 My rat­ing for The Inven­tor and the Tycoon- 5
Buy this book in paper or in elec­tronic format*
Thoughts:
In The Inven­tor and the Tycoon, author Edward Ball has infused the famous and the infa­mous into a story so large it might as well be fic­tion. The story involves cap­i­tal­ism, money, mur­der, trains, horse rac­ing ,pho­tog­ra­phy and the begin­ning of mov­ing pictures.
Leland Stan­ford, "the rich­est man west of the Mis­sis­sippi", rail­road tycoon, rob­ber baron, patron of the arts and a hip­pophile had one ques­tion on his mind: do horses' hooves leave the ground when they gal­lop. Enter pho­tog­ra­pher Ead­weard Muy­bridge who will try to prove Mr. Stan­ford right and, unbe­knownst to the two of them, usher the world into the age of movies.

Race horse gal­lop­ing (from a series of pic­tures by Ead­weard Muybridge
Mr. Ball teases the reader by not telling the story in a chrono­log­i­cal order, we start with Muy­bridge shock­ing a bunch of rich folks with his horse-in-motion dis­play, move on to a chap­ter about mur­der, to a his­tory of Stan­ford (for which Stan­ford Uni­ver­sity is named after), his rail­roads, Muybridge's trial, Stanford's fas­ci­na­tion with horses, pho­tog­ra­phy, the trial's ver­dict  and more. As you can see, the author plants a seed and leaves it alone by mov­ing on to another sub­ject which might or might not be related only to come back to the sub­ject later on. While I am not a fan of this style, Mr. Ball made it work and the sev­eral cliffhang­ers kept me hun­gry for more.
Due to the struc­ture of the book, the author repeats sev­eral key facts which, if were told in order, the reader might have been able to keep in their heads. The struc­ture is odd, but it tells the story of two odd peo­ple (even though I have to admit that Muy­bridge is cer­tainly the one who is more strange) and some­how seems fit­ting. Muy­bridge dressed down, smoked a corn­cob pipe, changed the spelling of his name sev­eral time and mar­ries a woman half his age. Stan­ford headed a large com­pany build­ing the west­ern half of the transcon­ti­nen­tal rail­road, becom­ing a US Sen­a­tor and California's governor.
One of the more inter­est­ing aspects of the book was a short part at the end where Muy­bridge, who invented a "mov­ing pic­ture" met super-inventor Thomas Edi­son. The Wiz­ard of Menlo Park is not por­trayed very kindly in the book, he "had a habit of bor­row­ing the work of oth­ers and not return­ing it",  tak­ing Muybridge's idea and basi­cally mak­ing it his own while throw­ing the pho­tog­ra­pher out and tak­ing credit for the ages.
The book is fun to read, Mr. Ball cre­ates scenes which seemed to be taken out of a novel and make the read­ing move fast. Pep­pered through­out the book are pho­tographs demon­strat­ing Muybridge's skill and evolv­ing exper­i­ments of early cin­e­matic magic.
Syn­op­sis:
The book is divided into three parts:
Part one goes back in tome from the 1880s to the 1860s when Stan­ford became a rich man from his hum­ble begin­nings as a shop owner. At the same time Ead­weard Muy­bridge becomes a photographer.
The sec­ond part is less orga­nized and takes place dur­ing Stanford's youth (1830s – 1870s not nec­es­sar­ily in order) and skips to Muybridge's 1876 mur­der trial.
Two years into his mar­riage, Muy­bridge dis­cov­ered that his wife Flora was cheat­ing on him with her friend Harry Larkyns. Dur­ing this time, Muy­bridge also found out that his son Flo­rado might have been fathered by his wife's lover. In Octo­ber of that year, Muy­bridge tracked down Larkyns and shot him point blank. Later that evening Larkyns died and Muy­bridge was arrested.
Dur­ing the trial the defense pleaded insan­ity even though the defen­dant fully admit­ted that his actions were delib­er­ate and planned. How­ever, the jury still found Muy­bridge not guilty on the grounds of jus­ti­fi­able homicide.
Part two then jumps back to Muybridge's youth (1830s) and ends in the 1850s and 1860s.
The third part of the book is more straight­for­ward, start­ing where part 2 ended to Muybridge's death at the begin­ning of the 20th Century.
 Buy this book in paper or in elec­tronic format*
Give­away
Give­away ends: Feb­ru­ary 2, 2013

US

/Canada Ship­ping Addresses Only

No 

PO

 Boxes

Win­ners will have 24 hours to write back with their address, oth­er­wise an alter­nate win­ner will be picked
Con­grat­u­la­tions: carlscott@, akreese@
Zohar — Man of la Book
Dis­claimer: I got this book for free.
*Ama­zon links point to an affil­i­ate account
Enjoy this post? Why don't you sign up for the RSS feed