About:
The Golem and the Jinni by Helene Wecker is a novel tak­ing place in New York, 1899. The story weaves two myth­i­cal crea­ture from two dif­fer­ent cul­tures to cre­ate a dif­fer­ent kind of story altogether.
The pub­lisher is giv­ing away one copy of this book -to enter fill out the Raf­fle­copt­ter form at the end of the post.
496 pages
Pub­lisher: Harper
Lan­guage: English

ISBN-10

: 0062110837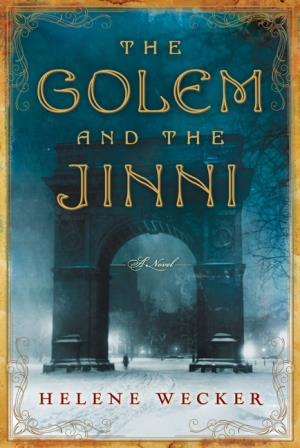 My rat­ing for The Golem and the Jinni — 4
Buy this book in paper or elec­tronic format*
Thoughts:
The Golem and the Jinni by Helene Wecker (web­site | Face­book | @helenewecker) is part his­tor­i­cal fic­tion, part fan­tasy told as a fairy tale in turn of the cen­tury New York City. The story unfolds in par­al­lels, that of Chava the Golem and that of Ahmad, the Jinni.
I liked the way Ms. Wecker endowed each crea­ture with a child­like curios­ity which, I thought, was a great way to tell the story from a his­tor­i­cal angle (explor­ing 1899 NYC) as well as mov­ing the story for­ward (they don't know any bet­ter). Even though the Jinni is hun­dreds of years old, he was stuck in a bot­tle for so long that every­thing is new to him, espe­cially com­ing from the deserts of North Africa to New York.
I wanted to read the book because I find the whole Jew­ish mythol­ogy around the golem fas­ci­nat­ing.  The golem is a crea­ture made out of clay; the most known tale is that of the late 16th Cen­tury rabbi of Prague, Judah Loew ben Beza­lel. The rabbi, it is said, brought his golem to life in order to defend the Prague ghetto from anti-Semitic attacks.
The book was an inter­est­ing and delight­ful read, I imme­di­ately got sucked in, some­how lost a bit of inter­est in the mid­dle but found myself engrossed in the story once again towards the end. The con­clu­sion left me want­ing more of a res­o­lu­tion, but that is just a per­sonal choice.
The char­ac­ters are inter­est­ing and engag­ing, I even found the sec­ondary char­ac­ters and their sto­ries absorb­ing. This is one of these types of books to goes on tan­gent, where a back­ground to a char­ac­ter is told as a story within a story, some­thing I admire and rec­og­nize how dif­fi­cult it is to do well.
The author did a great job con­vey­ing the char­ac­ters' fears and desires, slowly open­ing up to life around them with all the dan­gers they entail. The Golem, a crea­ture of earth, the Jinni, a crea­ture of fire, seem to be aware of their own unique­ness but they don't view their meta­phys­i­cal attrib­utes as strength, quite the oppo­site, often it is a hindrance.
The steps Chava takes to be counted as among the liv­ing are superbly told, never rushed or utopian, she slowly becomes a part of the lives which sur­round her. The Jinni also finds it dif­fi­cult to adjust to his small com­mu­nity but takes the oppo­site route from Chava. Instead of immers­ing him­self and try­ing to be part of the com­mu­nity he does what he wants, when he wants and damned be the con­se­quences. When the two meet, instead of get­ting along they bicker and argue. She wants him to be more con­cerned about his sur­round­ings; he wants her to take advan­tage of her abil­i­ties more often and for some­thing other than bak­ing or work­ing around the clock.
The nar­ra­tive is mostly about the attempts of the two crea­tures at hid­ing and/or assim­i­lat­ing to their sur­round­ing, their hopes and fears as well as his­tory. To my sur­prise I found the book to have a quite, char­ac­ter dri­ven nar­ra­tive with a fast-paced, action-filled ending.
I liked this novel very much but it was miss­ing that extra "oomph" which I was hop­ing for, that blend of Yid­dish / Ara­bic slang in midst of the NY ghetto, I missed the cul­tural jokes which the immi­grants are so famous for and are used by other authors (Shalom Ale­ichem come to mind) to make a dis­tinct point while keep­ing the mood light. The pub­lisher com­pared this novel to Jonathan Strange & Mr Nor­rell by Susanna Clarke and I can cer­tainly see the sim­i­lar­i­ties, but what made Clarke's book great is the lit­er­ary voice, old spelling, dry wit (which includes the won­der­ful foot­notes) and very curi­ous prose – things which I think are in this novel, but sim­ply not as defined. How­ever, the book is still a won­der­ful read, enchant­ing and grasp­ing which I enjoyed all the way through and will cer­tainly be watch­ing out for Mr. Wecker's next triumph.
Syn­op­sis:
A dis­graced Pol­ish rabbi brings a female golem to life at a request of a rich patron. The patron dies at sea, en route to Amer­ica, and the golem, Chava, finds her­self alone with­out a mas­ter; how­ever she soon is taken in by an elderly rabbi who intro­duces her around the Jew­ish com­mu­nity in New York City.
Ahmad is a jinni who was trapped in a flask in the Syr­ian desert but was released in New York City, but he is not free yet. When Ahmad meets Chava, the two lost crea­tures become unlikely friends with a mys­ti­cal connection.
Buy this book in paper or elec­tronic for­mat*
Give­away
Give­away ends: May 21, 2013

US

/Canada Ship­ping Addresses Only

No 

PO

 Boxes

Win­ners will have 24 hours to write back with their address, oth­er­wise an alter­nate win­ner will be picked
Con­grat­u­la­tions: fforgnayr@
TLC

 Book Tour for The Golem and the Jinni by Helene Wecker:
Tues­day, April 23rd: Let Them Read Books
Thurs­day, April 25th: Drey's Library
Mon­day, April 29th: Unabridged Chick
Tues­day, April 30th: Books By Their Cover
Wednes­day, May 1st: Age­less Pages Reviews
Mon­day, May 6th: Jenny Loves to Read
Tues­day, May 7th: No More Grumpy Bookseller
Wednes­day, May 8th: Bib­lio­phil­iac
Mon­day, May 13th: Bib­lio­philia, Please!
Tues­day, May 14th: Man of La Book
Wednes­day, May 15th: I Read a Book Once
Thurs­day, May 16th: Speak­ing of Books
Mon­day, May 20th: Twist­ing the Lens
Tues­day, May 21st: A Bookworm's World
Wednes­day, May 22nd: Geek Ban­ter
Thurs­day, May 23rd: Hooked on Books
Fri­day, May 24th: Lux­ury Reading
Mon­day, May 27th: Fyrefly's Book Blog
Tues­day, May 28th: Just a World Away
Wednes­day, May 29th: In the Next Room

TBD

: Oh! Paper Pages
Zohar — Man of la Book
Dis­claimer: I got this book for free from TLC Book Tours.
*Ama­zon links point to an affil­i­ate account
Enjoy this post? Why don't you sign up for the RSS feed