About:
The Exe­cu­tion of Noa P. Sin­gle­ton by Eliz­a­beth L. Sil­ver is a novel about our cap­i­tal pun­ish­ment sys­tem tak­ing place mostly in Philadel­phia. This is Ms. Silver's, a lawyer who worked on death penalty cases, debut novel.
The pub­lisher is giv­ing away one copy of this book -to enter fill out the Raf­fle­copt­ter form at the end of the post.
320 pages
Pub­lisher: Crown
Lan­guage: English

ISBN-10

:

038534743X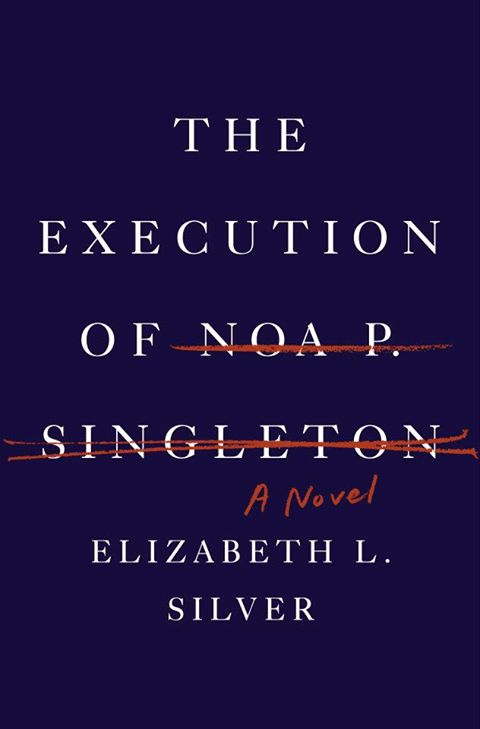 My rat­ing for The Exe­cu­tion of Noa P. Sin­gle­ton — 4
Buy this book in paper or elec­tronic format*
Thoughts:
The Exe­cu­tion of Noa P. Sin­gle­ton by Eliz­a­beth L. Sil­ver (web­site | Face­book | @ElizLSilver)is a thought­ful book which keeps turn­ing itself upside down with new rev­e­la­tions about the pro­tag­o­nist, antag­o­nist and sev­eral other char­ac­ters. The book is mostly nar­rated by Noa but the chap­ters end with let­ters writ­ten by the victim's mother to her deceased daughter.
The trial scenes were fas­ci­nat­ing and the selec­tion of the jury was hilar­i­ous. But best of all, the book made you think, not only about the nature of the death penalty but about the judi­cial sys­tem as well. Ms. Sil­ver man­aged to write a fas­ci­nat­ing book, told by an unre­li­able nar­ra­tor which man­ages to tell a fas­ci­nat­ing story in shades of gray. There are no good guys or bad guys in the story, every­one has their own demons within them, try­ing to make things right in their own head.
In each chap­ter the reader dis­cov­ers some new rev­e­la­tion about Noa and her rela­tion­ship to the sup­port­ing cast. The reader also dis­cov­ers Noa's state of mind while on death row, her accep­tance to the sit­u­a­tion she is in and her life­long story which landed her behind bars.
The Exe­cu­tion of Noa P. Sin­gle­ton is an astute story which brings up many ques­tions about human nature and the jus­tice sys­tem. The book's dark tones and story will stay with the reader for a while after one turns over the last page.
Syn­op­sis:
Noa P. Sin­gle­ton is await­ing exe­cu­tion for the mur­der of her father's preg­nant girl­friend. As the months pass and her exe­cu­tion date gets closer, Noa is vis­ited by Mar­lene Dixon, mother of her victim.
Mar­lene Dixon is a pow­er­ful attor­ney, she promises Noa that if she'll tell her why she killed her daugh­ter, she will try and get the gov­er­nor to com­mute the sen­tence from death to life in prison. But Noa has her own agenda, and Mar­lene is some­how involved.
Buy this book in paper or elec­tronic format*
Give­away
Give­away ends: June 26, 2013

US

/Canada Ship­ping Addresses Only

No

PO

 Boxes

Win­ners will have 24 hours to write back with their address, oth­er­wise an alter­nate win­ner will be picked
Con­grat­u­la­tions: marie6980
TLC

Book Tour for The Exe­cu­tion of Noa P. Sin­gle­ton by Eliz­a­beth L. Silver:
Mon­day, June 10th: A Book­ish Way of Life
Wednes­day, June 12th: Jenn's Book­shelves
Wednes­day, June 12th: No More Grumpy Bookseller
Thurs­day, June 13th: BookChickDi — review
Sat­ur­day, June 15th: BookChickDi — Week­end Cook­ing (excerpt)
Mon­day, June 17th: Read Lately
Wednes­day, June 19th: Kritter's Ram­blings
Wednes­day, June 19th: Man of La Book
Thurs­day, June 20th: Sim­ply Stacie
Mon­day, June 24th: The Best Books Ever
Tues­day, June 25th: Book­NAround
Wednes­day, June 26th: River City Reading
Wednes­day, June 26th: Mock­ing­bird Hill Cottage
Thurs­day, June 27th: Book­snob
Mon­day, July 1st: The Scar­let Letter
Tues­day, July 2nd: Mus­ings of a Book­ish Kitty
Wednes­day, July 3rd: A Bookworm's World
Fri­day, July 5th: Book Hooked Blog
Fri­day, July 12th: Sweet South­ern Home
Zohar — Man of la Book
Dis­claimer: I got this book for free from TLC Book Tours.
*Ama­zon links point to an affil­i­ate account
Enjoy this post? Why don't you sign up for the RSS feed