About:
Pain, Par­ties, Work: Sylvia Plath in New York, Sum­mer 1953 by Eliz­a­beth Winder is a non-fiction book about time men­tioned in the title. The book paints a por­trait of Ms. Plath dur­ing a stress­ful, event­ful and per­sonal emo­tional sum­mer of her life.
The pub­lisher is giv­ing away one copy of this book -to enter fill out the Raf­fle­copt­ter form at the end of the post.
288 pages
Pub­lisher: Harper
Lan­guage: English

ISBN-10

: 0062085492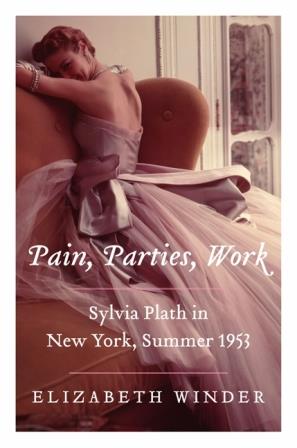 My rat­ing for Pain, Par­ties, Work — 4
Buy this book in paper or elec­tronic format
Thoughts:
Pain, Par­ties, Work: Sylvia Plath in New York, Sum­mer 1953 by Eliz­a­beth Winder (@elizawinder) is the kind of book which seems to be gain­ing pop­u­lar­ity, a short non-fiction book about a spec­i­fied time-frame of a per­son. These books seem to replace the all encom­pass­ing biographies.
At this day and age where a some­what descent, encom­pass­ing  biog­ra­phy on almost every impor­tant, not-so-important and, let's face(book) it, not-important-at-all peo­ple is at one's fin­ger­tips 24/7 these type of short bio­graph­i­cal por­traits are flour­ish­ing. I can cer­tainly under­stand why, when I ran a restric­tive search for "Sylvia Plath biog­ra­phy" on Google I got 6,430 results (417,000 results came back with just a sim­ple search). With that much infor­ma­tion at hand a book which high­lights a cer­tain period does, espe­cially if one is inter­ested only in that spe­cific sub­ject, sounds enticing.
There seems to be a lot of infor­ma­tion about Sylvia Plath this year which marks the 50th anniver­sary of her untimely death. To be hon­est, this is the first book I read about, or by, Ms. Plath. I have heard of her before, but her work never sparked my inter­est. There was some­thing in the descrip­tion of this book though, that did sound inter­est­ing, maybe the locale (NYC), the time period (1950s), or the sub­ject. But what prob­a­bly made me pick up this book is a vari­ety of rea­sons, a com­bi­na­tion of the ones men­tioned pre­vi­ously plus oth­ers which I can­not put my fin­ger on at the moment.
When I received the book I thought I had made a mis­take just by look­ing at the cover. A pic­ture in which the color pink (or some vari­a­tion of it) is pre­dom­i­nant, a woman wear­ing a fancy ruf­fle dress, long Cin­derella gloves, jew­elry on her arms, a pearl neck­lace, dia­mond ear­rings and a fancy hairdo sit­ting face for­ward on a chair/couch which seems to be made for the sole pur­pose of act­ing out  a most dra­matic and pas­sion­ate faint­ing.
Not too attrac­tive for some­one who loves to read about World War II, espi­onage and other "manly" books.
Once I started read­ing the book all my trep­i­da­tions went away, this a remark­able story of an amaz­ing woman liv­ing out an extra­or­di­nary adven­ture. Ms. Winder did an amaz­ing job research­ing, includ­ing talk­ing with first hand sources (other guest-editors) whose rec­ol­lec­tions of Ms. Plath are vivid and enchant­ing. The depressed image I had have of Sylvia Plath is con­tra­dic­tory to the image the author paints, that of flam­ing red lip­stick, posh clothes and high heels.
The book does a great job describ­ing the pro­fes­sional envi­ron­ment of 1950s New York City as well as mak­ing the month long adven­ture come to life. The asser­tion that the gig of "guest edi­tor" was a defin­ing event in Plant's life seems to have much merit and essen­tial to under­stand­ing her char­ac­ter and writing.
Syn­op­sis:
Twenty-year-old Sylvia Plath arrives in New York City with 20 other col­lege aged women to work as guest edi­tors for Mademoiselle's col­lege issue. This is a pres­ti­gious posi­tion which, they hope, will get them ready for life in the big city and even big­ger world.
The ladies live at the Bar­bi­zon Hotel, attend shows, bal­lets, pro­fes­sional sports and par­tic­i­pate in glam­orous events.
Buy this book in paper or elec­tronic format
Give­away
Give­away ends: May 7, 2013

US

/Canada Ship­ping Addresses Only

No 

PO

 Boxes

Win­ners will have 24 hours to write back with their address, oth­er­wise an alter­nate win­ner will be picked
Con­grat­u­la­tions: Name as email
TLC

 Book Tour for Pain, Par­ties, Work by Eliz­a­beth Winder  :
Tues­day, April 16th: Savvy Verse

&

 Wit
Wednes­day, April 17th: 50 Books Project
Thurs­day, April 18th: Veron­ica M.D
Wednes­day, April 24th: Unabridged Chick
Wednes­day, April 24th: The Road to Here
Mon­day, April 29th: nomadreader
Tues­day, April 30th: Man of La Book
Wednes­day, May 1st: Speak­ing of Books
Thurs­day, May 2nd: The Blog of Lit Wits
Thurs­day, May 2nd: Necro­mancy Never Pays
Fri­day, May 3rd: Lux­ury Reading
Mon­day, May 6th: Sophis­ti­cated Dorkiness
Tues­day, May 7th: Tiffany's Book­shelf
Wednes­day, May 8th: Book Hooked Blog
Thurs­day, May 9th: Pep­per­mint PhD
Mon­day, May 13th: A Book­ish Affair
Tues­day, May 14th: mis­s­ris
Wednes­day, May 15th: guilt­less reading
Thurs­day, May 16th: The Scar­let Letter

TBD

: Oh! Paper Pages
Zohar — Man of la Book
Dis­claimer: I got this book for free from TLC Book Tours.
*Ama­zon links point to an affil­i­ate account
Enjoy this post? Why don't you sign up for the RSS feed