About:
Bro­ken Angel by S.W. Vaughn is a fic­tional book tak­ing place in NYC's under­ground street fight­ing scenes. This is the first book in a the House Phoenix series but can be read as a standalone.
290 pages
Pub­lisher: Lyri­cal Press, Inc
Lan­guage: English

ISBN-10

: 1616501618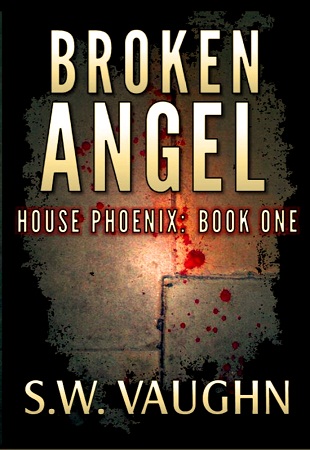 My rat­ing for Bro­ken Angel— 4

Buy this book in paper or in elec­tronic (free at the time of this post) format*
Thoughts:
Bro­ken Angel by S.W. Vaughn (web­site | @SWVaughn) was an unex­pected sur­prise. I started to read it and found myself being engrossed in the story and char­ac­ters. The book explodes with vio­lence which works great with the theme of pro­fes­sional street fight­ing tournaments.
Despite the gra­tu­itous vio­lence and tor­ture scenes, I found the novel com­pelling.  The plot is well drawn, the char­ac­ters are inter­est­ing and engag­ing and the nar­ra­tive full with enough detail to draw the reader into its world.
The book has sev­eral twists which the astute reader prob­a­bly guessed ahead of time.  The descrip­tive fights with all the smells, blood and sweat are excel­lent, while the pro­tag­o­nist if cer­tainly not the under­dog type we all enjoy root­ing for, he does rise from the bot­tom to the top in a fast and furi­ous way plant­ing destruc­tion and may­hem along the way.
Bro­ken Angel is an unapolo­getic book that moves at a furi­ous pace with intrigu­ing char­ac­ters liv­ing on the fringes of soci­ety.  One of the strengths of the book is the sup­port­ing char­ac­ters, most of them intrigu­ing, strong and with enough mys­tery to sup­port the rest of the series.
Syn­op­sis:
Gabriel Morgan's sis­ter dis­ap­peared and he'll do any­thing to save her.  Finally Gabriel found her work­ing as a high class pros­ti­tute in New York City's under­ground society.
Mar­cus Slade, the head of an orga­ni­za­tion run­ning street fight­ers and hook­ers, will let her go for ten mil­lion dol­lars which Gabriel has to earn through fight­ing. Forced into a bru­tal train­ing pro­gram Gabriel is given an new per­sona, Angel, and becomes a fighter for Slade's orga­ni­za­tion until his sister's ran­som is paid off.
Buy this book in paper or in elec­tronic (free at the time of this post) format*
Zohar — Man of la Book
Dis­claimer: I got this book for free.
*Ama­zon links point to an affil­i­ate account
Enjoy this post? Why don't you sign up for the RSS feed