About:
And Now We Shall Do Manly Things by Craig J. Heim­buch is a non-fiction book about the author's adven­tures learn­ing to hunt. The author chron­i­cles his per­sonal jour­ney to while learn­ing about the hunt­ing cul­ture in America.
The pub­lisher is giv­ing away one copy of this book -to enter fill out the Raf­fle­copt­ter form at the end of the post.
336 pages
Pub­lisher: William Mor­row Paperbacks
Lan­guage: English

ISBN-10

: 

006219786X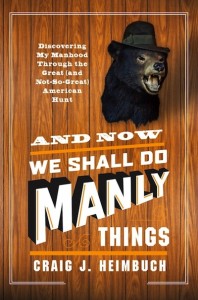 My rat­ing for And Now We Shall Do Manly Things —4
Buy this book in paper or elec­tronic format*
Thoughts:
And Now We Shall Do Manly Things by Craig J. Heim­buch(blog| @cheimbuch) is a hilar­i­ous per­spec­tive on the cul­ture of Amer­i­can hunt­ing which would make Bill Bryson proud. Born to a Mid­west­ern fam­ily Heim­buch sets out to prove him­self and hunt.
Sadly, the author is a part of a gen­er­a­tion I am greatly famil­iar with, a gen­er­a­tion which suf­fered the "fem­i­niza­tion ofAmer­ica". Where boys could not be boys, and hence did not grow up to be manly men, and men were vil­i­fied for doing, well, manly things. Don't mis­un­der­stand me, if a boy wants to play with dolls, all the more power – but boys should not be forced to play with dolls or be told that to play sol­diers is "bad". Those extremes have a nasty ten­dency to back­fire and some­times even cause grave consequences.
The author's jour­ney begin upon receiv­ing a fam­ily heir­loom from his father – a shot­gun. Being an admirer of out­doorsy types like TV per­son­al­ity Steven Rinella, Heim­buch decides that he needs to go out and "kill some­thing". Hav­ing some sort of a melt­down, find­ing him­self bur­dened with respon­si­bil­i­ties in a low pay­ing job (he jests that "[j]ournalists are, in fact, the only peo­ple who marry teach­ers for the money") and mem­o­ries of wimp­ing out on sev­eral occa­sions also helped him to take up his cause.
The author starts out small, hunt­ing grouse, and basi­cally that's what he's try­ing to kill. For­get lions and tigers and bears, these lit­tle birds are a chal­lenge even to sea­soned hunters as our hero finds out.
Along the way we join him on a jour­ney to get his gun license, hunt­ing license, meet the peo­ple he bounced his ideas off of and to an NRA gun show (some­thing I always wanted to attend). Mr. Heim­buch looks at the indi­vid­u­als who own guns, the scary ones, the con­spir­acy the­o­rist, those who live on the fringes of soci­ety, but he also looks at the aver­age hunter (who are most of the folks) who hap­pen to enjoy the sport or sim­ply hunt for food.
Some of the writ­ing seemed forced and some of the seg­ments seem to be padded in order to fill out the book (a three page descrip­tion of a meal, for exam­ple).  The book some­times feels as if it was intended to be a bunch of arti­cles and then expended to fill out its pages.
How­ever, I found most of the book funny and clever with some inter­est­ing points of view. Heim­buch pokes fun at him­self, the hunt­ing cul­ture and human­ity which makes the book enjoy­able to hunt­ing enthu­si­asts and those who have never ven­tured off the paved path.
Buy this book in paper or elec­tronic format*
Give­away
Give­away ends: Novem­ber 28, 2012

US

/Canada Ship­ping Addresses Only

No 

PO

 Boxes

Win­ners will have 24 hours to write back with their address, oth­er­wise an alter­nate win­ner will be picked
Congratulations:lomazowr@
TLC

 Book Tour for And Now We Shall Do Manly Things by Craig J. Heimbuch :

Zohar — Man of la Book 
Dis­claimer: I got this book for free from TLC Book Tours
*Ama­zon links point to an affil­i­ate account

BOOK BLOGGERS — Have you read And Now We Shall Do Manly Things? If so link up your review below:
Enjoy this post? Why don't you sign up for the RSS feed