Tomor­row is the birth­day of Eng­lish poet William Wordsworth (7 April 1770 – 23 April 1850). Wordsworth's semi-autobiographical poem The Pre­lude (buy in paper­back or elec­tronic
for­mat for $1) is con­sid­ered his mas­ter­piece among poetry scholars.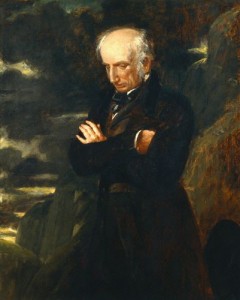 1 )      Wordsworth didn't like Alexan­der Pope, another poet.
2 )      Wordsworth is cred­ited with launch­ing the Roman­tic Age.
3 )      In 1792 Wordsworth met John "Walk­ing" Stew­art in Paris. The Eng­lish philoso­pher made a deep impres­sion on the poet and had major influ­ence on his works.(Stewart was close friends with Thomas De Quincey, Thomas Paine, and Pla­ton­ist Thomas Tay­lor).
4 )      Wordsworth was the Poet Lau­re­ate of Eng­land from 1843–1850.
5 )      Wordsworth's pop­u­lar­ity was so great in the late 1840s that his home in Gras­mere became a tourist attrac­tion. Mary Wordsworth, wrote:
""At this moment, a group of young Tourists are stand­ing before the win­dow (I am writ­ing in the Hall) and Wm read­ing a newspaper—and on lift­ing up his head a pro­found bow greeted him from each."
6 )      William and his daugh­ter Dorothy (who was an author, poet and diarist by her own right) liked to lie down next to each other out­doors and pre­tend that they were lying in their graves.
7 )      Critic Fran­cies Jef­frey was not too fond of Wordsworth's work. His review of The Excur­sion, a long poem pub­lished in 1814, started by say­ing "This will never do."
8 )      At a din­ner party at home of poet Charles Lamb, Samuel Tay­lor Coleridge (another Eng­lish poet) sat at one end of the din­ner table talk­ing about Wordsworth poetry while the man him­self was sit­ting at the other end…also talk­ing about his own poetry.
9 )      In 1803 critic William Hazlitt was vis­it­ing Wordsworth and Coleridge. At a pub a woman refused Hazlitt's come-ons so, nat­u­rally, he lifted her skirt and spanked her. After man­ag­ing to get away from an angry gang, Hazlitt hid in Wordsworth's house in Gras­mere. While the inci­dent hurt Hazlitt's rep­u­ta­tion, it was dam­aged even more by the vicious gos­sip spread by… Wordsworth and Coleridge.
10)   Actor Mike Myers is a descen­dent of the famous poet. Mr. Myers' grand­mother is Eliza Jane Wordsworth which makes the actor & the poet first cousins, seven times removed.
Zohar — Man of la Book
Related arti­cles
Enjoy this post? Why don't you sign up for the RSS feed