Japan­ese writer Ryūno­suke Aku­ta­gawa (1 March 1892 – 24 July 1927) had a short life, but made a huge impact on his native Japan. He com­mit­ted sui­cide at age 35 by over­dos­ing on bar­bi­tal (a drug used for sleeping).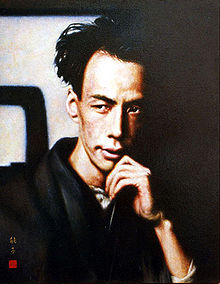 The Aku­ta­gawa, named after the author, is Japan's top lit­er­ary award.
Ryūno­suke means "son of Dragon" because he was born on the day, month and year of the dragon.
From an early age Aku­ta­gawa was inter­ested in clas­sic Chi­nese literature.
Akutagawa's First High School class of 1910 pro­duces at least 5 promi­nent Japan­ese authors ( Kan Kikuchi, Kume Masao, Yamamoto Yūzō,Tsuchiya Bun­mei and Akutagawa)
Aku­ta­gawa  is known as the  "father of the Japan­ese short story."
Akutagawa's first short story "Rashō­mon" was pub­lished in the lit­er­ary mag­a­zine Teikoku Bun­gaku ("Impe­r­ial Lit­er­a­ture") around 1915.
Aku­tagwa also wrote haiku under the pen name (haigo) Gaki
Famed Japan­ese author Haruki Murakami wrote the intro­duc­tion to Rashomon and Sev­en­teen Other Sto­ries which was trans­lated by Jay Rubin.
Two of the sto­ries Rubin suc­cess­fully trans­lated, Chugi" ("Loy­alty") and "Negi" ("Green Onions") were con­sid­ered impos­si­ble to trans­late by Aku­ta­gawa scholars.
Aku­ta­gawa was suf­fer­ing from hal­lu­ci­na­tions and fears that he had inher­ited his mother's men­tal illness.
Zohar — Man of la Book
Enjoy this post? Why don't you sign up for the RSS feed