Roald Dahl (13 September, 1916 – 23 November, 1990), the adored children's author wrote 19 children's books including James and the Giant Peach (196)1and Charlie and the Chocolate Factory (1964).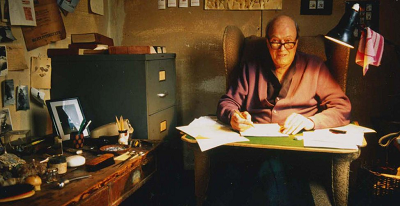 Dahl is a Norwegian name and as a child he spent his vacations in Oslo with his grandparents. He could speak English, Norwegian and Swahili
Dahl did not start writing children's books until he had his own children.
Dahl wrote in a small shed at the bottom of this garden

During World War II, Dahl was a Hurricane fighter pilot. He crashed in Alexandria, Egypt and was left with serious injuries which will plague him for the rest of his life.
Dahl's first children's story was The Gremlins in 1942 for Walt Disney.
Dahl wrote the screen play for Ian Fleming's Chitty Chitty Bang Bang and You Only Live Twice – a James Bond movie.
In his book, Tales of the Unexpected, Dahl wrote short stories for adults.
Dahl loved chocolate but did not like chocolate ice-cream or chocolate cake.
Dahl did his writing with a pencil on yellow paper , because his favorite color is yellow..
Dahl's wife was actress Patricia Neal who played in such classics as The Day the Earth Stood Still, Breakfast at Tiffany's and Hud for which she won the Academy Award for Best Actress.
Roald Dahl and Patricia Neal
Zohar – Man of la Book
--- Please like and follow ManOfLaBook.com ---
Enjoy this post? Why don't you sign up for the RSS feed