Nor­man Mailer (31 Jan­u­ary, 1923 – 10 Novem­ber, 2007), one of the great­est Amer­i­can writ­ers hailed from a mid­dle class Jew­ish fam­ily to become one of the most provoca­tive writ­ers of the 1950s. Mailer wrote more than 50 books dur­ing his life and won the Pulitzer Prize Twice.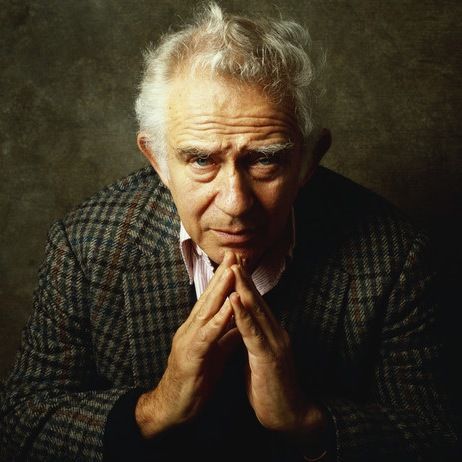 Books by Nor­man Mailer
Nor­man Mailer was born in Long Branch,

NJ

– how­ever he grew up in Brook­lyn, New York.
As a 9 year old boy, Mailer wrote a 250 page sci­ence fic­tion story called Inva­sion from Mars.
At age 16 Nor­man Mailer was admit­ted to Har­vard.
At Har­vard Mailer majored in Aero­nau­ti­cal Engi­neer­ing. How­ever he won a writ­ing con­test spon­sored by Story mag­a­zine and already has made up his mind to become a pro­fes­sional writer.
When Mailer grad­u­ated col­lege, the world was in the tur­moil of World War

II

. Mailer joined the Army and served as a sergeant in the Pacific.
After the war, Mailer did his grad­u­ate stud­ies at the Sor­bonne in Paris.
Dur­ing his time at the Sor­bonne he wrote The Naked and the Dead which took him 15 months to write. Pub­lished in 1948 The Naked and the Dead became Nor­man Mailer's suc­cess and made him a celebrity at 25.
Mailer lived a year in Hol­ly­wood but moved to Green­wich Vil­lage becom­ing fas­ci­nated by rad­i­cal politics.
Dur­ing a drunken stu­por Mailer stabbed his wife with a penknife. His wife refused to press charges but he pleaded guilty to a reduced charge of assault.
There are two non-profit orga­ni­za­tions named after Mailer: the "Nor­man Mailer Cen­ter" and "Nor­man Mailer Writer Society".
Zohar — Man of la Book
Enjoy this post? Why don't you sign up for the RSS feed