Author and futur­ist Jules Verne was born on this day, 8 Feb­ru­ary, 1828 (d: 24 March, 1905) in Nantes, France. Verne is con­sid­ered the father of gen­eral Sci­ence Fic­tion and recently been cred­ited with "father­ing" the steam­punk genre. Verne wrote some of the most famous books in the worked, such as 20,000 Leagues Under the Sea, Jour­ney To The Cen­ter Of The Earth, and Around The World In 80 Days.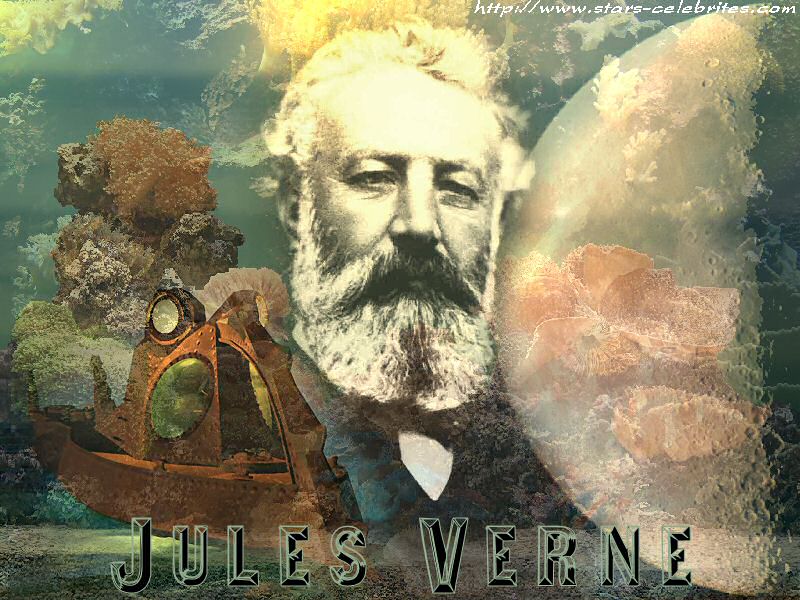 Image from http://www.stars-celebrites.com/
Verne is the sec­ond most trans­lated author in the world (the first is Agatha Christie).
Jules Verne wrote more than 70 books (54 of them com­pro­mis­ing the Voy­ages Extra­or­di­naires)
In 20,000 Leagues Under the Sea, Cap­tain Nemo trav­els the world in a giant elec­tric sub­ma­rine, the Nau­tilus. Sev­eral mod­ern sub­marines are pow­ered by elec­tric­ity, granted they're not as huge as the Nau­tilus (with for­mal din­ing room, library, etc.) but they are not that dif­fer­ent from the one Verne described.
In 1886, the first elec­tric pow­ered sub­ma­rine was name The Nautilus.
One of the weapons described in 20,000 Leagues Under the Sea is a gun which shoots balls in which "elec­tric­ity is forced to a very high ten­sion" and deliv­ers a strong elec­tri­cal jolt.
A taser?
Before Verne started writ­ing sto­ries he wrote lyrics for operas (libretti).
Verne counted among his friends nov­el­ists Alexan­dre Dumas and Vic­tor Hugo who also advised him on writing.
In the arti­cle , In the Year 2889 which Verne wrote in 1889 he pre­dicted that "Instead of being printed, the Earth Chron­i­cle is every morn­ing spo­ken to sub­scribers, who, from inter­est­ing con­ver­sa­tions with reporters, states­men and sci­en­tists, learn the news of the day."
Thirty one years later the first news­cast was broad­casted and the first

TV

news broad­cast was 28 years later.
The same arti­cle, Verne wrote of "atmos­pheric adver­tise­ments" which were "reflected from the clouds". The way Verne described these ads is very sim­i­lar to what we call skywriting.
Jules Verne pub­lished at least one book a year for over 40 years.
In 1863 Verne wrote Paris In The 20th Cen­tury. The novel was based in the 20th Cen­tury and fea­tured such visions as high speed trains, cal­cu­la­tors, glass sky­scrap­ers and even a world­wide com­mu­ni­ca­tion net­work (one might say a World Wide Web). How­ever, Verne's pub­lisher thought the book was too pes­simistic (the pro­tag­o­nist couldn't find hap­pi­ness and found a sad end) and didn't pub­lish it. Verne's great grand­son dis­cov­ered the book in 1989.
 Zohar — Man of la Book
Enjoy this post? Why don't you sign up for the RSS feed