About:
False Friends by Stephen Leather is a fic­tional book in the Dan Shep­herd series. This is the 9th book in the series, but can be read as a stand­alone book.
512 pages
Pub­lisher: Hod­der

&

Stoughton
Lan­guage: English

ISBN-10

: 0340925000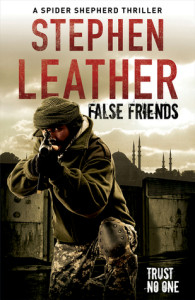 My rat­ing for False Friends — 4
Buy this book in paper or in elec­tronic format*
Thoughts:
False Friends by Stephen Leather (web­site | Face­book | @stephenleather | Blog) was my first Dan Shep­herd book and it was a pleas­ant sur­prise. Even though I haven't read any of the other books in the series, it did not inter­fere with this story.
The author, through his char­ac­ters, really doesn't like the US, espe­cially its pol­i­tics and actions as a coun­try. Those parts are not com­fort­able to read, but as a fol­lower of cur­rent events I am well aware how the US is viewed in many parts of the world so it was no sur­prise to see so in print (again). The author also gives voice to sev­eral mod­er­ate Mus­lims, many which exist, to counter the extreme Mus­lim voices we hear on a reg­u­lar base.
The story moves along at a descent pace and the plot line is engag­ing and the char­ac­ters are well drawn. I'm sure Shepherd's char­ac­ter has evolved over the series, but I did not feel that I missed out on any­thing. The char­ac­ters of the Pak­istani inform­ers are espe­cially well thought out, both are from good fam­i­lies and faith­ful to their Mus­lim beliefs, but can­not jus­tify the acts com­mit­ted in their names.
One of the strengths of this book, I found, is that the char­ac­ters felt real. The way they talked and acted seemed nat­ural to their fic­tional iden­ti­ties, Leather goes into details about under­cover assign­ments, not the daily drudge, but the psy­cho­log­i­cal dam­age done to a per­son and his/hers fam­i­lies when liv­ing a lie day after day.
There has been a bit of con­tro­versy in the book­ish world with this book. It seems that Mr. Leather set up false accounts on book­ish web­sites to give him­self good reviews and cre­ate a buzz. I can assure you that this review is not one of them. False Friends is not a bad book by any means, there are other ways to cre­ate buzz (blog tours, etc.) which are both afford­able and cre­ate legit­i­mate buzz around a book from trust­wor­thy sources. This is a descent book which can stand alone on its own mer­its, there was no need to go to such lengths.
Syn­op­sis:
Two Eng­lish cit­i­zens of Pak­istani descent, Malik and Chaudhry, are both­ered with the ter­ror­ism activ­i­ties done in the name of their reli­gion. Dream­ing of careers in med­i­cine and hos­pi­tal­ity they help MI5 with infor­ma­tion which leads to the assas­si­na­tion of Bin-laden.
Al-Qaeda real­ize that there is a trai­tor in their mist and, while try­ing to plan a mas­sive ter­ror plot in the UK the orga­ni­za­tion involves the infor­mants. Shep­herd is the han­dler of Malik and Chaun­dhry, he must help them keep their cool until the plot is foiled.
Buy this book in paper or in elec­tronic format*
Zohar — Man of la Book
Dis­claimer: I got this book for free.
*Ama­zon links point to an affil­i­ate account
Enjoy this post? Why don't you sign up for the RSS feed