About:
Ein­stein: His Life and Uni­verse by Wal­ter Isaac­son is a biog­ra­phy of the famed sci­en­tist. Ein­stein lived a tremen­dous life full of sci­ence, math, pol­i­tics, reli­gion and love; I admire Mr. Isaacson's courage in tack­ling such a project.
704 pages
Pub­lisher: Simon

&

Schus­ter; First Edi­tion edition
Lan­guage: English

ISBN-10

: 0743264738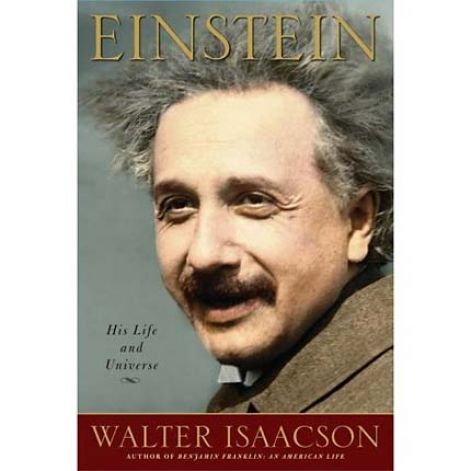 My rat­ing for Ein­stein: His Life and Uni­verse — 5
Buy this book in paper or in elec­tronic format*
 More Books by Wal­ter Isaacson
Thoughts:
I found Ein­stein: His Life and Uni­verse by Wal­ter Isaac­son fas­ci­nat­ing and inter­est­ing, yet a bit more of a dif­fi­cult read than Mr. Isaacson's biog­ra­phy of Ben­jamin Franklin. How­ever, the author does a good job rec­on­cil­ing the physics genius with the ras­cally young ide­o­logue and later with the icon we all think of when we hear the name "Einstein".
As in his other biogra­phies, Isaac­son brings forth won­der­ful lit­tle anec­dotes through per­sonal let­ters and sto­ries which, I feel, let us sep­a­rate the man from the myth and let us know what the man was truly like. The per­sonal let­ters, quick wit and even tyran­ni­cal impulses let the reader under­stand this com­plex man as a man, not a pil­lar of the sci­en­tific com­mu­nity. Not only is the young Ein­stein a fas­ci­nat­ing char­ac­ter, but the older one — the one who spent his life fight­ing author­ity only to become the author­ity — also comes alive.
As for sci­ence, this book is nei­ther here nor there. If you under­stand some of the physics then it will be a nice review, if you don't then you won't under­stand it after fin­ish­ing read­ing either. But that's not the point of the book anyway.
Per­son­ally I found the chap­ter about Einstein's reli­gious beliefs fas­ci­nat­ing and enlight­en­ing. If a few more peo­ple in the world feel like him, that sci­ence and reli­gions are com­pli­men­tary ("Sci­ence with­out reli­gion is lame, reli­gion with­out sci­ence is blind") this world will be a more peace­ful place.
As always, what make a biog­ra­phy really worth read­ing are the anec­dotes and won­der­ful lit­tle story about the sub­ject. The story about a man who trav­eled with Ein­stein on a ship from Europe to the US while try­ing to learn the the­ory of rel­a­tiv­ity only to state that after the trip he was cer­tain that Pro­fes­sor Ein­stein under­stood the theory.
This biog­ra­phy is a highly read­able book, full of infor­ma­tion about the man and not so much about the sci­ence. As I men­tioned, the parts about the sci­ence are short and are use­ful only if you are famil­iar with the the­o­ries, but then again – I'm no Einstein.
Buy this book in paper or in elec­tronic format*
 More Books by Wal­ter Isaacson
 Zohar — Man of la Book
Dis­claimer: I got bought this book.
*Ama­zon links point to an affil­i­ate account
Enjoy this post? Why don't you sign up for the RSS feed