As you know I love my Dr. Seuss fun facts, I wrote a post sev­eral years ago which, due to the great pos­i­tive responses I got, started my Fun Facts Fri­day posts. March 2 is the birth­day of this won­der­ful author so I has­tened to find some more fun facts about this fun guy.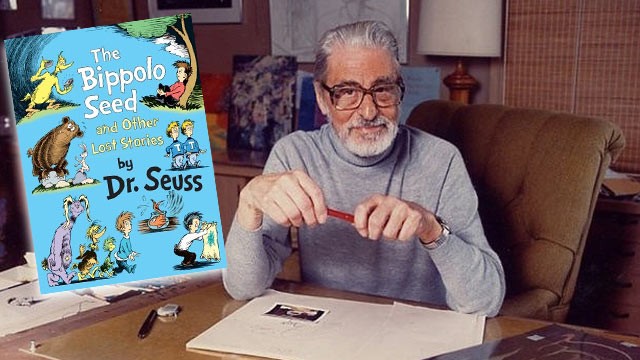 A line in Hor­ton Hears a Who! was used by pro-life (that's anti-abortion for my inter­na­tional read­ers) as a slo­gan. The line was e "A person's a per­son, no mat­ter how small". We don't know if that was Seuss' inten­tion, how­ever he did threaten to sue the group if the didn't remove the slo­gan from their letterhead.
In the 40's and 50's there was a series of books which taught kids how to read, the books were pub­lished by Logan­berry Books and were called the Dick and Jane primers. Dick and Jane lived in a nice, clean, san­i­tized sub­ur­bia and were very pop­u­lar. Dr. Seuss how­ever thought they were bor­ing and wrote The Cat in the Hat.
A few months after the Water­gate scan­dal a book called Mar­vin K. Mooney Will You Please Go Now! was pub­lished. Many thought that the book was about dis­graced Pres­i­dent Richard Nixon, how­ever it's highly unlikely that Seuss thought of, writ­ten and got­ten ready to print (edit­ing, cover art, pic­tures, etc.), printed and dis­trib­uted in such a short time.
Dr. Seuss did have his share of con­tro­versy. His book The But­ter Bat­tle Book was pulled from libraries because it ref­er­enced the arms race and the Cold War. The two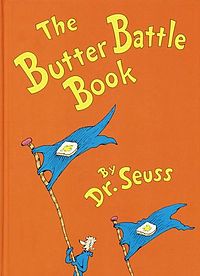 soci­eties in the books argue about which way is the right way to eat bread with but­ter (the Yooks like it but­ter side up, mean­while the Zooks insist that but­ter side down is the only way to go) and start build­ing weapons to outdo one another. At the end they both use their arse­nal but the reader doesn't know who won.
The But­ter Bat­tle Book was not Seuss' first foray into pol­i­tics, Yer­tle the Tur­tle actu­ally rep­re­sents of Hitler who works his tur­tles to the bone stack­ing them­selves up so he could reach the moon. At then end one tur­tle burps and the whole stack falls free­ing the tur­tles from their stack­ing duty. Believe it or not Seuss flat out said that Yer­tle rep­re­sents Hitler, yet that wasn't the con­tro­versy at the time. The dis­pute by Ran­dom House was that the book had a burp in it, up until that time no one has ever writ­ten a children's book with a burp.
The first recorded use of the word nerd was in 1950's If I Ran the Zoo.
The Lorax is undoubt­edly an envi­ron­men­tal tale. When the book came out the log­ging indus­try was so upset that they pub­lished The Truax which was a book from their point of view.
In 1925 a young Theodore Geisel was caught drink­ing alco­hol. At the time the idi­otic law known as Pro­hi­bi­tion was in affect and Geisel forced to resign as editor-in-chief of the stu­dent mag­a­zine in Dart­mouth. After that Geisel wrote onlyn­der nom-de-plumes includ­ing Theo LeSig, Ros­setta Stone and, of course. Dr. Seuss.
Zohar — Man of la Book
*Ama­zon links point to an affil­i­ate account
Enjoy this post? Why don't you sign up for the RSS feed