About:
Crim­i­nal Enter­prise by Owen Laukka­nen is a fic­tional crime book which asks what hap­pens when ordi­nary peo­ple take a short­cut to mak­ing money because they per­ceive it as their only option.
416 pages
Pub­lisher: Put­nam Adult
Lan­guage: English

ISBN-10

: 0399157905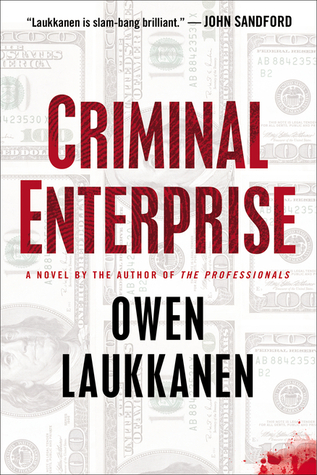 My rat­ing for Crim­i­nal Enter­prise — 4
Buy this book in paper or in elec­tronic format*
Thoughts:
Crim­i­nal Enter­prise by Owen Laukka­nen (web­site | Face­book ) is a enter­tain­ing thriller which pro­vides a grip­ping read. The plot is engross­ing and the action scenes are fast paced while keep­ing char­ac­ter­i­za­tion a priority.
The inter­est­ing char­ac­ter in the book was pro­tag­o­nist Carter Tom­lin. The reader can see how Tom­lin went down a slip­pery slope and started jus­ti­fy­ing  his anti-social behav­ior to him­self and oth­ers using cir­cu­lar logic. Tom­lin dis­cov­ers he gets a thrill from hav­ing power over other peo­ple and even has to pre­tend to rape his wife in order to bed her. The way Laukka­nen weaved this part of the man's psy­chol­ogy into the story was fas­ci­nat­ing and gave the story mul­ti­di­men­sional angles.
While I enjoyed the story very much, the rela­tion­ship of the two heroes, Agent Win­der­mere of the FBI and Agent Stevens of the BCA, seemed forced and didn't flow as smoothly as the rest of the book. Maybe because I didn't read the first book in the series, The Pro­fes­sion­als, I missed some­thing which hap­pened even though the author does a good job re-introducing the characters.
Crim­i­nal Enter­prise has excel­lent writ­ing, an inter­est­ing story and excit­ing char­ac­ters. While the book might seems big, the chap­ters are short and the lan­guage is easy and readable.
Syn­op­sis:
Carter Tom­lin has been fired from a high pow­ered job but is still try­ing to main­tain his high style of liv­ing which his wife and kids came to expect. How­ever, Carter can't find a job and con­stantly feels like a fail­ure. One day Carter decides to rob a bank, the ease of mak­ing money is sweet and he gets hooked. Carter real­izes that the thrill of easy money is noth­ing com­pared to the thrill of power when he is armed and dangerous.
On Carter's trail are Agent Win­der­mere of the FBI and Agent Stevens of the BCA. The two agents are very dif­fer­ent and have to deal with bureau­cracy and fam­ily issues which sim­ply help Tom­lin con­tinue on his rampage.
Buy this book in paper or in elec­tronic format*
Zohar — Man of la Book
Dis­claimer: I got this book for free.
*Ama­zon links point to an affil­i­ate account
Enjoy this post? Why don't you sign up for the RSS feed