About:
Break­ing the Code: A Father's Secret, A Daughter's Jour­ney and the Ques­tion That Changed Every­thing by Karen Fisher-Alaniz is a non-fiction book which tells about the author's research into her father's ser­vice in World War II.
The pub­lisher is giv­ing away one print copy US address or one eCopy any e-mail address, enter using the Raf­fle­copter at the end of the post.
336 pages
Pub­lisher: Sourcebooks
Lan­guage: English

ISBN-10

: 1402261128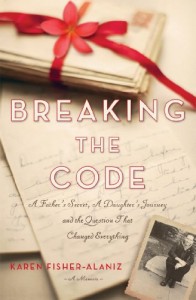 My rat­ing for Break­ing the Code — 4
Buy this book in paper or elec­tronic format*
Thoughts:
As fol­low­ers of this blog Know, I love read­ing about World War II and espe­cially mem­oirs of the "Great­est Gen­er­a­tion" who, unfor­tu­nately  is leav­ing us by the thou­sands each week. Many of those dying have amaz­ing sto­ries which will for­ever be untold, projects like Speilberg's "Sur­vivors of the Shoah Visual His­tory " are extremely impor­tant not only for for the chil­dren of the "Great­est Gen­er­a­tion" but also for future his­to­ri­ans and for a bet­ter world. Which is why, when I was offered to join the tour for Break­ing the Code by Karen Fisher-Alaniz (web­site | Face­book) I jumped at the oppor­tu­nity - I was not disappointed.
The book is much more than a mem­oir, it is a heart­felt trib­ute to a man who has been strug­gling with demons his whole life, yet became a pro­duc­tive mem­ber of soci­ety, bring­ing up proud future gen­er­a­tions by set­ting exam­ple of an exem­plary life. Ms. Fisher-Alaniz dis­cusses in the book how she never lis­tened to her father's sto­ries grow­ing up, some­thing I believe we are all guilty of. When she received the let­ters he wrote his par­ents, the basis of this book, she regret­ted blow­ing off those sto­ries, but a teenager's mind is still a mys­tery to sci­ence and humanity.
Mr. Fisher, the author's father, was a code­breaker and under con­stant sur­veil­lance with a threat of death hang­ing over his head if he talked too much. The pres­sure and respon­si­bil­ity were huge for the young man. Other events (which I will not spoil) caused Mr. Fisher to come back with Post Trau­matic Stress Dis­or­der (PTSD), a trauma which has been recorded for cen­turies but only recently has been acknowl­edged and stud­ied. A prod­uct of a by-gone era, Mr. Fisher's reluc­tance to get help only hurt him and with the rev­e­la­tion of the let­ters and  his daughter's inves­ti­ga­tion his past came back to haunt him.
A Father's Secret is a fast read, some of the mul­ti­tude of let­ters Mr. Fisher wrote dur­ing World War II from Hawaii, Oki­nawan, Iwo Jima and more are in the book. Each chap­ter includes a let­ter with the author's story inter­twinded within.
I have read many mem­oirs and fam­ily sto­ries, Break­ing the Code stands out from the rest due mainly to the story it's telling. Many of the books are writ­ten for fam­ily mem­bers — and that's great — but for those of us who didn't know the sub­ject they do not stand on their own. This book how­ever, does. There is an engag­ing story, lik­able char­ac­ters, a time­line, good edit­ing, and back­ground which makes this book per­sonal and touch­ing to every­one who reads it.
 Syn­op­sis:
On his 81st birth­day Mur­ray Fisher gave his daugh­ter the let­ters he wrote his par­ents while serv­ing in the US Navy in World War II. When sort­ing through the let­ters his daugh­ter, Karen Fisher-Alaniz the author, uncov­ered her father's past while learn­ing about the lin­ger­ing trauma that bugged the man who brought her up.
Buy this book in paper or elec­tronic format*
Give­away
Give­away ends: Decem­ber 17, 2012

US

Ship­ping Addresses Only For Printed Copy

No 

PO

 Boxes

Win­ners will have 24 hours to write back with their address, oth­er­wise an alter­nate win­ner will be picked
Con­grat­u­la­tions: nicnac63@
Zohar — Man of la Book
Dis­claimer: I got this book for free.
*Ama­zon links point to an affil­i­ate account
BOOK BLOGGERS — Have you read Break­ing the Code? If so link up your review below:
Enjoy this post? Why don't you sign up for the RSS feed