About:
Bravo Two Zero by Andy McNab is a best­seller describ­ing a patrol by the Eng­lish Spe­cial Air Ser­vices (SAS) in Iraq dur­ing the Gulf War. The book was rec­om­mended to me by Helen Maryles Shankman (http://helenmarylesshankman.wordpress.com/).
432 pages
Pub­lisher: Island Books;
Lan­guage: English

ISBN-10

: 0440218802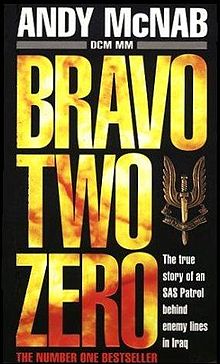 My rat­ing for Bravo Two Zero— 4
Buy this book in paper or elec­tronic format*
Thoughts:
Bravo Two Zero: The Har­row­ing True Story of a Spe­cial Forces Patrol Behind the Lines in Iraq by Andy McNab (web­site| Face­book | @the_real_mcnab)  was rec­om­mended to me, as men­tioned above, and sim­ply by read­ing the syn­op­sis I thought I'd like the book.
How­ever, as some­one with mil­i­tary expe­ri­ence I have to call bull­shit on some of the sto­ries. I don't know about the tor­ture scenes and frankly hope never to find out, but some of the oper­a­tional pro­ce­dures and bravado seems to be utter machismo more to do with a Hol­ly­wood movie than with a book pre­sent­ing itself as fact.
For exam­ple, no way did an eight man team kill 250 peo­ple or took on a whole pla­toon and/or com­pany by them­selves. They might have killed a few and ran away (as would be the smart thing to do) but I seri­ously doubt the num­bers pre­sented. The prob­lem with such state­ments, as we all know, is that one wrong state­ment in any pre­sen­ta­tion puts in doubt the rest of the valid or fac­tual points.
That being said, I did enjoy the book. I thought it was inter­est­ing to get into the mind of an SAS man, the psy­chol­ogy of going behind enemy lines and the ter­ror of get­ting caught. The har­row­ing phys­i­cal and men­tal chal­lenges those guys faced in the Iraqi desert as well as the no-nonsense sto­ry­telling style puts the reader right there next to the men on patrol.
For those who like spe­cial oper­a­tions or want to learn more about the esteemed SAS this book is an excel­lent choice. The book is an easy read, a well writ­ten adven­ture story and even inspir­ing on sev­eral levels.
Syn­op­sis:
in 1991, eight British spe­cial forces SAS men went out on patrol to take out scud mis­siles fired from Iraq into Israel. Only five came back. Sergeant Andy McNab was their leader and the patrol was call sign was Bravo Two Zero.
Car­ry­ing 210 lbs. the patrol found them­selves in trou­bles from the start. Find­ing them­selves sur­rounded, they even­tu­ally got caught and harshly interrogated.
Buy this book in paper or elec­tronic format*
Zohar — Man of la Book
Dis­claimer: I bought this book
*Ama­zon links point to an affil­i­ate account
Enjoy this post? Why don't you sign up for the RSS feed