About:
Total Recall: My Unbe­liev­ably True Life Story by Arnold Schwarzeneg­ger is an auto­bi­og­ra­phy of the famous actor, politi­cian and cham­pion body builder. While the life that Mr. Schwarzeneg­ger has led are indeed aston­ish­ing, this book is more of a polit­i­cal mem­oir and boast­ing of one's achieve­ments than that of a celebrity autobiography.
656 pages
Pub­lisher: Simon

&

Schuster
Lan­guage: English

ISBN-10

: 1451662432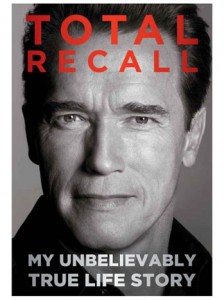 My rat­ing for Total Recall — 4
Buy this book in paper or elec­tronic format*
More Books by Arnold Schwarzenegger
Thoughts:
Dis­claimer: I have been a Schwarzeneg­ger fan for decades. Not only of Ahhnold's (because I can call him that) movies, but also of his body­build­ing, self pro­mo­tion, busi­ness acu­men and focus. From some rea­son I find Schwarzenegger's story and pro­fes­sional suc­cess very inspiring.
Due Gov­er­nor Schwarzenegger's recent drama of sir­ing a child out of wed­lock this book has got­ten a lot of press cov­er­age. The drama gets a few pages towards the end and it is not the rea­son I read this book. I would have read the book regard­less as I have read pre­vi­ous biogra­phies of Mr. Schwarzenegger.
Regard­less of what you think of the man, there is a lot to admire. While I real­ize that behind every auto­bi­og­ra­phy there is a goal, I can usu­ally fig­ure out what it is and this one is no excep­tion. It seemed to me that the author wanted to cement and high­light his polit­i­cal achieve­ments as Gov­er­nor of Cal­i­for­nia.
How­ever, this is also an amaz­ing immi­grant story:
"To think that a scrawny boy from Aus­tria could grow up to become gov­er­nor of the state of Cal­i­for­nia and then stand here in Madi­son Square Gar­den and speak on behalf of the pres­i­dent of the United States – that is an immigrant's dream."
Amaz­ing indeed.
The first 200 pages or so of Total Recall: My Unbe­liev­ably True Life Story by Arnold Schwarzeneg­ger (web­site | Face­book | @schwarzenegger)are ded­i­cated to the author's child­hood and body­build­ing career. The author makes a point which he will make over and over in the book – once he sets his mind on some­thing, any­thing, he will achieve it no mat­ter how dif­fi­cult it is. Schwarzeneg­ger does say that you have to know what to focus on (for exam­ple: this 5'6"unathletic man would never set his sights on the NBA) but once you decide you, and only you, have com­plete control.
Unlike other biogra­phies I read this one has more per­sonal anec­dotes which, for a fan like me, were well worth the price of admis­sion. Sec­tions about behind-the-scenes of favorite movies (to be hon­est, I liked the vast major­ity of Schwarzenegger's movies includ­ing "The Last Action Hero" even though I thought it was too early to make such a movie mock­ing one­self, it would have been per­fect if it would have been released a few years ago) were a treat to read as well as anec­dotes from the world of bodybuilding.
Espe­cially poignant were the chap­ters about the rela­tion­ship between hus­band and wife (no, there is no dirty laun­dry aired), some­thing which I think many peo­ple, espe­cially immi­grants who mar­ried Amer­i­can women, can iden­tify with. While I cer­tainly appre­ci­ate Maria Shriver for her brain and tal­ent, I could not imag­ine being mar­ried to some­one who grew up with ser­vants, with plenty of "old money" and a fam­ily of famous and infa­mous. I'm sure it was dif­fi­cult for a man who grew up in a house­hold were only neces­si­ties were granted and dis­ci­pline was the order of the day, every day, to find his love with an heiress and vice versa.
The last part deals with Schwarzenegger's role as gov­er­nor of Cal­i­for­nia, an inter­est­ing insight into one of the biggest economies in the world in a time of tur­bu­lence both eco­log­i­cal and eco­nom­i­cal. Unfor­tu­nately for Mr. Schwarzeneg­ger as well as other politi­cians, their con­tri­bu­tion and fore­sight could only be mea­sured decades after their term have been over.
There are sec­tions in the book which I found ridicu­lous, enter­tain­ing and ridicu­lously enter­tain­ing all together. For exam­ple, the author's boast­ing on how he was (single-handedly it seems) respon­si­ble for, what many regard now as the sym­bol of psy­cho­log­i­cal inad­e­quacy and the bane of every com­muter, the civil­ian Humvee. Only Schwarzeneg­ger could get away with writ­ing "I became the proud owner of the world's first civil­ian Humvee" and come away clean.
Total Recall is by no means a "tell all" book; adding the world "selec­tive" might make the title more descrip­tive. The book is more of a 600 page resume of an inim­itable and astound­ing career. There are no self-examinations per-say, very lit­tle dis­cus­sion of all the R-rated behav­ior that has been attrib­uted to him (besides "Arnold being Arnold") and the sub­ject is always show­ing him­self in the best pos­si­ble light in every sit­u­a­tion. While that is some­thing we'd all like, it does not make an inter­est­ing mem­oir. For a fan of Schwarzeneg­ger like myself, this was a great book, for every­one else or those look­ing for Latin soap opera style drama, you'll need to look elsewhere.
Buy this book in paper or elec­tronic format*
More Books by Arnold Schwarzenegger
Zohar — Man of la Book
Dis­claimer: I got this book for free
*Ama­zon links point to an affil­i­ate account
BOOK BLOGGERS — Have you read Total Recall? If so link up your review below:
Enjoy this post? Why don't you sign up for the RSS feed